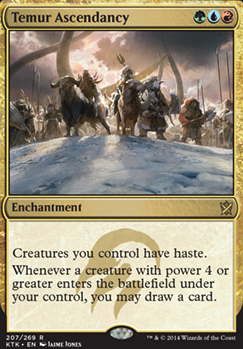 Temur Ascendancy
Enchantment
Creatures you control have haste.
Whenever a creature with power 4 or greater enters the battlefield under your control, you may draw a card.
Browse Alters
View at Gatherer
Trade
Legality
| | |
| --- | --- |
| Format | Legality |
| Tiny Leaders | Legal |
| 1v1 Commander | Legal |
| Magic Duels | Legal |
| Canadian Highlander | Legal |
| Vintage | Legal |
| Modern | Legal |
| Highlander | Legal |
| Penny Dreadful | Legal |
| Block Constructed | Legal |
| 2019-10-04 | Legal |
| Pioneer | Legal |
| Leviathan | Legal |
| Legacy | Legal |
| Frontier | Legal |
| Duel Commander | Legal |
| Oathbreaker | Legal |
| Unformat | Legal |
| Casual | Legal |
| Commander / EDH | Legal |
Temur Ascendancy occurrence in decks from the last year
Commander / EDH:
All decks: 0.02%
RUG (Temur): 2.07%
Temur Ascendancy Discussion
1 week ago
Dear Kronhamilton
Golos, Tireless Pilgrim is my favorite commander, and I've been brewing around him ever since he was teased. Let me just say you've chosen an excellent commander.
(I've written quite a lot in an attempt to make a sort of guide for you, so if you want the short version, check out the Suggestions panel)
Golos can be tricky to build around since he can do literally anything pretty well. The easiest way to make an effective Golos deck is to lean into Golos's 7 Mana Rainbow Wheel Of Death. Before getting into that though, we need to cover some EDH deckbuilding basics.
I think the most useful advice I can give someone who is just beginning to explore the deck-building territory of EDH is to structure your deck and mind your Ratios. By this I mean it is useful to categorize the cards in your deck according to the role they fulfill.
We'll begin by looking at some core categories that you'll want to make your deck function effectively. Then I'll present the Ratios (how many of each category of card) you will want to make a generic Golos deck function effectively. Next, I'll include a detailed (but not totally complete, because I'd be here all day) catalogue of cards within some of those categories. I'll also offer up some suggestions and input about some of your specific card choices. Lastly, since I'm about to unpack a lot of information, I will include a brief list of suggestions (see the bottom) for a generically good Golos 'Shell' that should be able to support most Golos strategies.
Categories
Draw

Ramp

Removal

Sweepers

Threats

Support

Land
The art of Ratios is all about determining what combination of cards from each category makes your deck run the most smoothly.
Please note that these Ratios will not total to 99 cards. This is because you will invariably have extra flexibility to choose how your deck behaves even after establishing functional Ratios. Also keep in mind that although these Ratios do recommend you adhere to the minimum number of cards in each category, you still can choose which cards will fill those slots. The point is not to restrict your options, but instead to create a 'Shell' that is reliable enough to power your Threats cards, Support cards, and other cards. Whatever you do, make sure you have at least the minimum number of Draw and Ramp cards. THE MOST IMPORTANT CARDS IN THE DECK ARE DRAW AND RAMP!!!
While I ultimately suggest Ratios resembling the Basic Golos Shell, I will lay out the Ratios for several different Shells;
Template: a sort of baseline beginner's guide which is commonly promoted as a place to start.

Basic Golos: a modified version of the Template that suites most Golos decks.

Control: a version tailored for a slower game with many Sweepers.

Aggro: a version designed to act quickly and deploy Threats before the opponents are prepared.

Big Mana: a version invested heavily into Ramp with the goal of deploying many end-game Threats.

Mega Mana: an even more extreme version of Big Mana with extremely expensive Threats.
Please remember that any suggestions I make are because I am trying to help. Ultimately, the choices you make with your deck are up to you, and I can only provide constructive criticism based on my own experience and opinions.
Good luck :)
Ratio Fixing
The most effective change to your deck would probably be adjusting the Ratios, especially with regard to your Draw cards. Applying the most basic Template Shell, you want to have at least these three quantities nailed down for a smoother and reasonably powerful deck;
Lands – 36 --> You have 40 Lands (Cut 4 Lands)

Ramp – 10 --> You have 5 true Ramp cards (Add 5 to 8 Ramp cards)

Draw – 10 --> You have 3 true Draw cards (Add 7 to 10 Draw cards)
Ramp & Draw Additions Show
What I counted in your deck Show
Mutate
Depending on how strong your Mutate subtheme is, some of your Mutate inclusions may act as engines. However, I must state that Mutate is a VERY risky and even fragile strategy since your Mutate 'Pile' of creatures will all be destroyed at once if your opponent uses a Removal spell or a Sweeper. For that reason, I recommend leaning out of the Mutate theme (unless the Mutate card is just straight-up insane, as in the example of Nethroi, Apex of Death).
With that said, playing a Mutate theme is your decision and I totally respect that and if you want to stick to a Mutate theme then by all means do so. I just want to be sure you know that Mutate is a risky strategy that you cannot depend on to fulfill your Ramp and Draw slots (so you'll just need to supplement it with other cards).
Cut or Include?
At a glance your deck seems like something you have created using just your collection – and that's great! However, if you want to incrementally upgrade your deck, then I recommend replacing most of the cards in your deck with more powerful options over time.
Here is a list of cards you should probably keep playing: - Barrier Breach (Removal, because exiling 3 enchantments is helpful in some situations)
In my opinion, there are other, better options for all of the other nonland cards in the deck, however it is up to you to decide on how you would like to proceed so I won't intrude.
I strongly recommend cutting the Planeswalkers though – Calix, Destiny's Hand doesn't seem to synergize much with the deck and I feel that Lukka, Coppercoat Outcast is not very potent.
Lands
Just as a recommendation, I would suggest the following spread of Basic Lands;
8 Basic Forests

3 of each other Basic Land
The remainder of your lands could be either more basics (which is really, really, risky if you don't have tons of Ramp – think like 15 Ramp cards and about 12 Basic Forests) or Color Fixing Lands (see the Catalogue for more options). It is rough to have your lands enter the battlefield tapped, but unless you want to either lean into Green or spend a lot of money on lands, you will just have to live with it (I play around 5-10 tapped lands in a normal Golos deck and it isn't really that bad).
In this section, I will list out an example of the Basic Golos Shell complete with the necessary Ratios and some examples of good/fun cards in each category. I'll try to keep it relatively Budget sensitive and most of these cards will be relatively random – this won't be based on any particular theme so don't expect it to be optimal.
As a reminder:
The Shell
Ramp – 12
Draw – 13
Removal – 7
Sweepers – 2
Threats – 12
Support – 7
Land – 36
Good Luck :)
-Slashdotdash
1 month ago
Hey, you asked for my help.
I'm not a fan of Eldrazi or five color therefore my advice will be in one area you could improve your deck. Consider more repeatable draw sources? Sources of draw that you don't have to pay any mana to draw cards. Creatures are a big part of your deck therefore consider enchantments that draw when a creature you control ETB?
Ascendancy can also give big Eldrazi as well as Morophon haste which makes them more of threats especially with annihilator. Skullclamp is good with 0/1 Eldrazi tokens since equipping one kills it or sac the spawn for mana drawing two cards. These are less expensive price repeatable draw sources, but there's more powerful sources if you're willing to spend more.
Willing to spend even more:
---
Cards to consider cutting:
Good luck with your deck.
1 month ago
So, nearly a week since I last updated. I feel like enough of the substitutions have aggregated to warrant a new commentary.
First up, more Haste providers. Ogre Battledriver and In the Web of War now join the ranks of the already present Temur Ascendancy and Cavalier of Flame. Upping the chances of Haste feels like the right call to help close out games. After playing even just one Windfall-like card, you'll suddenly have up to 21 new snake friends to play with and Haste makes them immediately viable beyond ETB and Sacrifice effects. Whether it be for the swing or making mad Mana with Cryptolith Rite, it'll be sure to make an impression (especially if you keep your Haste a secret until the turn of).
Next a few odds and ends. Following my own advice, I ended up dropping Expropriate and Tooth and Nail, alongside others whose names are already forgotten. In exchange, a couple of new faces: Ohran Frostfang, Teferi's Puzzle Box, Steely Resolve, and Riptide Shapeshifter. Plus Sylvan Library for funsies, since I remembered that I already own a copy!
You could say that the Riptide Shapeshifter is my budget option replacing Tooth and Nail. On the plus side, I like that you can activate its ability at any time, which can make for a neat Combat Trick if you choose "Beast". "God" is also a good choice, as Purphoros, God of the Forge and The Locust God both really hum in this deck.
Thanks for reading this far, by the way! There hasn't been much outside interaction to date (it feels like I'm talking to the wind). But maybe I'm wrong, since there's no way of knowing how many folks take the time to navigate my admittedly chonky stream of consciousness.
3 months ago
Hey, if you have Smothering Tithe and Arcane Signet then add them because they're some the best ramp for five colors to play.
Cards to consider cutting:
---
If you're looking for Dragon power then consider moving from the sideboard to the main deck Utvara Hellkite and Steel Hellkite? Utvara is among the best Dragons because it creates a Dragon for each Dragon you control that attacks, each Dragon not just Utvara which can create a huge Dragon army.
Utvara is busted with Dragon Tempest, Scourge of Valkas and Temur Ascendancy, Kindred Discovery, Elemental Bond. Tempest/Ascendancy because they give it haste. Tempest/Scourge because each time a 6/6 Dragon is created it does damage to target creature or player equal to the amount of Dragons you control. Ascendancy/Discovery/Bond can be a lot of draw because each 6/6 Dragon created draws you a card.
Scion of the Ur-Dragon and adding Utvara are reasons to also include more tutors that can search for them and put one of them into your hand. Steel Hellkite is also a Dragon upgrade as it's repeatable attack ability can wipe out an opponent's board state, one opponent at a time. Steel is good with lots of ramp.
3 months ago
First of all, looking at it 'on paper', I don't know how this thing works, but it works! Here are my thoughts (whether they amount to anything or not is up to you...)
First, the curve on this is absurd, especially given the mana. Would some more mana production early game be helpful? I noticed the Sarkhan, Fireblood is missing, so it seems maybe not? Still, Faeburrow Elder seems like it might be a busted mana creature for the deck.
I would still look to sub more expensive reanimation for lower CMC reanimation...since then you can activate more other abilities, cast more spells, etc with your mana. Also, more versatile reanimation might be good, considering how often cards like your Sarkhans and your 'gateways' blown up. Perhaps think of replacing things like Fearsome Awakening and Unburial Rites with things like Animate Dead (only 2cmc, can take my things too) and Obzedat's Aid (gets your planeswalkers, artifacts, and enchants back), or even Beacon of Unrest.
Since you're a graveyard-centric deck, some things to salvage your graveyard in case someone decides they need to exile all your dragons might be in order. You have continuous effects like Reito Lantern or Bow of Nylea (bonus points for being cute with Balefire Dragon), or you can do something that serves multiple purpose like Perpetual Timepiece. Cauldron does this somewhat as well. Again, not sure how much of an issue this is.
A few cards I was unimpressed with: Verix Bladewing, Praetor's Council, Sarkhan, Dragonsoul

, Darksteel Ingot, Mirror Gallery, Palace Siege, Ephemerate (for this one, I would personally go back to Cloudshift, so Dragonlord Silumgar can permanently steal a creature).
Some ideas: Temur Ascendancy, Assassin's Trophy/ Beast Within/ Generous Gift/ Anguished Unmaking (some very general target removal, hit anything really stupid that's bothering you), Dragonlord Atarka, Dragonlord Ojutai (I think you were working on getting Atarka...)
4 months ago
Sweet deck love the idea of keep or kill! Very impressed with the budget too! Jalira, Master Polymorphist seems like too much value for you to pass up and within budget I think. Primal Growth also seems like a good fit. Quest for Pure Flame although not a perfect fit double and sometimes quad dammage is always fun espescialy when your hitting your opponent with their creature who is twice as strong when on your side... seems like a dramatic betrayal. Temur Ascendancy also feels like a must have for this one! Life's Legacy or Momentous Fall also seem like good includes instead of the brainstorm or Temur Runemark .
I'm sure you can get a copy of Mimic Vat for 50 cents and it would be adding insult to injury having your opponents creature come back turn after turn to beat them up.
out of your budget but not too crazy I think Greater Good would be way better than Culling Dais .
4 months ago
Riku is rad. You might like these: Spark Double , Twinflame , Zada, Hedron Grinder , Mirrorwing Dragon , Quasiduplicate , Repudiate / Replicate , Second Harvest , Manamorphose , Temur Ascendancy , Ogre Battledriver , Harabaz Druid , Wirewood Channeler , Rude Awakening , Bonus Round , Mulldrifter , Peregrine Drake
5 months ago
Now we get to the hard part. What to cut. Let's start with what doesn't mesh with the theme of spell copying; Teferi, Mage of Zhalfir and Glen Elendra Archmage are both better served in a combo/control shell where you need to protect a specific series of cards, the benefit of spell copying is the flexibility and resilience to allow some things to miss because everything becomes a game ender once its been copied a couple of times; Brudiclad, Telchor Engineer and Second Harvest are designed for HEAVY token decks where you're making ALOT of small tokens in concert with a few threatening ones; Animar, Soul of Elements , Fathom Mage , Temur Ascendancy , and Warstorm Surge are all good for a creature focused strategy, but for a SPELL copy deck most of our creatures exist to accelerate our mana ( dorks , Goblin Electromancer , and STE ) or as silver bullets for specific problems ( Terastodon , Acidic Slime , and Bane of Progress ) which tend to be too small of a portion of our deck or too small stat-wise to use these effects to their fullest; Krosan Grip cannot be copied because of split second; Time Stop is so niche you're better off running Counterflux ; Melek, Izzet Paragon is just bad,I love him but he's too inconsistent and without alot of top-deck manipulation ( Sensei's Divining Top , Sylvan Library , Mirri's Guile , Scroll Rack ) you can't reliably get the spells you want to copy; Verdant Confluence is easily the weakest of the confluences in these colors and none of its effects are particularly spectacular even after one or two copies; Starstorm is a very expensive Blasphemous Act with cycling; Brainstorm is the weakest card draw spell you have and never feels good unless it's setting up a Kefnet combo.
Load more