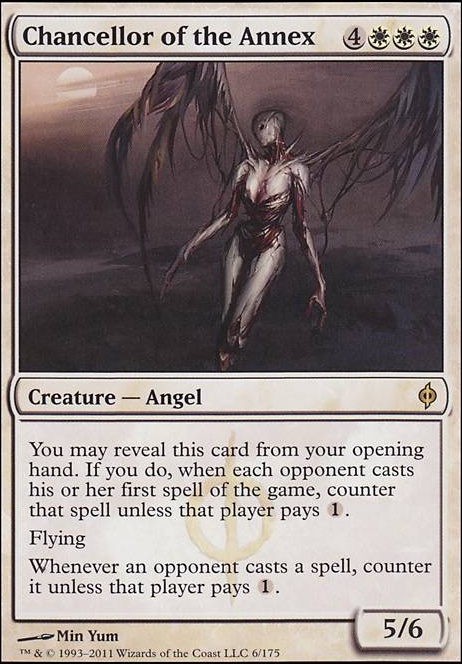 Chancellor of the Annex
Creature — Phyrexian Angel
You may reveal this card from your opening hand. If you do, when each opponent casts his or her first spell of the game, counter that spell unless that player pays 1. Flying Whenever an opponent casts a spell, counter it unless that player pays 1.
Latest Decks as Commander
Chancellor of the Annex Discussion
5 months ago
Thanks for the suggestions XinZhao, I'm not sold on Knowledge Pool , but Emissary of Serra is definitely going in. Awesome card, almost as good as Iona. Chancellor of the Annex is a good swap, but I like Chancellor's auto-counter effect for early game. Maybe I can drop something else instead, I'll think about it. The new Profane Tutor looks interesting as well.
5 months ago
You might like these: Spark Double , Sakashima the Impostor , Sakashima of a Thousand Faces , Helm of the Host , Winter Orb , Hokori, Dust Drinker , Uba Mask, Esior, Wardwing Familiar , Fierce Guardianship , Flawless Maneuver , Ward of Bones , Ranar the Ever-Watchful , Kira, Great Glass-Spinner , Chancellor of the Annex , Sphinx's Revelation , Reidane, God of the Worthy  Flip
6 months ago
Hey, well done on a budget. Nice Aurelia, the Warleader :)
Phyrexian Reclamation can be a repeatable source of recursion for Kaalia or any other creature, even at instant speed. Let Kaalia die, put her into your graveyard not the Command Zone; recur her to your hand which bypasses Commander tax. Dragon Tempest is a source of haste for Kaalia and any flying creature you cast or reanimate. It has the bonus of being able to do damage if the creature is a Dragon.
Dragon Mage pairs well with Emeria Shepherd . Mage discards the permanents that you then reanimate with Shepherd and Mage refills your hand to keep doing it. Nahiri, the Harbinger can be reanimated by Shepherd and her -8 in two turns can tutor for any creature or artifact including Shepherd. -8 Nahiri, tutor for Shepherd, play a Plains and reanimate Nahiri. Nahiri has other uses besides her -8 she can be repeatable discard/draw for reanimation or even repeatable removal that exiles.
Rakdos, Lord of Riots is a Demon who can reduce the casting cost of all other Angels/Demons/Dragons. If he or other creatures are attacking and doing combat damage to opponents then he's ramp to cast high CMC creatures which helps if Kaalia is disrupted. Arcane Signet is a staple mana rock in Commander. Orzhov Signet and Rakdos Signet is more two drop ramp.
---
Some changes to consider, with suggestions of cuts close to or equal in price:
My advice is cut the majority of the equipment theme for more ramp since ramp is going to help more to cast Kaalia and high CMC creatures. Phage the Untouchable and Sigarda's Aid are two expensive price cards for your budget that aren't doing much in your deck. You can't cheat Phage onto the battlefield with Kaalia or reanimation which makes it pretty useless. Aid is a good card, but not taking enough advantage of equipment and I don't think you need to since the most important equipment you want to play Greaves/Boots are low mana cost to cast and equip.
If interested I offer more advice. Good luck with your deck.
1 year ago
SimicVisionRy, not sure if you know this, but Chancellor of the Annex already exists. I like the card you made, though, and I LOVE the flavor text! Challenge time:
---
Tracer of New Phyrexia
Creature - Horror
Haste.
You may pay mana as if it was mana.
Devotee - When a creature enters the battlefield, you loose 1 life, and ~ deals 5 damage to any target.
1/5
---
Make a white angel with infect
1 year ago
I'm not a strong player, so I feel like I don't know how to properly play this deck. To me, I feel like the artifacts and enchantments play a huge role on bring the angels out/mana ramp/draw. So with your recipe, I removed Chancellor of the Annex, Mana Tithe, Mandate of Peace, and Orim's Chant, because they were in my hand at the beginning of the game till the end of the game. I just didn't know what to use them to their full potential. I'm currently thinking on what to replace them, and so far I have Venser's Journal (I barely had any chance to lifegain the entire game), Dawn of Hope, Argivian Find, Idyllic Tutor, and Herald of the Host. Herald of the Host CAN be really good because it also activates Vanquisher's Banner for extra draw, and that's alot of lifegain if you have many players, but it's very situational, so I don't know...
Load more