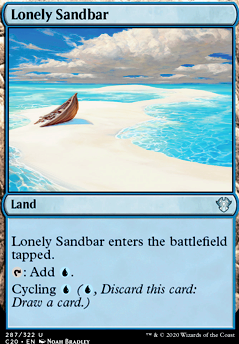 Lonely Sandbar
Land
Lonely Sandbar enters the battlefield tapped.
: Gain .
Cycling (, Discard this card: Draw a card.)
Browse Alters
Trade
Legality
| | |
| --- | --- |
| Format | Legality |
| Penny Dreadful | Legal |
| Duel Commander | Legal |
| Historic | Legal |
| Modern | Legal |
| Tiny Leaders | Legal |
| MTGO | Legal |
| Noble | Legal |
| Vintage | Legal |
| Commander / EDH | Legal |
| Block Constructed | Legal |
| Magic Duels | Legal |
| Pauper EDH | Legal |
| Legacy | Legal |
| Highlander | Legal |
| 1v1 Commander | Legal |
| Pauper | Legal |
| Unformat | Legal |
| Oathbreaker | Legal |
| Arena | Legal |
| Leviathan | Legal |
| Canadian Highlander | Legal |
| Casual | Legal |
| 2019-10-04 | Legal |
Lonely Sandbar occurrence in decks from the last year
Commander / EDH:
All decks: 0.05%
Blue: 0.56%
Lonely Sandbar Discussion
22 hours ago
MB's Suggested Additions
5 days ago
dvdn1997 Well that certainly puts a sad face on me... I guess I will up the Lonely Sandbars to 4 and add Evolving Wilds for deck thinning purposes. I think Evolving Wilds can not only act as a land, but tutor another Island out to keep me drawing mill cards or more efficient spells.
3 months ago
Your deck looks quite nice and well balanced regarding the mana curve, the lands and the spell ratio. Well done! One thing you might want to look at are the 1-mana cycling lands, in your case Lonely Sandbar and Forgotten Cave. They're budget and will increase the amount of keepable hands you get and also counter land-flood late game. If you plan on adding them eventually, I'd first look at Lonely Sandbar, as this will give you access to serum visions sometimes and eventually more lands, if you're mana screwed or already on mulligans.
+1 from me!
4 months ago
Cut the duplicates
If you can afford it, exchange Ghost Quarter vs Wasteland and Cabal Pit vs Ancient Tomb (or for Bojuka Bog)
Other good (utility) lands which are always good:
"Slow Lands" which sadly enter the battlefield tapped but, (in my opinion) are worth that downside:
I can also highly recommend visiting as a source of inspiration.
It would really appreciate it if you would visit some of my decks and leave comment there
4 months ago
I love it. I've looked over every card. Thought long and hard about about what I would add or take away. All I came up with is this:
Remove Portent as I'm not a huge fan of it in EDH (targets only one player, card draw delayed) Remove Saprazzan Skerry even though it's quick mana, it doesn't really work with Back to Basics so it could get stuck tapped on the battlefield or in your hand.
Add Lonely Sandbar and Remote Isle sure they could still get stuck on the battlefield, but at least you can cycle them from your hand.
Load more