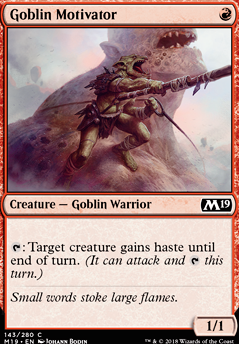 Goblin Motivator
Creature — Goblin Warrior
: Target creature gains haste until end of turn. (It can attack and this turn.)
Browse Alters
View at Gatherer
Legality
| | |
| --- | --- |
| Format | Legality |
| Block Constructed | Legal |
| Historic | Legal |
| 1v1 Commander | Legal |
| Pioneer | Legal |
| Modern | Legal |
| Oathbreaker | Legal |
| 2019-10-04 | Legal |
| Duel Commander | Legal |
| Arena | Legal |
| Casual | Legal |
| Pauper | Legal |
| Unformat | Legal |
| Vintage | Legal |
| Pauper EDH | Legal |
| Leviathan | Legal |
| Commander / EDH | Legal |
| Canadian Highlander | Legal |
| Penny Dreadful | Legal |
| Highlander | Legal |
| Magic Duels | Legal |
| Legacy | Legal |
| Tiny Leaders | Legal |
Goblin Motivator occurrence in decks from the last year
Commander / EDH:
All decks: 0.0%
Red: 0.11%
Goblin Motivator Discussion
1 week ago
Hi Shayda!!!
Dude those dragons are doing so well (when no one wipes them)!
Did you want a similar deck? 'Cuz that's what you've got here... but I think you should lean into go-wide-aggro > midrange and play more 1-2 cmc creatures and move all your ramp to 2 (Rampant Growth, signets, etc).
I'd also recommend Golgari Charm, Boros Charm, and Heroic Intervention.
Tribal decks have so much flavor! Hope this helps, maybe we'll see it next weekend? :o
5 months ago
Idol of Oblivion is super impactful.
Bolt and Tormenting Voice are super mid. If this deck is competitive, I'd play some way besides purphuros to utilize the giant sums of mana you can make with Altar/Rituals. Perhaps a wincon like Comet Storm or some repeatable pump effect in the same vein as big daddy purphuros?
Also Coat of Arms and Rings of Brighthearth are no-brainers for this strategy that you might have missed (I also like throwing in basalt monolith with my rings just to be a spike). Expedite is strictly better accelerate, in fact cut it entirely for Goblin Motivator
10 months ago
Think I'm going to have to pass on Earnest Fellowship . I might be getting sidetracked by the commander damage subtheme, but I dislike the conflict with colored buff sources like Goblin Motivator & Elspeth, Knight-Errant . However, I can easily see a purer token deck where those cards have been replaced.
1 year ago
As a zndrsplt and okuan connoisseur myself, I think that Final Fortune is quite good and underplayed. I would consider cutting Sword of Feast and Famine because I imagine that the equip cost is often too much if you are trying to kill with okuan that turn. Fury of the Horde is also quite excellent, due to mana efficiency. I run Goblin Motivator and Torch Courier as well, because they give okaun haste without costing any mana the turn you play him.
Load more