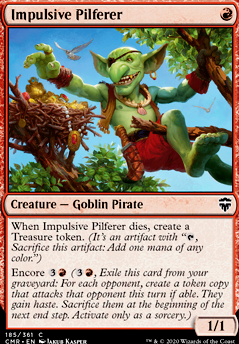 Impulsive Pilferer
Creature — Goblin Pirate
When this dies (is put into the graveyard from the battlefield), create a Treasure token. (It's an artifact with ", Sacrifice this artifact: Gain one mana of any colour.")
Encore (, Exile this card from your graveyard: For each opponent, create a token copy that attacks that opponent this turn if able. They gain haste. Sacrifice them at the beginning of the next end step. Activate this ability only as a sorcery.)
Latest Decks as Commander
Impulsive Pilferer Discussion
3 months ago
Sup lobsternips!
As a baseline, you'll need to add lands, which I'm sure you know. Since you're making Treasure and Gold tokens in this deck you'd probably be good with roughly 34-36 lands, leaning more to the most mana color you'll need, say like a 25/25/50 split if thats what you're going for.
That basically does it for my brief review, hope I was of some help!
5 months ago
MeanLizard I agree on exploring a treasure subtheme, but I don't know if this shell is built to make the most use of them. I WISH Curse of Opulence made treasure, then we'd be on to something. Here's the relevant treasure cards I've previously identified and why I haven't previously added them:
I'm perfectly content to have Gadrak, the Crown-Scourge not be able to attack - when I can finally snag and add in Toxic Deluge and/or Fire Covenant , we'll be packing such a heavy removal package that Gadrak becomes that much more likely to fall into value.
I like to look at Rakdos-color cEDH builds for ideas, and a few cards keep catching my attention: * Mindblade Render * Withering Boon * Mogg Salvage * Songs of the Damned
I keep seeing Necromancy so I think I have to take the plunge and add it...
6 months ago
Throw in Putrid Goblin so you have another combo piece with Grumgully and Rhythm of the Wild. Mogg War Marshal , Impulsive Pilferer , and Beetleback Chief are other good disposable bodies you can throw in.
You also may want some non-Shattergang Bro ways of sacrificing your goblins. Skullclamp , Shivan Harvest , Goblin Bombardment , Goblin Chirurgeon , & Arms Dealer would be the first options to look at.
I would take out Goblin War Strike and Mob Justice. These damage spells are too board reliant to be consistently good and often can't dal lethal without a Krenko in play.
Both Domri's can come out as well as they are difficult to defend. Goblin can chump block 2/2s all day but suck a blocking flyers or any sizeable trampler.
If you want more cuts I would look at the following: Ferocity of the Wilds, Dralnu's Crusade, Goblin Dark Dweller, Earwig Squad, Renata, Called to the Hunt, Goblin Rabblemaster, Sparksmith.
I run a similar Jund goblins list but mine is helmed by Korvold, Fae-Cursed King who gobbles up goblins and often voltron smacks an opponent to death by accident. Take a look for some ideas. https://tappedout.net/mtg-decks/tasty-goblins-2/
6 months ago
Hey, well planned out strategies on a budget. Nice Diabolic Intent :)
Consider Priest of Forgotten Gods and more repeatable token sources? If you can fuel Priest then she's over powered in multiplayer Commander and a great way to grow Korvold and draw. Priest makes insane value with Korvold since for no mana, just sacing two creatures, you make all opponents sac a creature and lose 2 life, you draw three cards, make two black mana and give Korvold two +1/+1 counters. Priest wants a robust package of cards that are repeatable token sources.
Chandra's second 0 loyalty ability + Priest is a combo to be able to activate Priest repeatedly on your turn. The Elementals Chandra creates are saced at your end step meaning they will trigger Korvold and they don't have to attack.
---
You can speed up game play by adding more one and two drops that have interaction with Korvold or can be reliable ramp to cast him quicker.
Another way to speed up game play is the reduce the number of lands that will always ETB tapped such as Gruul Guildgate .
On a budget Savage and Ancestry are exceptions, but they can make one color of the three Jund colors, that's worth it.
I offer more advice, including cuts to consider. Good luck with your deck.
9 months ago
Hey, well done for your first budget deck, you have several good cards, but also some that can be upgraded on a budget.
I'll give some card suggestions only for Pirates and lands and if you would like additional help with other cards than I offer more help in another comment.
Some cards to consider adding:
Total: About $10.
With Brass it's helpful to have more low CMC Pirates who have evasion especially flying because then you can more easily do combat damage to an opponent with three Pirates. Coercive Recruiter and Merchant Raiders have good repeatable effects with Pirates. They help to clear the way of blockers to do combat damage to an opponent. These Pirates are nice with Fathom Fleet Captain and Molten Echoes, cards that can be repeatable sources of Pirate tokens. Encore such as Impulsive Pilferer creates a number of Pirate tokens equal to the number of opponents you have which can be many triggers of Recruiter and Raiders.
---
Cards to consider cutting:
Highland Lake
Swiftwater Cliffs
Submerged Boneyard
Dismal Backwater
Crypt of the Eternals
1x Swamp
Clone
Confiscate
Gyruda, Doom of Depths
Nemesis Mask
Beguiler of Wills
Dire Fleet Neckbreaker
Dire Fleet Ravager
Tomb Robber
Clone, Confiscate, Gyruda, Wills are four subpar cards here compared to the others to copy or gain control of something an opponent has. Of these Wills is fine, but situational since consistently you're not going to be able to gain control of the creature you want to gain control of.
If interested I offer more advice. Good luck with your deck.
9 months ago
Boxing League Round 2 Swaps
Load more