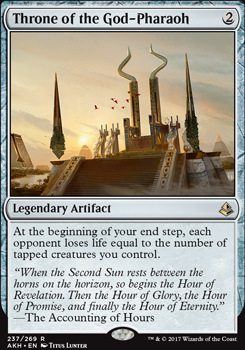 Throne of the God-Pharaoh
Legendary Artifact
At the beginning of your end step, each opponent loses life equal to the number of tapped creatures you control.
Browse Alters
Trade
Legality
| | |
| --- | --- |
| Format | Legality |
| 1v1 Commander | Legal |
| Arena | Legal |
| Block Constructed | Legal |
| Canadian Highlander | Legal |
| Commander / EDH | Legal |
| Duel Commander | Legal |
| Gladiator | Legal |
| Highlander | Legal |
| Historic | Legal |
| Legacy | Legal |
| Leviathan | Legal |
| Modern | Legal |
| Oathbreaker | Legal |
| Pioneer | Legal |
| Tiny Leaders | Legal |
| Unformat | Legal |
| Vintage | Legal |
| Casual | Legal |
| Custom | Legal |
| Quest Magic | Legal |
Latest Decks as Commander
Throne of the God-Pharaoh Discussion
6 days ago
Hey lobsternips! Thought I'd jump in and give you my take on what you've got going on. Your noncreature spells look fantastic, not much I would take out, but if you can find a way to fit in some creature recursion in Rise of the Dark Realms or Thrilling Encore with your mass creature destruction in dictate or Killing Wave . Also bounce-type effects like Conjurer's Closet could make use of your etb effects, you'd definitely see some usefulness there. The only problem I see with this deck is its SUPER heavy into red, there are some non-red Goblins out there, but you'd basically be playing a Red deck splashing white and black for support. However, Goblins are funny and mean just like Negan.
Hope I helped some, I probably didn't seeing as I gave more inclusion suggestions rather than cuts. If you decide on doing one thing like "Go Wide" or "Go Tall", adjust your cards to reflect that. Aside from that good luck on your deckbuilding!
1 month ago
Harvest Season seems fun. Seems like you end up with a lot of creatures, and if Throne of the God-Pharaoh is doing work, then i'm sure harvest could grab you a ton of lands.
How about Rude Awakening as another landimator, with the added benefit of untapping said lands?
1 month ago
You might like these: Alpha Status , Ivy Lane Denizen , Fallen Ideal , Crown of Skemfar , Vicious Betrayal , Pennon Blade , Quest for Renewal , Throne of the God-Pharaoh , Second Harvest , Toski, Bearer of Secrets , Ohran Frostfang , Skullclamp , Black Market , Pitiless Plunderer , Druids' Repository , Song of Freyalise
2 months ago
The lands weren't done properly. I believe this is the best iteration so far because of the Throne of the God-Pharaoh that is tutorable with Disciple of Deceit . The lands definitely need a rework but I think this is the best so far.
The main issue right now is this deck relies too much on Pain Seer , Any ideas on additional engines in the deck?
2 months ago
Thankfully I have all the cards I mentioned just not sure if I want to play them. Concordant Crossroads was a staple in my Ezuri, Renegade Leader deck but, with Lathril I am not sure giving EVERY CREATURE haste is something this deck can really take advantage of. I think I am going to try Fauna Shaman as she will help pull out big mana dorks quick, plus she synergizes with the rest of the elf theme.
I never thought about putting in Chord of Calling over Green Sun's Zenith but, with the amount of tokens our decks are producing you could in theory create an instant speed creature tutor that can pull both black and green creatures. Just cast it before your opponents end step with your untapped creatures or do it on your turn if Throne of the God-Pharaoh is out, spicy. Another really good tutor I have thought about running is, Finale of Devastation but, I feel to get the biggest bang for the buck I need to have a Craterhoof Behemoth in the deck which sandly is something I don't own.
I have been going back and forth with Champion of Lambholt as she will get really big really quick but, not really digging the fact she is not an elf. I might still try her and see how it works. As for Abrupt Decay I love the card but don't own it. Maybe I will have to pick up one.
Thanks again!
Load more