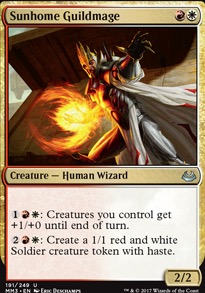 Legality
| | |
| --- | --- |
| Format | Legality |
| 1v1 Commander | Legal |
| Vintage | Legal |
| Modern | Legal |
| Casual | Legal |
| Legacy | Legal |
| Duel Commander | Legal |
| Unformat | Legal |
| Pauper | Legal |
| Commander / EDH | Legal |
Tokens
Sunhome Guildmage
Creature — Human Wizard
1RW: Creatures you control get +1/+0 until end of turn.
2RW: Create a 1/1 red and white Soldier creature token with haste.
Sunhome Guildmage Discussion
1 month ago
Hi all,
I am new here and I have created one deck for our game group. But I am not sure which variant I should play? Shall I go for Boros or for Selesnya? Feel free to comment any other improvements to the deck that you think would be good.
I own all commons and uncommons of the Ravnica, Return to Ravnica and Theros block twice plus Magic X. Please note that this is a strictly budget deck. I am willing to buy rares as long as they are not more expensive than 1 USD. Also in our group we have the rule not to include more than 4 rares in your decks. This should ensure that the power level of the decks is similar.
Normally we are four or five players and we play free-for-all, two-headed giant and prisma. So the deck needs some defenses.
My deck list is strangely formatted. How do I do a better deck list?
3 months ago
Drogskol Cavalry to turn Infinite mana into Infinite life and tokens. Bloodrite Invoker, Essence Depleter, Nightfire Giant, Orzhov Guildmage, Rix Maadi Guildmage, Scalding Devil, Scholar of Athreos, Soul of Shandalar, and Sunhome Guildmage also work.
Also, lands that kill: Piranha Marsh and Sunscorched Desert. (But throw in Seraph Sanctuary, too.)
5 months ago
Additions (trying to push boros. We can remove anything on this list, of course):
Things to consider for UW (not added, lets discuss):
Cuts:
Some notes:
Do we include sigets? I think it might be a good idea.
/N
8 months ago
I agree Tajic, Blade of the Legion is a good pick. Cause even if you deal the 13 damage to each creature, you still have Tajic (Thanks to his Indestructible).
My friend has a Boros deck and has these cards;
Sunhome Guildmage. Great for boosting and creating creatures.
High CMC card, but Foundry Champion is good for dealing a lot of damage if you have a lot of creatures when he enters.
10 months ago
Hey, just a few suggestions for budget boros weenie that I think are worth having a think about.
Doomed Traveler isn't a bit hitter, but is removal and wrath protection, and can teach about card value. Dragon Hunter, one mana 2/1 with a slight upside, can't complain about that really, basically an Elite Vanguard. Goblin Glory Chaser is a one mana 2/2 menace (in theory), a different mechanic to play with, and can hit hard. Another new mechanic for the deck, and another lesson in value are Nyxborn Rollicker, and Nyxborn Shieldmate. Another 2 power for one mana is Rakdos Cackler, not very thematic but fits for power and colour. Then there is the boss of weenie, the awesome top man himself, the Selfless Cathar! So much love for him. He's a great card for new players to play and learn with.
When building a deck that is going wide then Akroan Hoplite can get big. Not all that exciting but Cerodon Yearling is fast at least. Teaching about value and the dangers of going wide, you can have cards that go tall such as Sunhome Guildmage, and Truefire Paladin a bit as well.
If the deck has some boosts then Iroas's Champion is cool, or another fast card with Skyknight Legionnaire
I'm not excited by the enchantments you have, I'd rather individual ones that can boost them over cards that have little effect, or are defensive such as Brave the Sands. Just go aggressive with things such as Ordeal of Purphoros, and Madcap Skills. Swap the three mana Fervor for the awesome Expedite. It does what you need by not slowing you down later on, it allows you to run fewer lands (curving at two or with a few three drops I'd be happy with 20 lands), and it doesn't cost you a card. If you were spending more on it then Legion's Initiative is all sorts of awesome.
Just a few things to think about.
10 months ago
It is not really an official format by any means. You can adjust starting lifetotals and even deck sizes - my group plays with 50 card decks and 30 life.
There is a list of Pedh generals on this site somewhere. I would suggest avoiding everything that says hexproof on the general. Lawmage with Steel of the Godhead is incredibly uninteractive and ends games easily.
I played an izzet spells-matter deck with Fluxcharger and the helm and pretty much every flashback and rebound spell. My friends had decks with Noxious Ghoul Zombie tribal, boros agro with Sunhome Guildmage tokens, voltron Lorescale Coatl with counterspells and pump and draw, Ruthless Deathfang control...
Load more