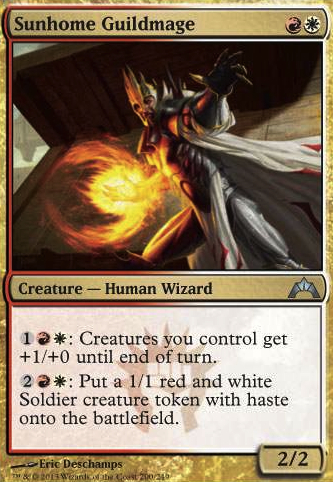 Sunhome Guildmage
Creature — Human Wizard
1RW: Creatures you control get +1/+0 until end of turn.2RW: Put a 1/1 red and white Soldier creature token with haste onto the battlefield.
Sunhome Guildmage Discussion
1 month ago
Hey guys, I could use some advice on which guildmages (and battlemages) are worth running in a non-powered Cube. Currently, I'm running all the Ravnica ones, but I want to get rid of the subpar pieces and am curious about the battlemages' usefulness.
This is a list of all Guildmages and Battlemages:
There's also Leonin Battlemage, but he doesn't quite fit with the others. If you want to see what I'm running currently, my list can be found below.
http://tappedout.net/mtg-cube-drafts/drakes-cube/
9 months ago
I like Gleam of Battle, but by turn 6, my opponent is usually down to around 10-5 life, and that's when I like to burn or put down Aurelia.
Weapon Surge I'll have to think about, I'm not decided yet on it.
Legion's Initiative - Yes! This should definitely find a place somewhere here. Probably instead of Sunhome Guildmage??
I'll tell you the rest later, I'm out of time!
11 months ago
For 1v1, your curve must be low. Anything above 4 of 5cmc is too much. Also, change the format of your deck to duel commander.
I've drawn a few hands and I never had anything to play on the first turn. This is simply unacceptable.
Good low-curve cards: Mother of Runes, Stoneforge Mystic, Leonin Arbiter, Boros Swiftblade, Leonin Relic-Warder, Boros Guildmage, Isamaru, Hound of Konda, Sunhome Guildmage, Grand Abolisher, Banisher Priest, Fiend Hunter, Knight of Meadowgrain, Knight of the White Orchid, Mirran Crusader, Precinct Captain, Student of Warfare, Silverblade Paladin, etc etc.
| | |
| --- | --- |
| Power / Toughness | 2/2 |
| Cost | RW |
| Converted cost | 2 |
Legality
| | |
| --- | --- |
| Format | Legality |
| Legacy | Legal |
| Vintage | Legal |
| Commander / EDH | Legal |
| Modern | Legal |
| Duel Commander | Legal |
Tokens