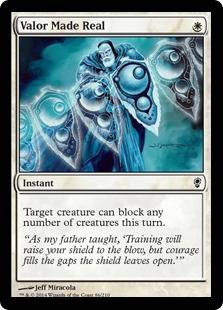 Legality
| | |
| --- | --- |
| Format | Legality |
| Noble | Legal |
| 1v1 Commander | Legal |
| Vintage | Legal |
| Modern | Legal |
| Casual | Legal |
| Vanguard | Legal |
| Legacy | Legal |
| Archenemy | Legal |
| Planechase | Legal |
| Duel Commander | Legal |
| Unformat | Legal |
| Pauper | Legal |
| Commander / EDH | Legal |
Valor Made Real
Instant
Target creature can block any number of creatures this turn.
Valor Made Real Discussion
1 month ago
Hi all,
I am new here and I have created one deck for our game group. But I am not sure which variant I should play? Shall I go for Boros or for Selesnya? Feel free to comment any other improvements to the deck that you think would be good.
I own all commons and uncommons of the Ravnica, Return to Ravnica and Theros block twice plus Magic X. Please note that this is a strictly budget deck. I am willing to buy rares as long as they are not more expensive than 1 USD. Also in our group we have the rule not to include more than 4 rares in your decks. This should ensure that the power level of the decks is similar.
Normally we are four or five players and we play free-for-all, two-headed giant and prisma. So the deck needs some defenses.
My deck list is strangely formatted. How do I do a better deck list?
7 months ago
Valor Made Real is an awesome card, thanks for the suggestion. It'll totally shut down my buddy's goblin aggro deck.
7 months ago
Maybe a Valor Made Real for token decks, or Silence for combo or storm decks. Sideboards mostly depend on what your current meta is, so once you figure out what type of deck is beating yours, you can choose cards to sideboard.
7 months ago
Get rid of Hex Parasite and put in Rhox Faithmender trust me on that.
And if you would like toss out Valor Made Real and one Sanguine Bond you only need 3 (its a 5cmc what would you do with that the first 4 turns?) and put in 3 Phyrexian Unlife. You can then have multiple win cons
Get a Immolating Souleater out with a phyrexian unlife you can pay 40 life and give him +20/0 then use one of your children or tainted sigil and gain it back and if you have a Rhox Faithmender out you gain 80 life and now your sitting at 60 life.
You can bid up Pains reward for 40 life when you have 20 if you need four cards or just give up the number of life the opponent has and use Vizkopa Guildmage or Sanguine Bond
Load more