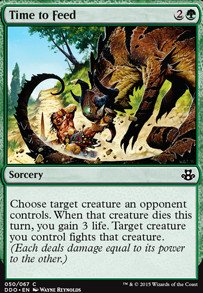 Legality
| | |
| --- | --- |
| Format | Legality |
| Noble | Legal |
| Leviathan | Legal |
| Hero | Legal |
| Magic Duels | Legal |
| Canadian Highlander | Legal |
| Vintage | Legal |
| Modern | Legal |
| Penny Dreadful | Legal |
| Casual | Legal |
| Pauper EDH | Legal |
| MTGO | Legal |
| Vanguard | Legal |
| Legacy | Legal |
| Archenemy | Legal |
| Planechase | Legal |
| Duel Commander | Legal |
| Unformat | Legal |
| Pauper | Legal |
| Commander / EDH | Legal |
Related Questions
Time to Feed
Sorcery
Choose target creature an opponent controls. When that creature dies this turn, you gain 3 life. Target creature you control fights that creature. (Each deals damage equal to its power to the other.)
Time to Feed Discussion
8 months ago
Hi all,
I am new here and I have created one deck for our game group. But I am not sure which variant I should play? Shall I go for Boros or for Selesnya? Feel free to comment any other improvements to the deck that you think would be good.
I own all commons and uncommons of the Ravnica, Return to Ravnica and Theros block twice plus Magic X. Please note that this is a strictly budget deck. I am willing to buy rares as long as they are not more expensive than 1 USD. Also in our group we have the rule not to include more than 4 rares in your decks. This should ensure that the power level of the decks is similar.
Normally we are four or five players and we play free-for-all, two-headed giant and prisma. So the deck needs some defenses.
My deck list is strangely formatted. How do I do a better deck list?
1 year ago
okay i'm not totally sure what you're going for here. it looks like partially a human tribal deck. if you're trying to play this in modern i would do the following:
take out:
-Grazing Gladehart - isnt a human (fun casual card though. may have potential in the right modern build. not this one)
-Netcaster Spider - nope
-like all of your auras. none of your creatures have hexproof so playing one of these just allows the opportunity to get 2-for-1'd in modern. removal is cheap and instant speed, so the likelihood of resolving even 1 of these before turn 6 is pretty unlikely.
Cultist's Staff - this is not a good card. strictly worse than Vulshok Morningstar and even that card is not worth playing unless you are doing an equipment build. even still, its probably just outclassed by other stuff.
Strength of Arms - youre not using an equipment based build, so this will fall flat as a nearly strictly worse Giant Growth.
Naturalize - its a great card, but should be in the sideboard
Sunlance - ive seen worse, but you should consider Path to Exile as a better option.
Time to Feed - probably better options for removal. i think Prey Upon would be better. the mana cost in a deck where you only have 20 lands makes it difficult to play this and progress your board in the same turn.
put in:
some options here for you include (but not limited to): Champion of the Parish, Thalia's Lieutenant, Mayor of Avabruck Flip, Path to Exile, Doomed Traveler, Duskwatch Recruiter Flip, Thalia, Guardian of Thraben, Thalia, Heretic Cathar, Tireless Tracker, Eternal Witness
you definitely need more creatures, just flat out. you're not going to be able to voltron up a non-hexproof creature in modern.
1 year ago
Dungrove Elder, Gaea's Liege, Kalonian Twingrove, Predator Ooze, Ulvenwald Tracker, any green creature with deathtouch, other cool big green creatures, mana ramp, and green fight cards.
Most 'fight' cards are


I believe.
Epic Confrontation, Foe-Razer Regent, Hunt the Hunter, Hunt the Weak, Mutant's Prey, Prey Upon, Savage Punch, Time to Feed, Triangle of War, Unnatural Aggression, and Wild Instincts make up all the fight cards you can use in mono green I think.
2 years ago
Caretaker, Devoted Caretaker, Mother of Runes, Nurturer Initiate, Nurturing Licid, Sunseed Nurturer, Kyren Toy, Squee's Toy, Toy Boat, Toymaker, Savage Conception, Blanket of Night, Formless Nurturing, Terashi's Cry, Incubator Drone, Krasis Incubation, Myr Incubator, Urza's Incubator, Time to Feed
Load more