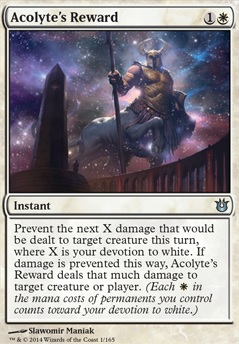 Legality
| | |
| --- | --- |
| Format | Legality |
| Pre-release | Legal |
| Noble | Legal |
| Leviathan | Legal |
| Hero | Legal |
| Tiny Leaders | Legal |
| Heirloom | Legal |
| Vintage | Legal |
| Modern | Legal |
| Penny Dreadful | Legal |
| Casual | Legal |
| MTGO | Legal |
| Vanguard | Legal |
| Legacy | Legal |
| Archenemy | Legal |
| Planechase | Legal |
| Magic Duels | Legal |
| 1v1 Commander | Legal |
| Duel Commander | Legal |
| Unformat | Legal |
| Pauper | Legal |
| Commander / EDH | Legal |
Related Questions
Acolyte's Reward
Instant
Prevent the next X damage that would be dealt to target creature this turn, where X is your devotion to white. If damage is prevented this way, Acolyte's Reward deals that much damage to target creature or player. (Each White in the mana costs of permanents you control counts toward your devotion to white.)
Acolyte's Reward Discussion
4 months ago
Hi all,
I am new here and I have created one deck for our game group. But I am not sure which variant I should play? Shall I go for Boros or for Selesnya? Feel free to comment any other improvements to the deck that you think would be good.
I own all commons and uncommons of the Ravnica, Return to Ravnica and Theros block twice plus Magic X. Please note that this is a strictly budget deck. I am willing to buy rares as long as they are not more expensive than 1 USD. Also in our group we have the rule not to include more than 4 rares in your decks. This should ensure that the power level of the decks is similar.
Normally we are four or five players and we play free-for-all, two-headed giant and prisma. So the deck needs some defenses.
My deck list is strangely formatted. How do I do a better deck list?
4 months ago
@ Rainbow-sama
I've chosen Ghostly Prison over Archangel of Tithes because of my local meta. There are some really fast aggro boardswarm decks like Elves. In my playtest, waiting until turn 4 + they need to pay 1 less mana with Archangel of Tithes was not worth it. Of course Archangel of Tithes would fit the main strategy of the deck much more and is also a viable option for the sideboard.
The ideal starting hand is at least 1x Plains with 1x Weathered Wayfarer or 2x Plains and some low drops. Mulligan in this deck is pretty hard to take. Mulligan to 5 can cost you already the game. But one mulligan is ok if you have 2-3 really high drops (Angels).
Sideboarding 4xNevermore against decks that rely on ONE strategy to win like combo decks or some real cheesy stuff.Mana Tithe is good against Midrange/Control decks that curve out at every turn. Most of the time, it's enough to say that you play Mana Tithe in Sideboard. The psychological effect will make them play around it even if it's not sideboarded.Leyline of Sanctity is important if they play hand disruption.
@BallzanyaBaneslayer Angel and Blinding Angel are nice drops, but i had to cut it to Legendary Angels only. It is much funnier to play with Tutor effects like Thalia's Lancers and searching for what you need.
Acolyte's Reward seems nice. Need to test it.
10 months ago
Your mana curve is off (too many 2, 4 and 6 drops / not enough 1 drops) and you aren't running a play set (4x) of any card. If you want to make the deck more efficient then a few things should probably change...
For non-creatures I'd cut Silkwrap, Blind Obedience, Hail of Arrows, Angel's Feather and Chaplain's Blessing. Instead of these running 4xJourney to Nowhere and 4xAcolyte's Reward
For land since devotion is an easy sub-theme Nykthos, Shrine to Nyx is almost an auto-include in mono-coloured decks. Also worth consideration is Emeria, The Sky Ruin, Drifting Meadow and New Benalia all offer some utility, you probably don't need more than 20 land.
Finally for creatures you have no drop creature, I would suggest 4x Perimeter Captain in that role. To make the space cut Staff of the Sun Magus and 2x Plains. You might want to look at Nyx-Fleece Ram, Hero of Bladehold / Archangel of Tithes (in preference to Aegis Angel) or if you want to spend money - Serra Ascendant!
10 months ago
Splagg thanks for pointing that out, I never really thought that through. With that in mind I'm taking one out and adding another Acolyte's Reward for more direct damage in the deck.
1 year ago
Since this is modern, you need some cheap/efficient removal spells. I recommend Path to Exile (which i know is around 10 bucks sadly), Condemn, Oblivion Ring, and maybe even Stasis Snare (since you have somewhat of a white devotion subtheme in here with Nykthos, Shrine to Nyx in here. I'd add one more nykthos, shrine to nyx come to think of it. Add a couple Gideon Jura as well. Helps keep you alive against infect and aggro/zoo decks. I like Emeria Shepherd but it's more of a commander card, the mana cost is just too high for modern. Luminarch Ascension might also be good for this deck. Holy Day might be decent as well as it can fog your opponents creatures.
I'd remove the following cards: Archetype of Courage, Emeria Shepherd, Preeminent Captain, Phalanx Leader, Armored Ascension (your opponent can 2 for 1 you so auras aren't generally good in modern, unless you have hexproof creatures to put them on), Akroma's Memorial (good card, but at 7 mana, many decks will kill you before you even get 7 lands out, burn and infect for example), Tatsumasa, the Dragon's Fang (good edh/commander card, but at 6 mana and 3 to equip, you'd need 9 mana to cast and equip it onto something in one turn, and playing something for 6 that does nothing the turn it comes out is bad in modern, if not in general.)
Debtors' Knell is on the borderline of being ok, at least in a deck that will utilize the devotion to white aspect, however, once again at 7 mana it's not even doing anything until your next upkeep)
I'd replace Devouring Light with some combination of better/cheaper removal, perhaps two Condemn and a Path to Exile (or whatever combination of those cards you have or would prefer to play). Hold at Bay seems very mediocre and it takes up a slot that a better card could fill. It's not terrible but it's only preventing damage as a one time use, so you're better off with Holy Day in its place, as it will prevent all the combat damage, not just 7 of it. Solemn Offering is bad since it's three mana to basically cast Disenchant with some lifegain. Resurrection isn't needed either, just get another Emeria, The Sky Ruin to fill the same function. (replacing a land of course and not simply the resurrection slot in your deck)
Ray of Dissolution isn't that great either, I'd take that one out. Also, a handful of cards would be ok sideboard cards. For example, Reprisal, and Elixir of Immortality. Add a couple of Disenchant to the sideboard as well. Two Kor Firewalker will be pulling double duty by stopping burn decks and giving you two devotion to white.
I'd add another Brimaz, King of Oreskos to the mainboard, and add at least two more Acolyte's Reward, (provided that the finished version of this deck has enough devotion to white to really take advantage of it). Grand Abolisher could be good in either the sideboard or the main, so I recommend that card for the deck. The sideboard could just some graveyard hate as well so if you have cards like Relic of Progenitus, Rest in Peace, Tormod's Crypt or Grafdigger's Cage add them to your sideboard. Dredge is a thing now in modern and it is not fun to play against.
1 year ago
Suggest removing Acolyte's Reward, Crypt Incursion, Dazzling Reflection, Grotesque Mutation, Hold at Bay, Make a Stand, Necrobite, Pay No Heed, Profit / Loss, Riot Control, Smite the Monstrous, Blind Hunter, Hired Torturer, Nip Gwyllion, and Silent Skimmer.
Load more