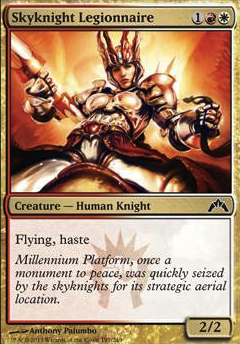 Skyknight Legionnaire
Creature — Human Knight
Flying, haste
Skyknight Legionnaire Discussion
1 month ago
In an aggro deck like this you need more CMC 2 creatures. You only have 21 lands so chances are you won't be playing Skyknight Legionnaire on T3. The risk is you will be sitting with a hand full of creature buffs controlling no creatures to target.
I would recommend trying to make room for 3x CMC 2 creatures and 1 additional land If you plan to keep the heelcutters or alternatively replace the heelcutters with some CMC 2 creature and instead make room for some carddraw such as Tormenting Voice or Dangerous Wager.
1 month ago
Viral_Assassin and Krapak, you win. After thinking about it, only three mana in what are the odds they'll have a flying creature worth worrying about? Most likely scenario is that they'd want to retain creatures to try to block Iroas's Champion anyway, which wouldn't work out in their favor this early in the game. Moved Iroas's Champion to Main, moved Skyknight Legionnaire to Sideboard and moved Hobgoblin Dragoon to Maybeboard. Thanks, guys, for pushing on this. :p
2 months ago
I'm in favor of the double striker but if you like the flying why not Skyknight Legionnaire? Aggro is way better!
2 months ago
While you are producing a few goblins, I don't think you're producing enough to where you're making full use of Goblin Rabblemaster. My suggestion would be Skyknight Legionnaire. It has haste and flying so it's going to be harder to block, and you have enough combat tricks to make full use of that aspect. Or is there a better reason you have Rabblemaster that I'm not seeing.
3 months ago
Well, first off you need to get rid of Serra Angel, Skyknight Legionnaire, and Wojek Halberdiers and replace them with small creatures like Legion Loyalist, Rakdos Cackler, Spark Trooper, Angel of Jubilation, Archwing Dragon, Hellrider, Lightning Mauler, Silverblade Paladin, Vexing Devil. Just to name a few that you should consider putting into your deck. Also you should put in Aurelia, the Warleader for the extra damage.
| | |
| --- | --- |
| Power / Toughness | 2/2 |
| Cost | 1WR |
| Converted cost | 3 |
Legality
| | |
| --- | --- |
| Format | Legality |
| Heirloom | Legal |
| Legacy | Legal |
| Vintage | Legal |
| Commander / EDH | Legal |
| Modern | Legal |
| Duel Commander | Legal |
| Pauper | Legal |