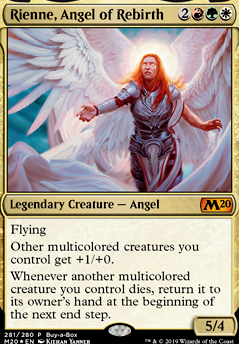 Legality
| | |
| --- | --- |
| Format | Legality |
| Pre-release | Legal |
| Tiny Leaders | Legal |
| Custom | Legal |
| Magic Duels | Legal |
| Canadian Highlander | Legal |
| Vintage | Legal |
| Modern | Legal |
| Arena | Legal |
| Standard | Legal |
| Leviathan | Legal |
| Brawl | Legal |
| 1v1 Commander | Legal |
| Duel Commander | Legal |
| Oathbreaker | Legal |
| Casual | Legal |
| Commander / EDH | Legal |
Rienne, Angel of Rebirth
Legendary Creature — Angel
Flying
Other multicoloured creatures you control get +1/+0.
Whenever another multicoloured creature you control is put into the graveyard from the battlefield, return it to its owner's hand at the beginning of the next end step.
Rienne, Angel of Rebirth Discussion
2 weeks ago
Greetings! I've got a brick of cards to sell!
BINDER IS OUT OF DATE: CARDS LISTED HERE ARE THE CARDS I HAVE AVAILABLE FOR SALE

CARD KINGDOM SETS FULL PRICE AT $829.29. YOU CAN HAVE THE ENTIRE BRICK FOR $630 - A SAVINGS OF $200!!
I am doing this, not because I need the cash immediately, but because I really don't want to ship out a ton of packages and wait forever. I just want to unload so I can fund different hobbies :3
I have chat open and available to all :) Send me a message if you are interested!
3 weeks ago
Good start to a deck. Rienne looks like an interesting build, and the built-in recursion is pretty powerful. If I might suggest a few cards that work really well with her; Dauntless Escort , Saffi Eriksdotter and Qasali Pridemage are all cards that self-sacrifice with powerful effects that Rienne, Angel of Rebirth lets you re-use. These cards will help to make your board more sticky and keep Rienne around to keep chugging out that value.
Theres a ton of other multicolored creatures that have reusable effects when they enter, like Duergar Hedge-Mage , Knight of Autumn and Tolsimir, Friend to Wolves . If token making is something you're interested in, then Conclave Cavalier and Trostani's Summoner can do a decent job. If you want some good aggressive finisher cards, theres Gahiji, Honored One and Knight of New Alara who can pump your board pretty nicely, as well as the liege cycle from Lorwyn.
Rienne also likes Sacrifice outlets, so Evolutionary Leap , Brion Stoutarm and some of the card-draw spells like Life's Legacy can generate some serious value.
Since the deck is three color, getting the right mana on time might be a bit of a problem. You could do with swapping some of the basics out for some tri-color lands, like Command Tower and Jungle Shrine , and using cheap fetches like Evolving Wilds , Terramorphic Expanse and Krosan Verge can help you get the lands you need as you need them. Replacing cards like Safewright Quest with things like Farseek , Kodama's Reach and Skyshroud Claim are also going to help, as you can never have enough mana in an EDH game, as we all know.
Your deck is also pretty light on removal, stuff like Swords to Plowshares , Sylvan Reclamation , Return to Dust , Generous Gift and Beast Within can get rid of troublesome creatures or permanents that threaten you or stop you winning with creatures. While they aren't flashy, sometimes you just need to get rid of that Rest in Peace before it does too much damage.
Thats my take on just some of the cards I figure could improve the deck, but I'm no expert. Play around with it and see what you like. If you find yourself struggling to cut cards, here's a list of what I feel are the weakest links in your deck, in no particular order; Chandra, Fire Artisan - You have access to better card draw and the burn shouldn't be super relevant most games. Dryad Militant , Vernadi Shieldmate , Skyknight Vanguard , Boros Swiftblade and Sunhome Guildmage all seem fairly low impact. Fatal Frenzy seems odd as your creatures aren't super large, and your commander isn't going to easily win by Commander Damage. War's Toll and Mana Web seem like filler slots, but maybe these help against your local meta?
Hopefully some of this helps, I look forward to seeing how the deck develops in the future.
1 month ago
Atemsis' Prediction
Legendary Sorcery
Choose a converted mana cost number between 1 and 8. You may search target opponent's library, graveyard, and hand for up to three cards of the chosen converted mana cost and exile them. That player shuffles their library, then draws a card for each card exiled from their hand this way. Then, you may scry X, where X is the number of cards you exiled this way.
---
This is meant to be an Unmoored Ego that gets you closer to the win condition written on Atemsis, All-Seeing 's card text. The scrying is just Sphinx-flavored sugar on top, which helps justify why this costs more than Unmoored and is legendary.
The same challenge! Let's see something for Kykar, Wind's Fury or Omnath, Locus of the Roil or Rienne, Angel of Rebirth or Drakuseth, Maw of Flames . There are a few others, too, so do whoever you want from Core 2020.
1 month ago
Thanks austintayshus, I plan on adding some more angels/creatures in the future for sure. I got Rienne, Angel of Rebirth on friday and threw this deck together fairly quickly from what I had on hand.
I typically don't play green outside of a dino deck that I made a while ago, I'm an esper/orzhov guy. I feel that shows in the amount of sorceries and instants here lol. Thanks for the suggestion to push towards lands instead of artifacts. I haven't had too much trouble with artifact hate in my area but can see how it could hurt if this went up against the wrong deck.
I want to test this and see how it goes, but I'd be willing to bet that almost all of your suggestions will make their way into the deck soon. Especially the green ramp/draw cards.
Thank you
1 month ago
Cards to consider from modern Horizons and M20:
Mox Tantalite
Arcum's Astrolabe
Cabal Therapist
Elvish Reclaimer
Giver of Runes
Hexdrinker
Icehide Golem
Nimble Mongoose
On Thin Ice
Scheming Symmetry
Unearth
Knight of the Ebon Legion (1/2 Vampire Bro)
Collector Ouphe
Corpse Knight
Cordial Vampire
Cunning Evasion
Eladamri's Call
Legion's End
Lesser Masticore
Marauding Raptor
Marit Lage's Slumber
Mother Bear
Regrowth
Saddled Rimestag
Scour All Possibilities
Season of Growth
Starfield Mystic
Unsettled Mariner
Voracious Hydra
Wrenn and Six
Winds of Abandon
Angel of Vitality
Archmage's Charm
Aria of Flame
Ayula's Influence
Bogardan Dragonheart
Dead of Winter
Etchings of the Chosen
Force of Negation
Generous Gift
Good-Fortune Unicorn
Kaya's Guile
Lightning Skelemental
Mu Yanling, Sky Dancer (new blue walker)
Rotting Regisaur
Shatter Assumptions
Seasoned Pyromancer
Sword of Sinew and Steel
Sword of Truth and Justice
Soulherder
Splicer's Skill
Vesperlark
Ajani, Strength of the Pride
Drawn from Dreams
Endling
Force of Virtue
Kykar, Wind's Fury
Omnath, Locus of the Roil
Ravenous Giant
Sling-Gang Lieutenant
Serra the Benevolent
Urza, Lord High Artificer
Yawgmoth, Thran Physician
Blizzard Strix
Cavalier of Flame
Golos, Tireless Pilgrim
Rienne, Angel of Rebirth
Yarok, the Desecrated
Atemsis, All-Seeing
Echo of Eons


this is a lot of cards, and more are sure to come out that I want to include. I'm considering making a modern cube in addition to my legacy cube, or maybe expanding the cube altogether. I really don't want to go to 720, and honestly I would prefer 360 with a regular rotation of cards, but I don't play the cube often enough to justify that so for now it sticks to 720.
No data for this card yet.