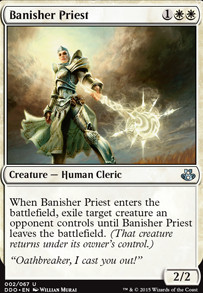 Legality
| | |
| --- | --- |
| Format | Legality |
| Modern | Legal |
| Legacy | Legal |
| Vintage | Legal |
| Commander / EDH | Legal |
| Duel Commander | Legal |
| Tiny Leaders | Legal |
Banisher Priest
Creature — Human Cleric
When Banisher Priest enters the battlefield, exile target creature an opponent controls until Banisher Priest leaves the battlefield. (That creature returns under its owner's control.)
Banisher Priest Discussion
4 days ago
DISCLAIMER
I am particularly hard on this deck because I know the builder in person, and he has asked for some help. This is not a comment on a random deck tearing it a new one.
1 week ago
Interesting deck idea. I didn't consider using Queen Marchesa for just the deathtouch and haste. I do like the Human theme. I've looked over your list and I have some ideas that might help.

First thing that kinda stands out to me is the mana base. Seems a little thin. I think you should bump it up to somewhere between 35 to 38 lands. I think 36 or 37 might be better.
These are the cards I would cut to make room for more lands.
Gallows at Willow Hill, doesn't seem efficient to tap 4 cards to destroy one target. That's 3 less attackers or blockers.
Divine Verdict, Ride Down, and Smite the Monstrous are conditional spot removal. There are better options for spot removal and trading a 1-for-1 card in hand for creature on the battlefield isn't that great in multi-player.
Dropping those would let you add 4 more lands. Now with more land drops, let's look at some of the other weaker cards.

Bituminous Blast is nice spot removal and the cascade can be nice but there could be times where the cascade just gives you something that doesn't help that much. Might be better to have something more consistent.
Disentomb is another 1-for-1 trade where you get 1 card out of the graveyard for 1 card from your hand.
Diabolic Tutor is another 1-for-1 trade where you get 1 card out of the deck for 1 card from your hand.
Death Grasp is an OK card when you only have one opponent. Not good for multi-player games.

Consider the following replacements:
Death Denied instead of Disentomb. Instant speed instead of a socery, X creatures instead of just 1.
Increasing Ambition instead of Diabolic Tutor. One more mana but the flashback makes it worth it.
Exsanguinate instead of Death Grasp so that you hit everyone at the same time instead of only one person.
Additionally, what about adding a Basilisk Collar or Gorgon Flail to the deck. That would allow your Brigid, Hero of Kinsbaile to wipe the board of creatures attacking you.

Toxic Deluge is a tough call. I like it in 60 card decks like Legacy or Modern. Not sure about this deck.
Faith Unbroken, I'm undecided on this one. I see why it's in the deck. But wouldn't a Banisher Priest or Fiend Hunter be a better choice for the exile effect?

As always, temper these suggestions with your collection and your budget. Feel free to take a look at my decks and let me know what you think.
1 week ago
Well, hello there.
I see you're running esper control, and I fucking love it. But we need to discuss some points here. This may be a little long, though I'm sure it will clear up some aspects of esper deckbuilding.
List Time!
Manabase. Manabase is the crucial point for ANY three-color deck, and especially when we're talking esper, where you'll want to play cards with very color-specific mana costs (e.g. Cryptic Command, Esper Charm, Detention Sphere, Damnation and Supreme Verdict) you need to make sure you have fast access to these colors. In the right order. In the right time. And you really can't assure that using so many taplands. You have literally 0 lands that generate mana in the turn they get on the battlefield. If I had to warn you about one thing only, it would surely be: work your manabase. Right now, I believe the cheapest fetch land is Flooded Strand. With that you have access to get any Godless Shrine, Watery Grave or Hallowed Fountain straight outta the middle of your deck and fixing you really good. For a price, of course, but trust me, 3 lifepoints aren't so much when compared to the benefit of fast manafixing.
Wincons. Your deck depends on either flipping Thing in the Ice Flip or Luminarch Ascension to win the game. That's not a problem.

S

p

o

t

r

e

d

has a very awesome deck that wins the game with Myth Realized and that's the coolest thing ever. The problem is you're not moving toward your wincons. Banisher Priest in the same list as Thing in the Ice Flip is horribly bad. And AEtherling, well... Whenever I see and AEtherling I remember a comment I made on

J

w

i

l

l

e

t

t

e

7

2

's Don't wake horror! (Sung like Don't Wake Daddy), read the comments if you want it, might clear up some stuff too. Basically, Aetherling is awesome and I love the card, but it costs waaaaaaaaaay to much mana and doesn't win you the game. You might as well be dying by turn 6, then you draw one of these guys, cast it and... well, you're still losing the game. As a 6-drop, I'm a great fan of Elspeth, Sun's Champion. She generates a lot of board presence, and if your opponent doesn't handle her in time, she wins the match on her own.
Strategy. Building esper is hard because there are awesome midrange oriented cards such as Lingering Souls and Geist of Saint Traft, at the same time you have the two best removals in modern Path to Exile and Fatal Push (which should probably replace your 3 copies of Anguished Unmaking for. This card is horribly painful and certainly not better than Path, Push or Sphere), and even counterspells. (friendly reminder: Counterspell is not modern legal). This brings us to some hard dillemas: building a draw-go strategy or a midrange strategy? I play esper draw-go, check my list if you want it: Esper. The main advantage of this list is that you don't really need to play in your turn, and if your opponents don't show anything you need to handle, you have 4 copies of Think Twice for generating an insane amount of card advantage. The midrange strategy is also very consistent, so it's up to you to choose. The main point is: choose one. Not defining what your deck does or how you should play it is very often the biggest mistake by esper players, because you end up with a half-breed of two decks that does literally nothing dues to its lack of strategical consistency.
Counterspells. Well, this is blue, right? We need to talk about it. Right now, you're using two Counterspells. Since they're not legal, you're probably replacing them by Mana Leak (don't use Cancel. Cancel is bad). There are a few options of good counter magic in Modern right now: Spell Snare, Dispel, Negate, Spell Pierce, Cryptic Command and Remand are probably the best ones, but Remand isn't exactly a counterspell. The point of counter spells is to assure that they cover up your enemies cards. So if your local game store has too many players using creature-based decks, Negate is probably a bad choice. If you have a lot of Jund and Affinity, Spell Snare is a bomb. And so goes, but I believe this sort of analysis is up to you. Just the keep on with the low converted mana cost spells. This is important. And keep the Vendilion Cliques. They're abusively good in any blue control deck.
Suggestions. I read your comment about Dark Confidant and you don't really need him if you have blue mana. Bob is only good in jund or abzan builds, where you don't have card advantage generators. Snapcaster Mage goes really good here, and I believe he is one of the most interesting cards in all MTG history in terms of gameplay. Sometimes, going off a color might be interesting too. Lately, I took off black and started playing this TrUWe Control, and hell, this is fun. Although, if you really want to keep esper, I strongly suggest using more Esper Charms and Fatal Push. This cards push the esper into a whole new level of control. Lingering Souls is also very consistent in modern right now. There's a small part of the esper fans using Mystical Teachings lately... I don't really like it, but give it a try if you want it.
I hope I helped. I don't really intend to diss your deckbuilding skills or anything alike. I just like to show new control players the ideas other control players shared with me in all these years. If you want to discuss more about esper colors or controls strategies, please feel free to add me.
Anyhow, good deck! Keep it up! +1
Load more