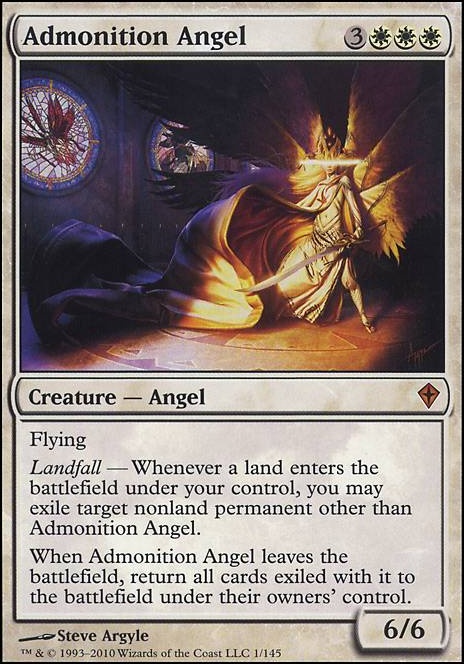 Legality
| | |
| --- | --- |
| Format | Legality |
| Tiny Leaders | Legal |
| Noble | Legal |
| Leviathan | Legal |
| Magic Duels | Legal |
| Canadian Highlander | Legal |
| Vintage | Legal |
| Modern | Legal |
| Vanguard | Legal |
| Legacy | Legal |
| Archenemy | Legal |
| Planechase | Legal |
| 1v1 Commander | Legal |
| Duel Commander | Legal |
| Unformat | Legal |
| Casual | Legal |
| Commander / EDH | Legal |
Admonition Angel
Creature — Angel
Flying
Landfall — Whenever a land enters the battlefield under your control, you may exile target nonland permanent other than Admonition Angel.
When Admonition Angel leaves the battlefield, return all cards exiled with it to the battlefield under their owners' control.
Admonition Angel Discussion
4 days ago
Heya Fans, and welcome back to our show. After some practice with our potential new hires we come to our first look at what fresh acts we can bring to the audiences.
After much hiring and firing, then rehiring again, and many hours of choreography, I am happy to report we have had decent results. And that I'm convinced there could be physical changes made. If you disagree or think of something better, please share your thoughts in the comments.
These changes aren't so deck altering as some of the others I am still considering, but I'm still not 100% on them. Need some outside input.
Wandering Eye or Fog Bank - Ingenious Thief : Eye gives away our own information, Fog does nothing against trample. Thief however can be blinked and doesn't pose a large threat stats wise.
Hanna, Ship's Navigator - ???: Closest things I could find that flies is Razor Hippogriff , Sanctum Gargoyle , and Griffin Dreamfinder but that only covers half. Or is this ability really necessary, can we work around our toys being removed and use this spot to fit something new?.
Azorius Keyrune & Ojutai Monument : for lack of a better word they seem 'cute' now. They seemed useful at first because they turned into flying creatures that shared the benefit other flyers do. Better rocks? Keep? Replacements could include Fellwar Stone , Basalt Monolith could be blinked with Brago... unsure what else is good and not overly expensive.
Favorable Winds : Is it really necessary, amid the other +'s it seems the least shiny, even though it's foiled.
Stay tuned for more to come! We're always trying to keep fresh acts, and as accidents happen replacement performers will hopefully be swift coming. Don't forget the suggestion and vote box on your way out. See you next time at The Circus!
1 week ago
Thanks ThoAlmighty, for the + and suggestions, I'll add them into my test version. I especially like Unsubstantiate and Expel from Orazca , Clique is being considered, and I'm currently trying out Admonition Angel (similar to Sanctions). Dire Hour I have considered, however doesn't fit into the blink part of the deck. I'll also take a look at yours as well, hope you found some ideas for yourself here.
Speaking of the test version, I shall have some to report from that soon. Stay tuned.
1 week ago
Yes I've been playing this deck every chance I get! Basically every up-date I've done on this deck has been because after play testing it and realizing what I need to change or just new cards I have acquired. So right now I currently own all these cards expect some of the special lands. I just order them on tcgplayer. Mistveil Plains and Emeria, The Sky Ruin is a must for me, however I'm wondering if having to many special lands is going to be a bad thing.
heyzeus_ I see your point on Lumbering Battlement where it would just be better for me to drop an angel rather using it only for board wipe protections, so instead I replaced it with Steelshaper's Gift . I also swapped Angelheart Vial for Coercive Portal because it grants me two things which is the chance to draw or a board wipe which is what i'm after. None of my friends take extra turns so it makes sense to actually not have Ugin's Nexus in this deck because there are defiantly stronger cards that i have.
Honestly I'm having a hard time trying to figure out what else to add besides expensive cards such as Land Tax , Admonition Angel , Avacyn, Angel of Hope , Archangel of Thune , Stoneforge Mystic , Linvala, Keeper of Silence , Angel of Jubilation , The Immortal Sun , Baneslayer Angel , Crucible of Worlds , and maybe Angel of Grace . But in my eyes these are the big buys that 10 dollars or up which probably wont get in tell summer.
3 weeks ago
I never understood why so many people build Karametra as an enchantress deck. Her strength is clearly Creatures and Landfall! So I'm glad you are running Courser of Kruphix , Lotus Cobra , Emeria Shepherd , Emeria Angel , Rampaging Baloths , Admonition Angel , Tireless Tracker , and Avenger of Zendikar .
But in a deck that takes so much advantage of landfall, why only 1 fetchland? If you added more fetchlands, and then Azusa, Lost but Seeking , Ramunap Excavator . . . suddenly your Lotus Cobra is getting you 6 mana per turn completely for free, Rampaging Baloths is dropping 6 beast tokens per turn completely for free. Plus the extras you'll get for playing creatures and triggering Karametra.
Obviously fetchlands plus Karametra/Creatures triggers will run you out of basics to fetch. But when that happens you should be so far ahead that you can find a wincon.
If you put in Quirion Ranger , Scryb Ranger , Jungle Basin , and Karoo , and you don't even need lands in your deck to keep getting the land drop triggers.
If you wanted even more land drops you could of course run Wayward Swordtooth , Oracle of Mul Daya , Llanowar Scout , Sakura-Tribe Scout , Walking Atlas , probably others I can't think of off the top of my head.
More ways to take advantage of so much landfall: Retreat to Kazandu , Grazing Gladehart , Oran-Rief Hydra , Retreat to Emeria , Stone-Seeder Hierophant (toss in a Wild Growth , Utopia Sprawl , or Overgrowth and watch what Stoneseeder can do in this deck!)
Fetchlands Available to G/W: Terramorphic Expanse Evolving Wilds Myriad Landscape Flooded Strand Bloodstained Mire Wooded Foothills Blighted Woodland Bant Panorama Esper Panorama Grixis Panorama Jund Panorama Naya Panorama Marsh Flats Verdant Catacombs Arid Mesa Misty Rainforest Terminal Moraine Thawing Glaciers
3 weeks ago
Toolbox
Admonition Angel - Oblivion Ring on a stick. Combine it with Dissipation Field and Adarkar Wastes and you're guaranteed a "Landfall" trigger every turn (at a expense of 1 life).
Dungeon Geists - Permanently taps down a troublesome creature. Sower of Temptation is better but this is worth considering if you want redundancy. Gilded Drake would be the best but I noticed that you've labeled this deck as "Budget" so it could be out of the budget.
Karmic Guide - Tutorable graveyard recursion in white. Can be blinked for repeated use (blink it in response to the echo trigger will let it stick around for one more turn for more shenanigans). It combos well with Reveillark but since it doesn't quite fit the theme of the deck, I'll just leave the combo for your reading pleasure.
Shrieking Drake - This little fellow may seem underwhelming. You mentioned you tutor for Archon of Redemption 1st 90% of the time. If you've mana to spare, you can cast Drake and return itself to your hand, so every you spend gains you 1 life. With Ephara, God of the Polis in play, Drake effectively reads ": Draw a card at the beginning of your next upkeep" as it guarantees that a creature ETB under your control every turn. You can also return another creature and recast it for it's ETB effects.
1 month ago
Hi Leah and eyes2sky.
I'm from Germany: FlammendesSchwert means "burning blade" (angels have).
I also like Angels, myself playing them in legacy: Exil-Flicker (Legacy).
Admonition Angel + with 4x Ghost Quarter and 4x Flagstones of Trokair you can instantly exile 2 target nonland permanents. I've therefore made a youtube-video for her if you like to watch :) Lobpreis dem Mahnenden Engel - Tribute to Admonition Angel https://www.youtube.com/watch?v=XNM_v-mP-54
hoping some day there will be an avacyn angel planeswalker
1 month ago
Thanks SomaCruz, lots of great suggestions here. I really wrestled with the angel decisions for this deck - there's so many amazing ones. I debated as to whether or not I should include each of the ones you've mentioned so I'll try to explain the 'why' behind my omissions.
Angel of Jubilation is excellent, love the casting cost and lord effect but she didn't make the cut because I need to be able to pay life for one of my win conditions, Aetherflux Reservoir . Angel of Condemnation and Angel of Sanctions are good removal options, but ultimately I decided that I'm running enough removal. I may revisit that line of thinking if it becomes a recurring problem, perhaps replace Angel of Serenity with one of these cheaper, less win-more options. Now having said that, looking at Admonition Angel again, yeah. That needs to be in here. You're also right about Angelic Skirmisher so I think I'll take that out and swap in Angelic Field Marshal , good call. Sunblast Angel is awesome and is indeed in here already. I thought about Karmic Guide and Dawnbreak Reclaimer as recursion options but I am actually comfortable with the current recursion amount ( Bruna, the Fading Light

, Emeria Shepherd , Reya Dawnbringer , Defy Death , Buried Ruin & Emeria, The Sky Ruin ).
Dawn of Hope and Smothering Tithe make a lot of sense and should probably be in here, I'm just not certain what to cut for them yet. I'm luke warm on Geier Reach Sanitarium and Inventors' Fair in here but I see what you're getting at, likewise with Weathered Wayfarer & Expedition Map .
Thank you for the good ideas and let me know when/if you post your Lyra deck, I'd be keen to check it out.
1 month ago
The strategy with Admonition Angel always depends on the situation, I mostly use her on opposing cards. You can always play a Fetchland, fetch and then blink the angel with both triggers on the stack. Apart from that I usually use her for permanents I otherwise struggle with ( Torpor Orb ). Often she is a solid tempo play. I remove a commander/fatty and I attack the owner while the stuff is gone. Sometimes I draw many counterspells, exile everything I can get and counter anything threatening the angel. Another avenue is removing all your weak utility dorks and your opponents now have to fight to keep your angel on the board, otherwise Spellseeker and friends will make you wallow in value.
Some goals: Exile a commander with Admonition Angel . Turn the Angel facedown with Ixidron ... and it's gone.
Load more
Admonition Angel occurrence in decks from the last year
Commander / EDH:
All decks: 0.01%