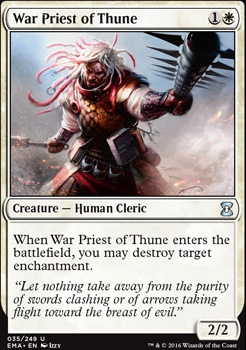 Legality
| | |
| --- | --- |
| Format | Legality |
| Pre-release | Legal |
| Noble | Legal |
| Leviathan | Legal |
| Tiny Leaders | Legal |
| Magic Duels | Legal |
| Vintage | Legal |
| Modern | Legal |
| Penny Dreadful | Legal |
| Casual | Legal |
| Vanguard | Legal |
| Legacy | Legal |
| Archenemy | Legal |
| Planechase | Legal |
| 1v1 Commander | Legal |
| Duel Commander | Legal |
| Unformat | Legal |
| Pauper | Legal |
| Commander / EDH | Legal |
War Priest of Thune
Creature — Human Cleric
When War Priest of Thune enters the battlefield, you may destroy target enchantment.
War Priest of Thune Discussion
1 week ago
Switching to English, thanks Tappedout.
None of the following recommendations/cuts are as important as they were with Karametra, since this deck is built on a solid ground and only needs a better defined game plan.
You have three archetypes to choose from, and you should focus on one or two of them. Trying to build all three will be too inconsistent.
Aggro - win by dealing 40 damage to everyone through combat damage and Purphoros/Blood Artist effects. Alesha is used to punch things and reanimate token producers/anthems/beaters.

Control - win by taking care of threats and staying relevant until late game where you outvalue whoever's left. Alesha is used less for combat damage and more for reanimating value/removal.

Combo - win by assembling an infinite combo. Alesha is mostly just there as a backup plan in case a combo piece is stuck in the graveyard.
I would recommend going for either aggro-control or combo-control.
Utter End - being able to target anything is very strong
Duplicant - one of the best creature-based removal cards
Wear / Tear - similar to Duergar Hedge-Mage but casts for 1/2 when you really need it, or a two-for-one for 3 mana at instant speed
Rakdos Charm - instant speed graveyard hate, or cheap removal, or a way to kill someone who's going wide and is about to win
Painful Truths - very good card draw in 3 colors
Toxic Deluge - the best creature board wipe in the game
Merciless Eviction - amazing against artifact decks, amazing against enchantment decks, amazing against reanimation decks, amazing against indestructible and very good against everything else
Chromatic Lantern, Commander's Sphere, Coalition Relic and Darksteel Ingot - good mana rocks for 3, prioritize from left to right
Fellwar Stone and Talisman of Indulgence - good mana rocks for 2
Animate Dead - reanimation for 2 mana is just too good to pass up on, fun with Sun Titan
Path of Ancestry - it's a strictly better Nomad Outpost
Ash Barrens - 1 mana for colorfix can help many bad hands, and lategame it's an untapped land
Mana Confluence and City of Brass - worth it when you're 3 colors, the lifeloss rarely matters but being able to play out your hand does matter
Clifftop Retreat - only checkland you're missing
Hanweir Battlements - colorless land is not great when you're 3 colors, but haste on Alesha is strong
Fervor - good source of haste, not as easy to remove as Lightning Greaves
Key to the City, Reconnaissance, Maze of Ith and Iroas, God of Victory - good way to keep attacking with stuff
Siege-Gang Commander and Ponyback Brigade - many tokens for just one ETB, deals 8 damage with Purphoros, God of the Forge for each cast/reanimation
Beetleback Chief and Pia and Kiran Nalaar - less tokens but still playable
Ankle Shanker - good for getting damage past blockers
Zulaport Cutthroat and Blood Artist - useful when going wide and repeatedly reanimating stuff, makes board wipes hurt
Harsh Mentor - very strong hatebear, can stop some game plans entirely
Mirror Entity - strong anthem when most of your deck is power 2 or less
Mother of Runes - protection can either make one of your creatures unblockable or protect one of your creatures from spot removal
Drana, Liberator of Malakir - decent anthem for cheap
Purphoros, God of the Forge and Impact Tremors - useful when going wide and repeatedly reanimating stuff
Noosegraf Mob - up to 5 2/2s per turn and can be reanimated with Alesha
Enlightened Tutor - good for getting Skullclamp when you need card draw or Purphoros, God of the Forge when you need damage
Swiftfoot Boots - an extra pair of Lightning Greaves
Cathars' Crusade - very strong anthem when going wide
Behind the Scenes - good way to get past blockers, pump is expensive but can be done after assigning blockers which is neat for getting damage through
Elspeth, Sun's Champion - playable either for the board wipe or to get 3 tokens per turn depending on board state
Fiend Hunter - can perma-exile stuff repeatedly with sacrifice or protect one of your own creatures from a board wipe while getting an extra ETB
Key to the City, Reconnaissance, Maze of Ith, Iroas, God of Victory and Whispersilk Cloak - good way to safely get Alesha triggers and get cards in the graveyard without losing card advantage
Ayli, Eternal Pilgrim - decent way to get stuff into the graveyard while still getting value out of them, also good chump blocker
Liliana, Heretical Healer Flip - a pretty good planeswalker that's a creature in the graveyard and can be reanimated
Hope of Ghirapur - can repeatedly stop or at least slow down a lot of decks
Sin Collector - one of few ways non-blue decks can deal with board wipes and huge swingy instants/sorceries
Feldon of the Third Path - slow without haste but a very strong effect once online
Leonin Relic-Warder - not as strong as Fiend Hunter but still useful in the same ways
Sunforger - lets you tutor up the most relevant removal and protection spells at instant speed, also get Mistveil Plains if you add this to get stuff back into your library
Strionic Resonator - works for double attack triggers with Alesha or double ETBs with anything else
Vampiric Rites - one of few sac outlets that provide solid value from its own effect
Flameshadow Conjuring - lots of extra value for only one mana per creature
Panharmonicon - doesn't work with some of your creatures, but solid value when it does
Assemble the Legion - decent wincon when your opponents are running out of gas
Elspeth, Sun's Champion - playable either for the board wipe or to get 3 tokens per turn depending on board state
Wayfarer's Bauble - not as fast as mana rocks but not as vulnerable against board wipes, good when aiming for slower wins
Fiend Hunter - combo with sac outlet + Karmic Guide or Sun Titan
Anafenza, Kin-Tree Spirit, Cathars' Crusade and Solemnity - combo with sac outlet + Murderous Redcap
Murderous Redcap - combo with sac outlet + Anafenza, Kin-Tree Spirit, Solemnity or Cathars' Crusade
Geralf's Messenger - combo with sac outlet + Solemnity
Viscera Seer, Carrion Feeder, Altar of Dementia and Goblin Bombardment - free sac outlets, the latter two can also weaponize most infinites
Zulaport Cutthroat and Blood Artist - weaponizes any sac-based infinite
Purphoros, God of the Forge and Impact Tremors - weaponizes all your infinites, lets you win with Kiki-Jiki, Mirror Breaker combos without having to go into combat
Mother of Runes - for protecting your combo pieces or sometimes making Alesha unblockable
Living Death - when you have enough combo pieces in the graveyard, resolving this usually lets you win on the spot regardless of which creatures your opponents get to return
Enlightened Tutor - another tutor for finding wincons
Village Bell-Ringer - combo with Kiki-Jiki, if you don't care about creatures being power 2 or less there's also Combat Celebrant, Zealous Conscripts, Restoration Angel and more
Archetype of Finality - way too expensive
Palisade Giant - generally worse than a creature with "When ~ enters the battlefield, you gain 7 life", which you wouldn't want to run in the first place
War Priest of Thune - can't hit artifacts, would never want to reanimate it over other targets
Mortify and Return to Dust - good removal cards but you have better options in your colors
Diabolic Tutor and Gamble - 4 mana is a bit much for a tutor and the card disadvantage on Gamble combined with the fact that you might discard non-creature combo pieces makes it questionable
Meekstone - pretty stupid to disable your own commander, not really beneficial to your game plan since it lets slower decks build up board state while no one can/wants to attack
Also, come up with a better title and description and try to keep your online list up to date with your deck IRL.
3 weeks ago
since you're running BOPs, maybe Gavony Township as a 1-of (i know you dont want many non-colored mana sources, but it could be another mana dump if youre stuck with some jank hand). Here's the changes i'd make:
-4 Rancor (love it, but begs to get 2-for-1'd, when most of your creatures are bolt-able and have no evasion or protection, otherwise and it makes BOP into an actual real creature late game), -1 Forest, +1 CoCo, +1 Kird Ape, +1 Gavony Township, +1 Dryad Arbor, +1 Loam Lion.
For SB options, i like Stony Silence, Ancient Grudge, and Smash to Smithereens (in that order) better than Nature's Claim. hell, i even like Naturalize or Disenchant better, tbh. i dont think 2 mana is out of the question. since you are playing a zoo variation, you arent likely to slam a bunch of 5+ power creatures at the opponent at once, so the 4 life gain might actually matter. idk. personal preference, i suppose. it is nice to have some enchantment removal as well in case of bogles, but that kind of depends on the meta.
With CoCo in your deck, your sideboard could be open to more tech creatures, instead of some of the spells/enchantments. like Spellskite for bogles, Vithian Renegades, War Priest of Thune, Reclamation Sage, and Viridian Shaman for artifact/enchantment hate, Lantern Scout, Kor Firewalker, or Lone Missionary for burn hate. or generally a bunch of random hatebears and miscellaneous stuff to cover your bases like Harsh Mentor, Loxodon Smiter, Tunnel Ignus, Aegis of the Gods, Hushwing Gryff, Thalia, Guardian of Thraben, Thalia, Heretic Cathar, Burrenton Forge-Tender, Qasali Pridemage, Spirit of the Labyrinth, Gaddock Teeg... Basically whatever your meta has a ton of going on, theres a creature version to hate on it. I'm a big fan of Rest in Peace because it totally bones a handful of decks, but if you're firing off Collected Companys, with your SB hate lost in your deck somewhere, you stand a much better chance of pulling it out, than if it were an enchantment.
Just some suggestions. love zoo. like the idea youve got with the dino and god in there. seems cool. +1
1 month ago
Hey there played a variant of your deck today, no snap or cryptic and last minute Suture Priest instead of Soul Wardens because they are what I had lying around. Went 2-2 at LGS, the two games I won played out as expected with lots of disrupting on opponents turn and lots of swinging 1/1 vigilance dudes on mine. The two games I lost however were against Solemnity/Phyrexian Unlife combo and Skred with Blood Moon and I realized that I had nothing to handle enchantments, currently considering Wispmare, War Priest of Thune for nice blinking multi destruction or Leonin Relic-Warder so that it can hit artifacts as well.
How do you handle facing Blood Moon? Spell Queller doesn't seem like enough since they just bolt it after and if you don't have a Sprite ready then you are gonna have a lot of mountains.
1 month ago
The above advice is all very good. Mono W can be difficult to play at first, so some general EDH strategies should be applied first. Always having enough ramp as addressed is the best place to start. Oreskos Explorer is another card I've run, and its a creature which is a bonus for your commander. Solemn Simulacrum is also worth a spot since its pure value in a white deck, if it falls into your budget.
Card draw is another thing you need to look at, but in your colors is more difficult. With lots of creatures, Inheritance could be an option. Mentor of the Meek as well. If you want to add more low cost creatures to trigger Anafenza, Bygone Bishop is a nice little card that can make a lot of clue tokens. Hallowed Moonlight is an all-star for me since people I play with love cheating big things in, and Scout's Warning in a deck like this with low cost stuff is worth a look.
The third thing you want to make sure your deck can answer multiple situations, or can do different things and synergize for your deck. Hallowed Moonlight is an example of a very narrow card, but in an emergency it basically can cycle itself for a new card. War Priest of Thune and Kor Sanctifiers can both kill pesky non-creature permanents while also triggering Anafenza. The cub and proest you're already running are very much a good direction. Intrepid Hero can deal with a problem creature each turn, instead of once like some of your spells, and again triggers your commander. Stonecloaker is instant speed graveyard hate, can bounce itself to recast for more bolsters, or saves an important creature from dying. And all of these cards would be getting you clue tokens if you had a Bygone Bishop, and most of them would be drawing you cards if you had a Mentor of the Meek.
As a random thought, I have been destroyed by the tap part of Citadel Siege more times than I can remember, or it bolsters.
I think you have the start of a good deck, and it should develop into something really fun!
1 month ago
Heya, this deck looks quite budget, so i won't give expensive suggestions.
Firstly I just wanted to say that Eldrazi Displacer needs colourless mana, which you currently have not a single source of. You need cards like Sol Ring or cards like Karoo that can make the colourless mana.

Other than that, here's some general advice. Things I'm missing here is ramp and more value creatures/spells. This deck has too many spot removal that shouldnt do much, as you don't seem aggresive enough to burst your way through. Cards like Divine Verdict, Enduring Victory or Expose Evil dont do that much in a 4 player free for all. Look at cards such as Luminate Primordial or Selfless Squire instead. These cards give a lot more value for you.
General additions: War Priest of Thune, Return to Dust, Ghostly Prison, Breath of Life, Resurrection
As far as ramp goes in monowhite, Kor Cartographer is a great inclusion, and so is colourless ramp such as Everflowing Chalice, Fellwar Stone, Sol Ring, Thought Vessel, Mind Stone, Hedron Archive, Pearl Medallion. And even cards like Gift of Estates can be very helpfull to ensure you play a land every turn. You should go down to 37 lands or so and add at least a bit more ramp.
Good luck and I hope I helped you somewhat ;)
4 months ago
As a fellow cleric tribal enthusiast I appreciate where you are trying to go with the deck but you seem to be suffering some of the same issues I ran into myself, namely not having focused synergies that build into a win condition.
A strong sub theme of your deck seems to revolve around life gain, so with that in mind lets add to and weaponize this sub theme into win conditions. I agree with kamelyan that you should add Conspiracy as its quite nasty with Rotlung Reanimator and Cabal Archon, the only reason I don't run these two in my cleric deck is the hardcore clash with Angel of Glory's Rise. Beacon of Immortality and Test of Endurance make for an interesting and intractable win condition that plays along with your life gain theme for surprise victories. Stern Judge with Urborg, Tomb of Yawgmoth can be nasty repeatable drain where you use your life gain to stay ahead of other peoples dwindling life totals. Also, consider Greed and Erebos, God of the Dead for further card draw that works with your life gain. Also Boon Reflection might be useful as well.
If you need more cleric beaters try Custodi Soulbinders, Vile Deacon and Transcendent Master.
Some general replacements that might serve you better would be Scholar of Athreos over Pious Evangel Flip, the drain effect is a nice mana dump, Frontline Medic over Banisher Priest allows you to play more aggressively and the counter ability can catch people by surprise and Grand Abolisher over Hanweir Militia Captain Flip, the Captain generates tokens far to slowly and often requires you to over extend to make it any good.
For additional tribal removal options consider Kor Sanctifiers, War Priest of Thune, Leonin Relic-Warder and Reliquary Monk. Although I find Reliquary Monk and Relic-Warder to be more tricky to use without a sacrifice outlet.
Also don't forget that cleric tribal have A LOT of tax and hate effects within the tribe to play with like Sanctum Prelate, Leonin Arbiter, Glowrider, Ethersworn Canonist and Containment Priest
I hope this helps you, I look forward to seeing where you take the deck.
4 months ago
I hate packing enchantment removal. It is almost always critical, I just hate dedicating space to it since most are kind of narrow. Stuff like War Priest of Thune, and maybe even Angelic Purge could be valuable. Wear / Tear maybe?
Load more