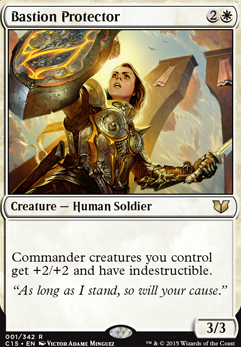 Legality
| | |
| --- | --- |
| Format | Legality |
| Commander / EDH | Legal |
| Duel Commander | Legal |
| Vintage | Legal |
| Legacy | Legal |
| Tiny Leaders | Legal |
Bastion Protector
Creature — Human Soldier
Commander creatures you control get +2/+2 and have indestructible.
Bastion Protector Discussion
2 weeks ago
Hey!
Commander is certainly my favorite format!! I would be happy to give ya a few pointers for what it's worth!
One thing that I noticed off the bat is that you have lots of tapped lands! I think you will find that very annoying to you and even that you don't need quite so many dual lands in the deck. I would take out Inspiring Vantage and in stead put in Clifftop Retreat. As well, I think Hanweir Battlements does nothing for you but slow you down since your commander already gives haste. However, if you run Hanweir Garrison (which I think you should) then it might be worth leaving in!
Myriad Landscape, Needle Spires, Rugged Highlands, Scattered Groves, Sheltered Thicket, Blossoming Sands, Sunscorched Desert, Teetering Peaks and Wind-Scarred Crag could be taken out, I would throw in some more basic lands unless you feel like dropping a lot of money on a deck and get some expensive but good dual lands which don't enter tapped... but I don't think you will need those honestly.
I feel like currently the deck is all over the place! It needs a little focusing to where you want to go with this. Commander is much more fun when you focus on getting out fun combos or cards that pair well together!
I think what i'll do is tell you about some cards you don't need in here and then some cards that you should absolutely put in here, and then some directions you might want to go towards with the deck!
Ruric Thar, the Unbowed is a good card, but you are running too many non creature cards! He will hurt ya! (i built a commander deck with this guy as the commander. If you want to use him still, you can check out that deck for inspiration). Stop Hitting Yourself!
Zendikar Incarnate , Omnath, Locus of Rage and Mina and Denn, Wildborn are better for landfall decks, and won't be as much use outside of it. By the time you have 4 mana, you typically won't have more than one land card in hand at a time anyways, and if you just want the trample ability, there are much better cards out there for ya!
You can find better cards than Sylvan Reclamation for removal, depending on what you decide to do with the deck!
Wilderness Elemental is not particularly great.
Radha, Heir to Keld is not bad, but the two red mana empties from your mana pool after your combat phase ends. if you want to go for mana ramp and something similar, might i suggest Savage Ventmaw or Skyshroud Elf? Those two are similar but in different ways. The nice thing about skyshroud is that he can tap for green, red or white (since he taps for green and the second ability would allow you to use that green mana to turn it either red or white) and you can use it to filter your mana to the color you want (besides green). the mana produced by Savage Ventmaw doesn't deplete between phases.
Oversoul of Dusk while hybrid mana, is harder to cast in your 3 color deck and the card itself isn't necessarily that great. Green and white are very common colors in commander.Now Rubblebelt Raiders on the other hand.. might be worth it, and less mana intensive!
Thelonite Hermit is not super great since you're not creating tons of saproling tokens. I don't even really run it in my Tana, the Bloodsower commander deck.
Odric, Lunarch Marshal gives all your creatures double strike and vigilance when you have your commander out.
Bastion Protector aslo pairs well with Odric.. all creatures you control get indestructible.
Odric, Master Tactician is also good for you no matter what direction you decide to go with the deck!Content goes here
I see this really going anywhere. Your commander is quite flexible!
You could find some way to play with your commander's untap ability (with things like Intrepid Hero or Heartless Hidetsugu and other cool creature tap abilities). you could use Illusionist's Bracers to copy the untap effect when you pay the mana cost. Heck, you could untap her with that free untap. Creatures with tap abilities can tap the same turn they come out as long as you control your commander!
You could build a token deck featuring things with "devour" creatures, Anointed Procession and Parallel Lives.
you could focus on large creatures that you can cast to smash into opponents the same turn they come out.
That's about all I have for now.. decide what you want to do to focus the deck and I will be looking to give you ideas wherever you decide to go with this!
2 weeks ago
I like the general beat down premise of the deck although I feel some of the soldier choices are sub optimal such as Abzan Skycaptain. I am guessing by the number of more recently released soldiers that your collection is fairly new and that you are working with what you have. With that in mind I have compiled some categories for soldiers you may wish to consider in the future for roles in the deck.
General Combat value soldiers: Aerial Responder, Bastion Protector, Fabled Hero, Fencing Ace, Gustcloak Savior, Kazandu Blademaster, Odric, Master Tactician. Bastion Protector is HIGHLY advised if you can as it makes your creature board indestructible with your commander out in combat. I would also recommend in general using creatures that are inexpensive and provide two or more useful keywords, although double strike is powerful enough to warrant use by itself I feel.
Token generators: Darien, King of Kjeldor, Brimaz, King of Oreskos, Lieutenants of the Guard, Patrol Signaler, Precinct Captain. Soldiers tend to die pretty quickly with the eldritch abominations that frequent commander and especially when board wipes abound so I would recommend increasing the solider token generation of the deck to ensure a capable offense. Darien has recently been changed to a solider and so could fit the deck pretty well.
Utility: Catapult Master, Catapult Squad, Aegis of the Gods, Intrepid Hero, Kalemne's Captain. Flexibility can be pretty useful for survival in commander and I feel these offer some flexibility without impacting the raw offensive capabilities of the deck much.
Hate Effects: Loxodon Gatekeeper, Thalia, Guardian of Thraben, Thalia, Heretic Cathar. Although not necessary there are a few tax and hate effects in solider tribal if you ever wanted to branch out in that direction but I feel its better to go all in or not at all with hate effects, however these are some of those options.
Anthem/Discount: Daru Warchief, Field Marshal. I don't think the field marshal is probably worth it but I would recommend the Warchief as its a discount AND anthem effect in one for a reason cost.
Card advantage: Enlistment Officer, Mentor of the Meek, Palace Sentinels, Preeminent Captain, Ranger of Eos, Recruiter of the Guard, Relic Seeker. Card advantage will make or break you in commander while I think all these are worthy inclusions I can not state strongly enough how much you need Mentor of the Meek, with Elspeth he is pay three mana draw three cards and most solider cards will trigger his ability. Monarch will also net you a card at the end of your turn and with your solider army the odds of you getting hit for combat damage and losing monarch are fairly slim and easy to get back if you do.
Life Gain: Soldier of the Pantheon. I personally think your life gain should be left to equipment with life link since if your deck is doing its job its going to be most people hiding behind creatures from you, but here is a tribal life gain creature.
Equipment Choices: Basilisk Collar, Chariot of Victory, Batterskull, Lightning GreavesThese were some equipment I thought might fit the deck well and tried to aim for equipment that would add two or more keywords, Lightning Greaves are worth adding for the haste and free equip cost in my opinion.
Enchantments: Dictate of Heliod, Cathars' Crusade. I would not advise going for the heroic mechanic with auras as the deck seems to have difficulty with card advantage currently and you are setting your self up for two for one losses to removal, with that in mind I recommend these solid anthem effects.
Card draw: Mind's Eye, Staff of Nin, Skullclamp. You will find card draw to be quite tricky in white so I have compiled a few non creature draw engines for you to consider, I recommend adding all of them as you can never really have enough card draw, just ask a blue player.
In the future I would recommend adding 5-8 enchant/artifact destruction spells, especially artifacts, as creature strategies can be easily disrupted or fall victim to combos and your deck has almost no ways to stop such things currently. Look forward to seeing how this evolves in the future.
2 weeks ago
Hi MCortese274,
This looks pretty solid and fun :) I'm not sure if this is meant to be a budget deck, but since you've got some expensive cards in here I'm going to assume for a a minute that it isn't.
I'd suggest adding some more tutors; Demonic Tutor, Dark Petition or even Vampiric Tutor would be awesome. This can be especially useful if you want to make Disciple of Bolas/Resolute Archangel work together with your Mimic Vat; you need all the pieces for this combo to be fun :)
I've found that some extra protection for Kaalia can be very useful. Consider Mother of Runes or Bastion Protector. Also you don't want others to react to Kaalia's ability: Grand Abolisher is perfect in this regard.
I'm having some doubts about some of the enchantments in your deck. Ghostly Prison, Animate Dead and Legion's Initiative don't seem to fit your theme very well. I think Aggravated Assault would fit much better. Also, I'd put some extra card draw enchantments in there like Phyrexian Arena or Necropotence.
Last but not least, Kaalia could use some backup in the sense of more ways of cheating your heavy hitters onto the battlefield. I'd consider Quicksilver Amulet; it's awesome. Ow and I'd change Mardu Banner for Chromatic Lantern if you can; that way all your lands can get you all the types of mana you need as well.
Hope this helps :) I'd appreciate it if you took a look at some of my decks and tell me what you think.
2 weeks ago
ill start by saying that saskia's ability shows more potential in something outside of voltron.. but i could see it performing decently! Here's some of my suggestions...
if there were ever a screw blue card, i would say Possibility Storm would be the iconic. Any time they cast a counter spell, they have to rely on the fact that the next one they draw into is also a counter. also this allows you to cycle through card types like maybe artifacts that you don't want.
i think you could play a bit more into the double strike and making saskia more of a force to be reckoned with even faster. things like Battle Mastery or Madcap Skills (while not double strike, still does well early game for dmg boost and evasion).
Vexing Shusher helps carry your commander to the field even when your opponent knows your deck and that your win con relies on saskia getting out.
Open the Armory should have a place in here.
Bastion Protector is a good support creature for you.
i'm a firm believer that Burgeoning is better than Exploration in commander.
i have to go do some work, but i want to get back with some more ideas for you and also some things you don't need in here. stay tuned!
4 weeks ago
lots of low grade, low quality creatures like the Bastion Mastodon, Mardu Shadowspear or and creatures that have moot impact on this build like Bastion Protector or Toolcraft Exemplar. These need upgraded. revilark, Karmic Guide, or Pit Keeper would help your recycling, or bigs like Wurmcoil Engine to really take advantage of your general. Sad robot, Doomed Traveler, and creatures that replace themselves would be better early drops. You seem unfocused, also. Not really enough enchantments to take advantage of daxos, Sigil of the Empty Throne or Underworld Coinsmith. either focus more on them, or drop them.
1 month ago
DISCLAIMER
I am particularly hard on this deck because I know the builder in person, and he has asked for some help. This is not a comment on a random deck tearing it a new one.
1 month ago
Hey!I'm a Voltron player myself (well, ok, I play lots of other decks too), so I might be able to present you some suggestions. First and foremost how big is your budget, so I know from which price range I'll suggest cards from? Second have you considered switching your general, because Aurelia is somewhat high CMC, but on the other hand she can deal lots of damage, since she gives you an extra combat. Also haste can be considered "protection", because you can attack immediately and eliminate the player with the highest probability to be able to have removal on Aurelia in the following few turns.
If you want to focus more on the Voltron theme, you should add more auras and equipments. Such as Sword of Feast and Famine (which also "combos" with Aggravated Assault, also depending on your playgroup, you might want to run cards that give your commander infect: Grafted Exoskeleton.
Also you should add even more protection if you are running voltron like Bastion Protector.
Load more