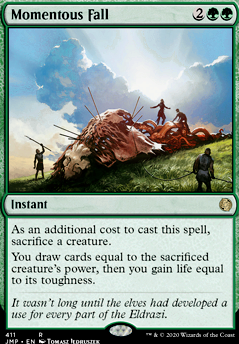 Momentous Fall
Instant
As an additional cost to cast Momentous Fall, sacrifice a creature.
You draw cards equal to the sacrificed creature's power, then you gain life equal to its toughness.
Browse Alters
Trade
Legality
| | |
| --- | --- |
| Format | Legality |
| Custom | Legal |
| Tiny Leaders | Legal |
| Oathbreaker | Legal |
| Vintage | Legal |
| Modern | Legal |
| Block Constructed | Legal |
| Commander / EDH | Legal |
| Leviathan | Legal |
| Duel Commander | Legal |
| 1v1 Commander | Legal |
| Canadian Highlander | Legal |
| Unformat | Legal |
| Limited | Legal |
| Highlander | Legal |
| Arena | Legal |
| Historic | Legal |
| Casual | Legal |
| Legacy | Legal |
| 2019-10-04 | Legal |
Momentous Fall occurrence in decks from the last year
Latest Decks as Commander
Momentous Fall Discussion
1 month ago
There are other cuts to consider as well, but I feel these are the more noteworthy ones....
Ashaya, Soul of the Wild - No direct synergy with Xenagos, you want a beater with evasion or protection
Beast Whisperer - Better in decks that are lower to the ground that can better use it's ability
Brash Taunter - "No synergy with Xenagos"
God-Eternal Rhonas - Better in decks that go wide, this gets easily chump blocked. You rarely have more than 1 creature out at a time
Klothys, God of Destiny - "No synergy with Xenagos"
Leyline Tyrant - Better in red decks, while not recomending it, glorybringer would be better IMO as it acts as removal as well
Phylath, World Sculptor - No synergy with....
Ulamog, the Ceaseless Hunger - Not enough ramp to hard cast, no cheating effects (which wont even give you a cast trigger)
Ulamog, the Infinite Gyre - See above
Shadowspear - Meta call? Better to have creatures with trample or more ramp and card draw in this slow
Triumph of the Hordes - Hit or miss. Playing a beater, hoping it survives, casting this next turn and hoping they dont have removal. Ignoring the feelbad of infect
Berserkers' Onslaught - Winmore
Vernal Bloom - Symmetrical ramp which you can't even take full advantage of
Nissa, Who Shakes the World - This is ok, I like the vigilance and getting essentially a 6/6. Rather have something more impactful.
Atarka, World Render - Beater with evasion
Balefire Dragon - Beater with evasion that also destroys decks that go wide
Carnage Tyrant - Beater with protection, evasion and anti-blue. Nice to use a mass draw spell knowing they can't remove the creature in response
Etali, Primal Storm - Not needed, but fun! Lots of value, doesn't require combat damage
Farhaven Elf - Ramp for T4 Xenagos
Fierce Empath - Tutor
Inferno Titan - Removal
Kogla, the Titan Ape - Removal
Malignus - GG target player
Savage Ventmaw - Beater with evasion and helps build tempo
Scourge of the Throne - Destroy people's lifetotal
Shaman of Forgotten Ways - Ramp and potential wincon
Siege Behemoth - Beater with evasion
Somberwald Sage - Ramp
Springbloom Druid - Ramp for T4 Xenagos
Yavimaya Hollow - Protection
Turntimber, Serpentine Wood - Land when you need it, beater when you don't
Dread Statuary - Manland to be used as potential beater or for draw spell
Rishkar's Expertise - Draw + Tempo. Powerful!
Life's Legacy - Draw
Momentous Fall - Similar to above, to be used in response to removal
Berserk - Use on selvala, malignus or even an opposing creature attacking one of your opponents!
Sylvan Library - Nice but not needed
1 month ago
You described almost every Xenagos deck, mine included. You hit it right on the head.
As you said, we either have it or we don't. With no way to tutor card draw, adding more helps increase the odds of maintaining gas
Lifeblood Hydra - Not necessary but always welcome on X = 3 or more. Even if they destroy it, you still get value, has built in evasion and has a high ceiling.
Life's Legacy - If blue is too prevalent in your meta, ignore this suggestion
Momentous Fall - Similar to above, but would still put in despite blue, and despite the fact that its hard to have 4 mana after casting a beater. But similar to rishkar's expertise, I argue the potential card draw is worth the risk. You usually use this in response to opponent's removal
Bonders' Enclave - Never hurts, coudl replace a fetch land possibly
Elder Gargaroth - Makes beasts for blockers/draw spells, draws cards and gains life in a pinch.
Harmonize - Reliable draw
Be sure to lmk what you think of each suggestion. Some will work better for you than others. I see you run some dorks so I know you don't want too many nonbasics, but with all the ramp in Xenagos, I think we can be a little greedy. If you can't find room, I have ideas for cuts.
1 month ago
Cards under $2 TCG Low according to tappedout....
Greater Good - Only card I think over $2, but the BEST CARD IN XENAGOS EVER. ADD THIS 100%, tcg player that shit.
1 month ago
+1 the deck looks pretty good. Low to the ground, got some interaction and instant speed protection. I would try to add a few more pieces of draw to maintain gas.
1 month ago
Your list looks pretty good so far! Solid ramp, but your land-count seems a bit low. The conventional wisdom is that 37-38 lands is the sweet spot. If you have a extremely low curve or lots of low CMC or one-mana rampers (Llanowar Elves, Wild Growth etc) you can go lower. I almost always run 36 lands; it's just what I do. Anyway, dinosaurs and your commander are expensive so you might want to bump up your lands a bit. Gishath has a huge target on her head so you should expect and plan to recast her over and over. I know from experience; my brother has a Gishath deck and it's terrifying: Dig Up Her Bones check it out and up-vote it if you have the chance!
You're a bit light on removal, but that's actually quite normal for such ramp- and creature-heavy decks. Just the way it goes. That said, you might want to squeeze in Swords to Plowshares and/or Path to Exile. Not only are they just good, but--as you pointed out--Polyraptor and Marauding Raptor draw the game unless you have a way to instantly stop it. I suppose Collateral Damage and Momentous Fall help there, but the latter is pricey (mana-wise) and might not work.
You may want more creature tutors or Enlightened Tutor IF you want the Polyraptor stuff to be a major strategy. If it's just something fun in the deck to stumble upon then more power to ya. If you do consider it a core tactic then perhaps adding Purphoros, God of the Forge and/or Impact Tremors to go with your Warstorm Surge would make it more reliable and prevent the game drawing with Marauding Raptor. Might not be worth the slots though. Gishath stompy works fine as-is!
You have a lot of great utility cards, but you may be a bit heavy on them. If you're looking to free up slots perhaps look there. I wouldn't drop any creatures in a Gishath deck. You have a very solid amount of card draw and card advantage, which is actually kind of impressive for a beginner deckbuilder! Good job!
Personally, I would cut Coat of Arms and Door of Destinies. You're not going wide enough to make them as impactful as they can be. A bit win-more, as opposed to an actual win-condition. Incremental Growth is solid but one of your weaker cards. Priest of the Wakening Sun is a bit on the weaker side too. I don't hate it, but if you're looking for another cut you could do worse.
All in all you've got a great thing going. Gishath is fun on a bun. Play some games and note which cards get stuck in your hand.
1 month ago
Hey there Kronhamilton,
First of all, I like the improvements you've made to your deck. It's already looking a lot slicker and I can see you've made some very fun looking changes to how the deck plays.
You've got a nice array of threats (I always love to see the Bringers and Ur-Dragon) and a decent amount of ramp which are both a big plus. Additionally, you've got the beginnings of some nasty graveyard synergy shaping up, which looks really, really cool as a sort of plan B.
That being said, I'd like to make a few suggestions to help guide you toward a more consistent and powerful Golos deck. Please remember that these suggestions are just my informed opinion, and that I totally respect whatever deck choices you decide to make. I really just want to help you get comfortable with deck building and learning what to look for in a 'good' or 'bad' card.
Broad Suggestions
I would encourage you to add 2 Lands, 3 Removal cards, and 8 Draw cards. I'd also think about adding 2 more Ramp cards, but that is less critical to the overall health of the deck. Your Threats look great and I think your Sweepers are also appropriate. Anything that synergizes with your graveyard backup plan is great.
There are a couple of things to think about as you play this deck; 1. "Am I happy or sad to be holding this card in my hand or drawing it off the top of my deck?" – If a card seems to constantly be 'the wrong card' for the situation, or you can never seem to cast it, or you always play other cards instead, or you tend to die while holding a certain card, then you probably want to think about how well that card fits in your deck and whether or not you should cut it or modify the deck to support it. 2. "What ongoing advantage does this card give me?" – Some cards seem like a decent card based on having decent power/toughness, a fair cost, and some neat keywords or abilities. Just having those upsides alone though doesn't make a card truly powerful. Instead, try to think about what ways a card can synergize with your deck to create crazy effects or otherwise how it will become more dangerous as the game progresses (like a Quartzwood Crasher, Scute Swarm, or Giant Adephage). Additionally, try to find cards that do multiple things such as Chasm Skulker which gets bigger when you draw cards and also explodes into tokens when it dies, or even Ravenous Chupacabra which deals with a threat and also acts as a blocker when you are facing pressure. The key is finding a way to levarage the most amount of value in each individual card – even a 2 mana ramp spell will set you up to play all of your future spells 1 turn earlier than normal for the rest of the game, which can be an insane advantage when you think about it. 3. "Am I out of options?" – If you can't seem to find a solution to a problem or you're 'running out of steam', then it is likely that you need more card draw and more ways to create 'engines' that accrue value. An example of an engine would be Fertilid + Evolution Sage or Rampaging Baloths + Elemental Bond or Kruphix, God of Horizons + Victory Chimes or Atraxa, Praetors' Voice + Ajani, the Greathearted or Anointed Procession + Endless Ranks of the Dead or Search for Azcanta  Flip or Deadbridge Chant or Mind Unbound, etc.
Ramp
Your ramp looks pretty good with 10 dedicated Ramp cards. I'd suggest adding 2 more Ramp spells to really help speed things up early. Examples would be Kodama's Reach, Llanowar Elves, Wild Growth, Farseek, Rampant Growth, Springbloom Druid, etc.
Ramp - 10
Not Ramp
Draw
Overall, I think your card draw package needs a little bit of love. I want to note I see a lot of 'looting' effects like the ones on Teferi, Master of Time or Obsessive Stitcher and while these cards are great for a graveyard strategy they still don't count as card draw. I'd keep most of these 'looting' type cards, but try to find cards that get you about 2 or 3 cards such as Harmonize, Concentrate, Escape to the Wilds, Urban Evolution, Moldervine Reclamation, Deathreap Ritual, Recurring Insight, Mind Unbound, Underworld Connections, Cloudblazer, Mulldrifter, Drawn from Dreams, Return of the Wildspeaker, Harvester of Souls, Momentous Fall, Dream Trawler, Keeper of Fables etc.
Draw - 2
Not Draw
Removal
Your removal package looks like it needs a couple more additions to keep your deck responsive and able to handle imminent-doom type threats. It is worth noting that cards like Blatant Thievery or Mythos of Illuna can save you in certain situations, but be wary of their crazy mana costs and the fact that they are not instant-speed answers. Examples include Mythos of Nethroi, Beast Within, Price of Fame, Reality Shift, Terminate, Return to Nature, Putrefy, Utter End, Eat to Extinction, Murderous Rider, etc.
Removal – 4 (aim for 7)
Cuts
There are several cards that I would consider cutting first when modifying the deck.
Azusa, Lost but Seeking – you don't have enough land + card draw to really capitalize on Asuza's ability. Yes, you can use the double lands (like Gruul Turf) to bounce a land to hand and then play that land with Asuza, but realistically that's such a narrow and relatively tame synergy (in this non-landfall deck, that is) that you would be better off playing a Farseek or a Rampant Growth or even a Fertile Ground.
Summary
Nice changes Kronhamilton, I can see that your deck is really starting to shape up as a rampy graveyard-mingling Golos deck, and that's really cool. I encourage you to try and pay attention to what situations you find yourself in, as that's often the best way to tell what cards you need to cut or add to the deck for it to work best. As a default, I'd consider making a few of the changes I mentioned in the Broad Suggestion section, as those changes should just generally help with your deck's consistency.
Please do let me know how you decide to tune your deck – it's really fun to watch honestly, and I'm always down to help advise you. Other than that, take care and enjoy Golos!
Best,
-Slashdotdash
1 month ago
Hi Profet93. Thanks for dropping by and for the great suggestions.
About Deflecting Swat, yes, I've been considering to remove Red Elemental Blast to try it out. However, almost all combo decks in my area use blue to finish off the table. It has been a tough choice but I will definitely find a spot for the Swat.
About card draw, yes, this is a tough spot. Life's Legacy but being sorcery speed while requiring sacrifice as a cost really hurts in my area, had too many 2 for 1s against counterspells and Notion Thief, also many of my beaters are often responded to during combat so I found myself with nothing to sac before I end my turn. Momentous Fall has allowed me to circumvent that a lot.
I am currently considering Reforge the Soul and Skullclamp (now that you suggested it). I think the later could be very useful, I could add Elvish Visionary and Sylvan Ranger to have mlre targets and help thin my deck further, those happen to be elves too so they would even help Titania.
A typical turn 1 to 4 secuence is T1 Dork T2 another dork /ramp / Tomb, T3 Xenagod, T4 Malignus / Phyrexian Hydra / Pathbreaker / Scourge of the Throne to try to kill someone and then move in to the next target. Combos start appearing on turn 5 but are not a main wincon here.
I used to run Yavimaya Hollow long ago, but for some reason it feels it worked better on decks such as Ruric Stax or Yisan for me. In addition to the Moon package factor, I rarely found myself with enough open mana to activate Hollow. Not that I ever felt like I truly needed it anyways.
I love Elder Gargaroth. However, the Hydra has been one of my best win conditions in spite of the hate it can pull. Being paired with Xenagod really helps. Also, I don't really have that many ways to kill multiple opponents at once. So I'd like to run both beaters first and see how well that goes.
Feel free to continue thr discussion, this has beem quite useful.
2 months ago
So, there are several things you have misunderstood when looking at this deck, as it's one I have played and tweaked for the better part of a decade now and am very happy with it's current state. Firstly, the danger of Xenagos really kicks in when you can actually pressure an opponent, so it's best to stick with either trample or flying creatures exclusively, with the few exceptions of those that will really buff and support you such as Birds of Paradise and Oracle of Mul Daya. I chose to go with flyers, the best of which are largely dragons, because people generally do not have many fliers and are not prepared to deal with the power and pressure of many massive fliers suddenly appearing and swinging at them. As for the rest of the suggestions you have, and the part you misunderstood with him, is that you're focused on making more of a midgame and a recovery so you don't falter due to lack of cards. However, Xenagos doesn't really care of need that. Xenagos needs to get to 5 mana and get a single dragon out. One dragon. Then you are immediately swinging for at least 10 if not more, and every dragon has abilities and triggers that further pressures your opponent(s).
Greater Good is a fantastic card, but there are very few times that you want to be sacrificing your creatures since you will always be a massive target since Xenagos is always a threat. The same goes for Life's Legacy and Momentous Fall.
The problem with cards such as Return of the Wildspeaker, Harmonize, and Bonders' Enclave is that they take up most of your turn to draw cards. I have found that as a true gruul deck you don't want to let off the pressure on your opponents. You very rarely need more than a few dragons over the course of the game as Xenagos puts so much pressure on through doubling them and haste that losing an entire turn to draw more cards is a waste. I make an exception for Rishkar's Expertise because it does still allow us to drop a card and keep the momentum going.
Elder Gargaroth is indeed a good card, but it runs into the problem that it's effects aren't good enough for the deck. He is focused on the additional utility abilities, being lifegain, token generation, and drawing a card, which in any other deck are fantastic abilities. But here he doesn't put pressure onto your opponents the way cards such as Terror of the Peaks does. Everything about Xenagos is speed and pressure. You also run into the issue of him dying. With most opponents fielding very few flying and reach creatures when compared with the number of them in this deck, you rarely need to worry about your dragons dying. Every turn your board keeps building and the dragons have such destructive abilities (see Balefire Dragon for an example of such) that they have trouble keeping a strong board presence and fighting back. But all they need is one small deathtoucher, or any pump spell on one of their ground creatures and they stop your momentum. However, they will rarely have enough fliers to do that. That's a big part of the reason why we run so many dragons. Direct damage to your oppoenent, destructive effects to their boardstate (ex. Tyrant's Familiar), and constant psychological pressure and panic setting in. This is the way of the gruul.
Lifeblood Hydra is too slow. You need at least 8 mana to make him even a little viable, which is too much and too slow. My 8 drops are either extremely powerful, Utvara Hellkite for example, or i'm dropping a 6 drop and holding up a Heroic Intervention or something of that sort.
The Great Henge is also a great card, but again it's too slow.
Berserk is okay, but I prefer my creatures staying alive and pressuring on further turns.
Kessig Wolf Run Honestly just not good enough. The trample is largely unnecessary, and it eats up a minimum of 3 mana to have any effect, mana that can better be spent elsewhere.
Rancor Not good enough
Deflecting Swat Amazing card, but very rarely are cards single targeted any more, at least in my meta. Board wipes are more common.
Ilharg, the Raze-Boar Rather than this, I can just have another dragon which would do much more for my deck.
Sensei's Divining Top Another amazing card, but it just doesn't do enough in this deck.
Now, regarding the high CMC of the deck, of course it's going to be high. We're rushing out to 6 mana and then aggroing out from there. This deck doesn't look to play tempo with a whole bunch of smaller cards being played and set up. That takes too long and allows midrange and late game decks to set up too much. This deck is trying to ramp out and attack.
Finally, I have no idea which creatures you are viewing as subpar. The creatures in this deck are exclusively either flying to attack and pressure my opponents, or ramp/dorks to accelerate the deck, or protection in the form of Archetype of Endurance. If you would be willing to expound on that statement i'm curious to hear your opinion on which creatures could be better utilized.
I will say this, all of those suggestions are great and i'm always really happy to hear and see other people's thoughts on improving things. Other than Berserk and Ilharg, the Raze-Boar I have actually run every single one of those cards in this deck at one point or another. However, though many years and a lot of experience with him, this build is what I have found to be the most powerful and reliable one.
Load more