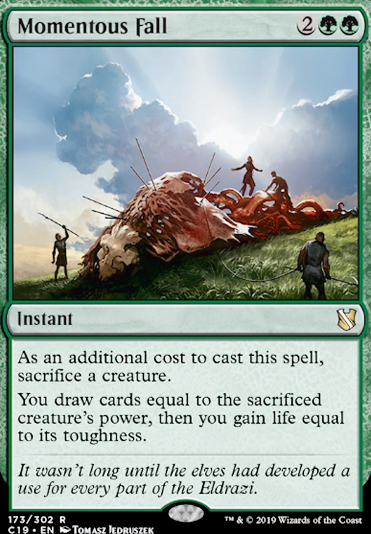 Momentous Fall
Instant
As an additional cost to cast Momentous Fall, sacrifice a creature.
You draw cards equal to the sacrificed creature's power, then you gain life equal to its toughness.
Browse Alters
Trade
Legality
| | |
| --- | --- |
| Format | Legality |
| Tiny Leaders | Legal |
| Noble | Legal |
| Leviathan | Legal |
| Magic Duels | Legal |
| Canadian Highlander | Legal |
| Vintage | Legal |
| Modern | Legal |
| 2019-10-04 | Legal |
| Block Constructed | Legal |
| Vanguard | Legal |
| Legacy | Legal |
| Archenemy | Legal |
| Planechase | Legal |
| 1v1 Commander | Legal |
| Duel Commander | Legal |
| Oathbreaker | Legal |
| Unformat | Legal |
| Casual | Legal |
| Commander / EDH | Legal |
Momentous Fall occurrence in decks from the last year
Commander / EDH:
All decks: 0.02%
Green: 0.31%
Momentous Fall Discussion
4 days ago
Please let me know what you think of each suggestion. Some are better than others, some are personal preference, but most are just gas. With Xenagos, everyone will be afraid because you can one-shot them pretty easily. So you need a way to fight past removal and ensure you don't get 2 for 1ed when using a burst draw spells.
So you have a lot of cheap mana which helped lower the curve to 4 which is pretty good for a Xenagos deck. I see that you only have 3 sources of draw. How exactly do you maintain gas once you dump your hand out given your ramp and then they just destroy your beater?
As someone said before, Decimate is great.
Voracious Hydra acts as a removal and a beater (or just a big beater).
Bolt Bend redirects targeted removal, targetted draw, targetted extra turns, and counters counterspells all for . It's unexpected and when they do expect it, you can bluff. Such an underrated card in Xenagos!
Ilharg, the Raze-Boar - Helps you cheat fatties and is always there for you.
Berserk - Super fun on Malignus or any fatty. Don't forget, you can use on opponents creatures too (have done so on multiple occasions)
Rancor - That 1/1 turns into a 6/1 trample pretty quickly. I like to use it on Selvala personally.
Lurking Predators - Value value value
Etali - You took him out, not sure why? Such a great value engine.
Cut temple of the false for Yavimaya Hollow.
Feel free to check out my Deck
1 week ago
Crucible seems clunky even with the fetchland and scapeshift.
Rishkar's Expertise - Draw
Momentous Fall - Draw in response to removal
Greater Good - Best card in Xenagos aside from Malignus which you need to add
Harmonize - Draw
Lifeblood Hydra - Draw, beater, lifegain
Lifecrafter's Bestiary - Draw
Life's Legacy - Draw
Skullclamp - Draw
Sylvan Library - Draw
Bolt Bend - Counter counterspells, redirect some removal, some card draw, some extra turns, etc.... very powerful and unexpected. Run it (especially given how your achilles heel is spot removal)
Myriad Landscape - Ramp
Ancient Tomb - Ramp
Castle Garenbrig - Ramp
Goreclaw, Terror of Qal Sisma - Ramp, trample
Savage Ventmaw - Ramp, infinite with Aggravated Assault should you wish to go that route. Itself is just good for tempo. Always good to cast, attack, get mana, use rishkar's to draw 8 and cast a card. Seems very good
Selvala, Heart of the Wilds - Super ramp (and draw)
Shaman of Forgotten Ways - Ramp, wincon
Yavimaya Hollow - Protection
Heroic Intervention - Protection
Tectonic Edge > Field of Ruin
Reliquary Tower - Utility
3 weeks ago
I think you have a good start here with the ramp, though you might get more mileage from some other dinosaurs. Such as Ripjaw Raptor, Regisaur Alpha, Etali, Primal Storm, Shifting Ceratops. As much as I like Ghalta, I don't think you should run 4, since he is legendary and you can't have more than one on the field. I also think you can cut the Vanquisher's Banner since your creatures are already big on their own and probably Commune with Dinosaurs because there are better ways to draw. Since you're running green and you're using a lot of creatures, you can try Lead the Stampede, Life's Legacy, or Momentous Fall to draw more cards faster. Hope this helps.
1 month ago
I like the gameplan you have here (+1). Have you considered Ghalta, Primal Hunger and God-Eternal Rhonas? They feel like they fit right in. I don't know if you'd need Bow of Nylea or at least not three, since most your creatures are plenty powerful without it, especially if it only gives death touch if your creatures are attacking. I would also suggest adding more value to the power of your creatures with cards such as Ulvenwald Tracker and Momentous Fall. Hope this helps.
Load more