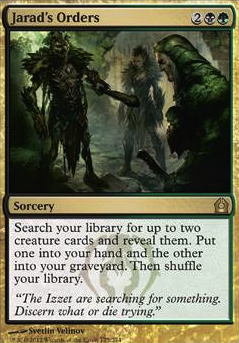 Jarad's Orders
Sorcery
Search your library for up to two creature cards and reveal them. Put one into your hand and the other into your graveyard. Then shuffle your library.
Browse Alters
Trade
Legality
| | |
| --- | --- |
| Format | Legality |
| 1v1 Commander | Legal |
| Block Constructed | Legal |
| Canadian Highlander | Legal |
| Commander / EDH | Legal |
| Duel Commander | Legal |
| Highlander | Legal |
| Legacy | Legal |
| Leviathan | Legal |
| Limited | Legal |
| Modern | Legal |
| Oathbreaker | Legal |
| Pioneer | Legal |
| Unformat | Legal |
| Vintage | Legal |
| Casual | Legal |
| Custom | Legal |
| Quest Magic | Legal |
Latest Decks as Commander
Jarad's Orders Discussion
1 month ago
Hey Walrighti, +1!
Congrats on your first deck! You have a lot of fun cards in here and it looks great! I imagine you want to tune and make it even more efficient so here are some ideas...
Add 3 categories: #Combo, #Lifegain, and #Evasion; and then sort your maybeboard the same way you've done your mainboard to easily rank your choices within a category (By "combo" I mean all your "if-then" cards like Trudge Garden that are slower and don't work by themselves). Remove #Creatures (most of them are #Combo).
Avoid most cards above 4 cmc... Willowdusk is fast and fragile, so play into that... Also, prioritize cards that can do 2 or more things or that give value on ETB... If you have pet cards that don't really fit and that hurt to cut, put them in a "I'll build that theme later" list.
...Always play at least 10 ramp spells under 3 cmc.
...Playtest and make sure Willowbark consistently makes a fatty (with evasion) before turn 6-7.
Here's another Willowdusk thread.
Happy building :)
2 months ago
Hey, well done on such a low budget. Less than $100 is impressive :)
Some $1-$2 or less budget cards to consider adding:
Cards to consider cutting:
3x Swamp
Deathsprout
Casualties of War
Masked Admirers
Golgari Germination
Necrotic Wound
Rhys the Exiled
Uncage the Menagerie
Good luck with your deck.
3 months ago
Hey, good start on a budget.
Cards in the maybeboard that are worth adding:
Whisper, Blood Liturgist
Altar's Reap
Costly Plunder
Solemn Simulacrum
Fleshbag Marauder
Apprentice Necromancer
In Garruk's Wake
Tainted Wood
Possible others:
Erebos, Bleak-Hearted
Smothering Abomination
Acidic Slime
---
Some budget cards, $1-$2, most are less than $1, at TCGPlayer to consider adding:
---
More ramp is good with Korvold because it can help to cast him faster and then it can be sac fodder to trigger him.
Sol Ring : the most expensive price card I will suggest, but it's a staple of Commander.
Harrow
Sakura-Tribe Elder
Mind Stone : can sac itself.
Commander's Sphere : can sac itself.
Some budget lands to consider adding:
I offer more advice. Good luck with your deck.
3 months ago
I feel like Temples probably are a bit too slow for cEDH. I really have a visceral fear of CIPT lands there, but I might be a bit paranoid. That said, Yavimaya Coast , Underground River , and Llanowar Wastes are probably better fits for the faster games that occur in cEDH games, and I don't think they are too bonkers price-wise, maybe River.
Burning-Rune Demon is probably wildly better than Rune-Scarred Demon , and I feel like you might (barely) consider Jarad's Orders , but these are getting pretty slow. Also, when they are in color, you should consider running Opposition Agent and Hullbreacher in cEDH, as these are just insanely hostile cards for 3 mana. Players often need to either answer or just lose.
4 months ago
Hi,

Nice to see a cat tribal Nethroi deck!


I've played Arahbo, Roar of the World

a lot, a when Ikoria was released, I pondered to make an abzan cat tribal with Nethroi. But I ended building it normal graveyard synergy as I wantet to keep my classic Arahbo constructed.

Anyway, I know the flavor is that all your cats are legendary, an I love that, but I think if you want to play the deck more efficient without losing cat theme, you can do some changes:


Falthis, Shadowcat Familiar in this particular deck is only a 2/2 vanilla, as your only commander Nethroi already has deathtouch. I love it, but in this particular case sadly doesn't do anything.

Cards you could add, knowing that aren't legendary, but they are cats that work very well with your deck:

Fleecemane Lion can became indestructible, and then you can mutate your commander on it, making a great indestructible menace and keeping that +1/+1 counter.
Fleetfoot Panther and Whitemane Lion can save one of your cats or can bounce your commander to keep doing his mutation and reanimating things. Bronzehide Lion also protects your creatures.
Qasali Pridemage you play it, control your opponent best artifacts or enchantments, dies and Nethroi will recover it later.
Necropanther to reanimate small cats or creatures, and can mutateo over your commander to repeat effects.
Feline Sovereign and Regal Caracal , if you go tribal, those are the best cats lords, in addition to Kaheera of course.
Rakshasa Debaser can be a wincon when you encore him.
Alms Collector for card draw and to control greedy card draws of enemies.
Phantom Nishoba and Phantom Tiger look scrapy, but they count 0 power when you reanimate them with Nethroi, and if you mutate Nethroi on them, you transform Nethroi into a crature that prevent all the damage that receibes, even if he loses all +1/+1 counters.

And playing something like Nethroi, believe me (I'm a Nethroi and a golgari player), you need graveyard synergy. If you don't, you'll find that you reached turn X, play Nethroi but you only can revive 1-2 sad creatures. You need to fill your graveyard before that.
Exmaples (of course there are much more):
Grisly Salvage
Satyr Wayfinder
Mulch
Buried Alive
Jarad's Orders
Entomb
Altar of Dementia
Life from the Loam

And last:
Eerie Ultimatum and Living Death you'll have much fun with those in this type of deck.

Hope that give you some ideas to improve the deck without changing its spirit.
4 months ago
hey! i love elementals and love seeing your list :) if i may suggest a few changes, you seem to be pretty light on creatures for a tribal deck? 26 isn't even a third of your deck! so 1/3 of the time the only creature you'll have available is your commander..... may i suggest a few?
Nevermaker is a fantastic catch-all removal creature. not only does it hit most permanent types, it also wastes opponents' next draw.
Omnath, Locus of the Roil is a huge boon to this deck, not only because he specifically cares about elementals, but also because he can draw you cards! he's everything you could want from a card.
Ashaya, Soul of the Wild is super ramp, turning all of your creatures into mana! so you can can even bigger spells. she acts like a second Cryptolith Rite if you so choose to run it.
tutors aren't always a necessity, but i think cards like Buried Alive, Jarad's Orders, and Final Parting are good, budget fits for reanimator decks such as this!
it may not seem impressive, but Wispmare is incredible value on a card, as you can cast it for a single . then you can recurr it for more value later! i would recommend Ingot Chewer for the samw reason.
do notice that i like the lorwyn block a lot.....
i would definitely pick up the new Maskwood Nexus from kaldheim for any tribal deck!! especially since i see you don't run 25 elementals.
try to remove some of your spells with super specific mana costs. it sucks to try to cast Kaya's Wrath in a 5-color deck. even regular Wrath of God would be better.... or Fumigate if what you care about is the life gain, but that would increase your overall deck cmc, which is already 3.7.... yikes!
well i hope that whatever you decide to do, you enjoy playing this deck! let me know how it fares at ypur kitchen table! :)
6 months ago
This looks like a pretty solid deck, I built a Mazirek deck and so far I think it's my strongest. There are a few things Your deck didn't have that mine does, but your deck seems to be built for the long game, while mine is built to have one explosive turn and pretty much win then and there.
This commander loves to sacrifice things, but he shouldn't be the only one in this deck. Effects like Zulaport Cutthroat are very powerful in aristocrat style decks, and Moldervine Reclamation can be good for drawing.
One of my favorite sacrifice outlets that I didn't see on your board was Altar of Dementia which lets you mill your opponents potentially out of the game, and provides you with a free place to sacrifice your vast army! And if any of your opponents like to use a lot of graveyard recursion, throw in a Tormod's Crypt for a free sacrifice trigger and some graveyard hate. There's also Priest of Forgotten Gods which forces opponents to sacrifice, lets you draw and gives you mana!
If you want to go down the path of forcing opponents to sacrifice their creatures, effects like Grave Pact and Dictate of Erebos are fantastic. If you want something that can attack, Butcher of Malakir will be your new best friend. another card that can easily shrink an opponent's army is Archfiend of Depravity. If you do go down this path, throwing in things like Kothophed, Soul Hoarder will let you draw tons of cards off of opponents sacrifices.
If you're consistently having trouble finding creatures that generate tokens, I'd suggest throwing in a Fiend Artisan who has a sacrifice and tutor effect in one. If you're running some recursion, Jarad's Orders is a fantastic way to grab the creatures you need.
Well now you've sacrificed a bunch of things and your creatures are huge but you have nothing to do with them, so what now? One of the simplest ways to win is by using Rogue's Passage or something similar to make your commander unblockable and swing for lethal damage. If you want to stay on theme, Jarad, Golgari Lich Lord lets you drain your opponents fo ra ton of health with your creatures for a fairly small amount of mana as well.
If you want any infinite combos, throw in any creature with persist along with a free sac outlet. Probably the one that would be the most devastating to your opponents would be Woodfall Primus, as it can even destroy lands. When you sacrifice a creature with persist, two abilities go onto the stack, Mazirek's counter ability and the Persist ability. Since they are both your effects, you can choose what order they happen in, and you can choose to have the creature reenter the battlefield with a -1/-1 counter, and then remove that counter, and then you can sacrifice it again to repeat the loop. Check with your playgroup before you use this, as some people don't like having infinite combos in their games.
I know that was a lot and I'm sorry, but this deck was super fun and I love talking about it!
Load more