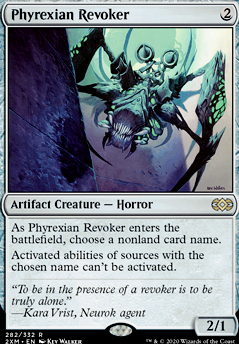 Phyrexian Revoker
Artifact Creature — Horror
As Phyrexian Revoker enters the battlefield, name a nonland card.
Activated abilities of sources with the chosen name can't be activated.
Browse Alters
Trade
Legality
| | |
| --- | --- |
| Format | Legality |
| 1v1 Commander | Legal |
| Block Constructed | Legal |
| Canadian Highlander | Legal |
| Commander / EDH | Legal |
| Duel Commander | Legal |
| Highlander | Legal |
| Legacy | Legal |
| Leviathan | Legal |
| Limited | Legal |
| Modern | Legal |
| Oathbreaker | Legal |
| Pioneer | Legal |
| Tiny Leaders | Legal |
| Unformat | Legal |
| Vintage | Legal |
| Casual | Legal |
| Custom | Legal |
| Quest Magic | Legal |
Latest Decks as Commander
Phyrexian Revoker Discussion
2 months ago
Regarding Svella....Both activated abilities, while ramping towards and cheating primal surge, each are subpar abilities. Given such, IMO, it makes the card subpar. You view it as "not eating removal as a benefit." For me, I would want each card in my deck to be as threatening as possible (as a control player particularly but in general) that way the removal is on that card rather than another. Also nice to bait counterspells.
Goblin Bombardment and Tajuru are meta calls, got it. I was looking into player hexproof cards but aside from Witchbane orb, there isn't much in your colors. If Azami is really and issue, then have you considered swapping gobling bombardment with either Phyrexian Revoker (Tutorable through woodland bellower), or perhaps even a Damping Matrix . Damping matrix hits 9 of your creatures (10 if Svella stays) and 3 of your artifacts. I think that's a fair trade, although I prefer Phyrexian Revoker as you can name Azami. Note it says "As" it enters the battlefield so they can't respond, unless they respond to the cast, which won't do them much aside from putting permanents that would have been on the field to your hand. I know revoker is only specific to the Azami card and not the draw spell that player has in their hand at instant speed which can target any player, but stil, worth mentioning.
Regarding Klothys, God of Destiny, I can see that now that you mention it. Still, too slow for my tastes personally even with what you have described, but I love that cycle of G-d's so I love seeing them. Shivan and Heartless are cute, still not worth it IMO as bloodmoon/magus really make you be picky with your nonbasics (not to mention your dorks) but if it works, it works.
Regarding Maybeboard, I'm biased with my suggestions... Skullclamp for draw. You need to draw into primal surge, drawing a bunch of cards is the best way to do so. Sylvan Library for desperate draw but more importantly, topdeck manipulation to ensure you don't miss land drops. Not needed, but nice to have. Survival of the Fittest / Fauna Shaman - Tutoring for almost half your deck is so powerful, genesis synergy is nice to have. I see Zealous is in your mayeboard, can combo with Kiki Jiki mirror breaker to ensure a way to win through combat with primal surge? Not sure if you like combos, both are expensive CMC. While unlikely to be added, thought it was worth mentioning.
My meta is littered with land decks, so a Strip Mine goes a long way for me. Would you rather have a strip mine or shivan against the cradle, urborg, coffers, field or nytkhos you will inevitably be up against?
You seem to have A LOT of anti-blue already, is price of glory really needed when everyone but the green player is ramping through artifacts? I feel you already have so much anti-blue redundancy in the deck, that removing price of glory (for whatever) would behoove you. I would add in another ramp piece, whether thats another dork or artifact.
4 months ago
Once Phyrexian Revoker is cast and a card is named. Will that said card still be affected after Revoker leaves the battlefield?
4 months ago
This list is compiled from a competitive point of view and in the upper tiers we compare the cEDH variants of the respective decks and here Yuriko often serves as a strong value engine (like Edric or Tymna for example). In contrast to Thrasios, Kenrith or Najeela, Yuriko isn't a direct wincon with which you can win in the first two rounds. Yuriko is simply very strong by nature, because you don't really have to pay command tax at all, which makes it difficult to interact with her. She also deals damage to every opponent AND you still draw many cards. BUT on the other side you can shut Yuriko out of the game if somebody get a Cursed Totem , Linvala, Keeper of Silence , Pithing Needle / Phyrexian Revoker or a Containment Priest on the board. If that happens, all of a sudden the deck is stuck with a lot of expensive spells and pretty useless ninjas.
5 months ago
psionictemplar yeah believe me i know. XD i have a habbit of always adding a bunch of cards that look interesting. This use to be way more clutered before i put this here. For the theme, like title says, im going for more of a midrange style. Mix of aggro and control. So im trying to aim for a balance of creatures and spells. I've been watching youtube videos for guidance and pull some cards from various build from Tolarian Professor, strickly better MTG and Giant monster games. In a way id like for this deck to be a jack of all trades type, can do several things but not excelling in one particular area. This is well suited for the group of friends i play with. I know abilities matter more but ive always been a person who likes to use cards that have artwork i enjoy, not solely run stuff just cuz they are objectively the best, it depends. This applies mostly with creatures for me, an old habit i have from my yugioh days XD but i digress. Thats why mono blue has been difficult for me to make, cuz a lot of creatures are meh to me. However i did find some stuff i like. So creatures like Callaphe, Beloved of the Sea Cloudfin Raptor and Thoughtbound Phantasm can get bigger over time. And for Thoughtbound Phantasm uses surveil so i threw in Narcomoeba in so i can a free creatures out. Id prefer if i could get a creature that has this same ability but with some added stuff idk. Also threw in some surveil cards like Dream Eater and Dazzling Lights to boost Thoughtbound Phantasm . Also have one Rise from the Tides for a token flood if i need it and some milling options like Mind Sculpt and have Sacred Excavation to use on Compelling Argument for more mill options. Cryptic Serpent can get out quick and cheaper with all the instants and sorceries played. And for Phyrexian Revoker i already have a full set of 4 irl cards so i might throw them here, can be good control to block card abilities, and have the other Phyrexian Metamorph to copy a creature if needed. Like i said id like this to be a jack of all trades kinda deck. I just need to get a good ratio of cards to balance out this deck.
Load more