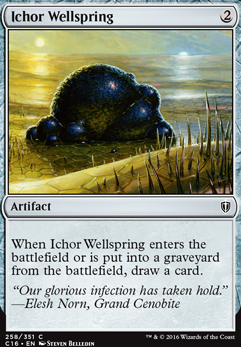 Legality
| | |
| --- | --- |
| Format | Legality |
| Pre-release | Legal |
| Noble | Legal |
| Leviathan | Legal |
| Tiny Leaders | Legal |
| Magic Duels | Legal |
| Canadian Highlander | Legal |
| Vintage | Legal |
| Modern | Legal |
| Casual | Legal |
| Pauper EDH | Legal |
| Vanguard | Legal |
| Legacy | Legal |
| Archenemy | Legal |
| Planechase | Legal |
| 1v1 Commander | Legal |
| Duel Commander | Legal |
| Unformat | Legal |
| Pauper | Legal |
| Commander / EDH | Legal |
Related Questions
Ichor Wellspring
Artifact
When Ichor Wellspring enters the battlefield or is put into a graveyard from the battlefield, draw a card.
Ichor Wellspring Discussion
1 week ago
there is actually an artifact deck that plays Krakr-Clan Ironworks called KCI Combo or eggs. you might want to look at that.
I dont think Revolution is a good combo piece because your opponent decides wether he wants to be dealt damage or giive you the card
A few things eggs plays that might also help youRevolution and ironworks. might combo very nice with small artifacts that are drawing cards such as Chromatic Star, Terrarion and Ichor Wellspring
Scrap Trawler is a nice additional combo piece for such a deck
Inventors' Fair and Academy Ruins would be decent 1-2 offs as utility lands Darksteel Citadel is of course also a must.
1 month ago
@Grubbernaut It is in paper; when you only play that way, there is no point of paying an extra 2 dollars
@MFFUFYFT I should try this out, but I feel a like that would require to change the deck up a bit, because Atog works together with borderposts and Ichor Wellspring
@Landonius Thanks! I've tried Akki Blizzard-Herder, but it has the problem of giving choice to your opponents. Sure it slows them down, but they can just ignore it for 3~4 turns, get a bunch of lands, and then start attacking.
2 months ago
KayneMarco: As a Pauper EDH deck, you can only use one uncommon creature as the Commander, and only commons in the 99. Unfortunately neither of those two cards were ever printed/released at common, so they wouldn't be legal. =)
As for the deck...
Echo Circlet & Vanguard's Shield for starters. Plus Cathar's Shield, Accorder's Shield also because you want to keep him untapped and able to block as well as attack. There're other vigilance enablers like True-Faith Censer, too.
Bone Saw & Bonesplitter because you don't really care about his Strength. Maybe even things like Unholy Strength and Predator's Gambit.
So I guess I'm thinking voltron. Which would include things like Bladed Pinions, maybe Flayer Husk and Sickleslicer.
Then of course Vault of Whispers and Darksteel Citadel to help justify that Cranial Plating you got there.
Costly Plunder + Ichor Wellspring / Mycosynth Wellspring.
Night's Whisper should be here. you might like Dash Hopes for late game security, but it's probably useless early on.
I'd also recommend a LOT of recursion/reanimation, that way you can just let your commander die, then get 'em back to avoid Commander-tax. Things like Macabre Waltz, Grim Discovery, etc.
Both Exalted creatures, too? Servant of Nefarox and Duty-Bound Dead.
I'm just tossing out ideas, so maybe something there can help get you started! =)
Load more