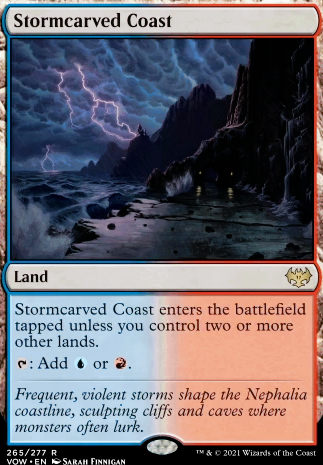 Stormcarved Coast
Land
This enters the battlefield tapped unless you control two or more other lands.
: Add or .
Latest Decks as Commander
Stormcarved Coast Discussion
1 day ago
Hey, nice version, but where's Glint-Horn Buccaneer? I saw your deck in the featured decks ad.
You can improve on balancing card quality since you have some amazing cards here, but also quite a few lackluster ones that are much lower on power level compared to the others. An example is Scalding Tarn which is excellent, but not playing a dual land that Tarn can search for... Steam Vents could replace Izzet Guildgate and Volatile Fjord could replace Highland Lake. Other Izzet dual lands to add in place of some basic lands to improve color fixing from lands: Training Center, Cascade Bluffs, Sulfur Falls, Stormcarved Coast and Frostboil Snarl.
I don't think I've even seen Armillary Sphere in the same deck before that also has Mana Drain, Ragavan, Nimble Pilferer, Jeweled Lotus, Dockside Extortionist, Goldspan Dragon, Jeska's Will and Urza's Saga. Sphere is really out of place power wise. Consider cutting Sphere for Arcane Signet? The Diamonds are also subpar, considering cutting both of them for Talisman of Creativity and Izzet Signet? These are not expensive changes, but can make a big improvements on ramp.
Another example of card quality balance are the counterspells. Mana Drain, Counterspell, Pact of Negation, Negate are great thus you don't also need to play Hornswoggle, Admiral's Order and even Lookout's Dispersal because these are not as good.
---
Some more one drop/two drop flying Pirates and unblockable Pirates can more easily trigger Malcolm and Breeches. Spectral Sailor, Warkite Marauder, Departed Deckhand could replace some higher mana cost Pirates such as Captain Ripley Vance, Deadeye Quartermaster, Prosperous Pirates and Sailor of Means. You have Ragavan, Nimble Pilferer, Dockside Extortionist, Goldspan Dragon and Corsair Captain which are all excellent thus you don't really need to play other Pirates that create treasures when they ETB because those cards are not as good.
Wonder and Anger are powerful with Pirates, but they need help to get them into your graveyard because you don't want to ever cast them. Expanding with more loot can help to draw/discard them that also adds more draw to your deck. Faithless Looting, Windfall, Mask of Memory and Frantic Search could replace Mutiny, Hornswoggle, Dowsing Dagger  Flip and Admiral's Order. These changes are also not expensive and improve card quality.
Good luck with your deck.
2 months ago
Def feel the vibe of this deck. It did feel as though it needed to be consistently faster though.
Possible cuts:Arch of Orazca, Frostboil Snarl, Desert of the Mindful, Path of Ancestry, Spirebluff Canal, Sensei's Divining Top, Smashing Success, Fire Servant, Niv-Mizzet, the Firemind, Experimental Overload, Spelltwine, Tidings, Ral, Storm Conduit
Possible adds: Fellwar Stone, Fire Diamond, Lotus Petal, Coldsteel Heart, Talisman of Creativity, Jeska's Will, Mana Geyser, Stormcarved Coast, AEtherize, Mizzix's Mastery, Tezzeret's Gambit, Cyclonic Rift, Archmage Emeritus, Electrostatic Field, Zaffai, Thunder Conductor, Snapcaster Mage, Archeomancer, Wandering Archaic  Flip, Electrodominance, Narset's Reversal, Chaos Warp, High Tide, Fuel for the Cause, Mindswipe, Steady Progress, Repeated Reverberation, Crackle with Power, Contentious Plan, Banefire, Chain Reaction, Echo of Eons, Primal Amulet  Flip, Aetherflux Reservoir, Wayfarer's Bauble, Kozilek, Butcher of Truth, Riptide Laboratory, Karn's Bastion, Castle Vantress, Mystic Sanctuary, Riverglide Pathway  Flip