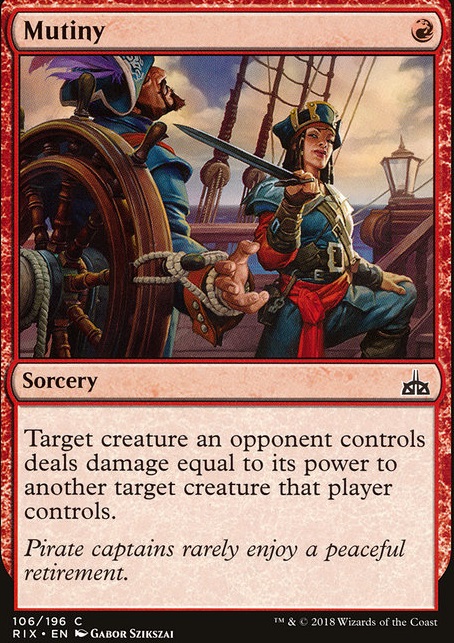 Legality
| | |
| --- | --- |
| Format | Legality |
| Pre-release | Legal |
| Tiny Leaders | Legal |
| Frontier | Legal |
| Vintage | Legal |
| Penny Dreadful | Legal |
| Custom | Legal |
| Commander / EDH | Legal |
| 1v1 Commander | Legal |
| Magic Duels | Legal |
| Brawl | Legal |
| Standard | Legal |
| Arena | Legal |
| Canadian Highlander | Legal |
| Leviathan | Legal |
| Duel Commander | Legal |
| Unformat | Legal |
| Modern | Legal |
| Pauper | Legal |
| Pauper EDH | Legal |
| Legacy | Legal |
| Casual | Legal |
| Oathbreaker | Legal |
Related Questions
Mutiny
Sorcery
Target creature an opponent controls deals damage equal to its power to another target creature that player controls.
Mutiny Discussion
4 months ago
This is the current deck I'm running because I don't have all the cards that I want for this and i've gone 25/2/0 in MTG Arena so far - I'm thinking of switching this up to UBR but this idea can really just work for any colors you prefer, I just Like the combo with white because of return creatures I need and low cost damage spells for creature removal similar to red but triggers at different times.
It's been 5 years since I've last played and I'm really enjoying this block so far in standard - any help is much appreciated.
As of release for Ravnica Allegiance Day one this is what I currently have for it, I'm just so sick of everything being so creature aggro based I figured i'd put together something to mess with people's heads if they play that way.
4 months ago
To add a few more abilities to the list, non-keyword abilities may also be implicated by Mutiny. Any ability that reads "whenever X deals damage" (ex. Putrid Warrior) or or "whenever X deals damage to a creature" (ex. Bellowing Fiend) will also trigger.
However, abilities that read "whenever X deals combat damage to a creature" (ex. Death Charmer) will not trigger due to Mutiny, as Mutiny does not result in combat damage.
4 months ago
If a creature is dealt damage by a source with deathtouch, it'll be destroyed as a state-based action. It doesn't matter if the damage comes from combat, a direct damage-dealing ability (such as from Hermetic Study), or due to effects like Mutiny, Rabid Bite, or Epic Confrontation.
Mutiny doesn't need to specify that deathtouch and similar abilities still apply. That's a function of deathtouch itself (that any damage dealt by that creature qualifies).
4 months ago
If I play Mutiny and target my opponent's creature (that has deathtouch) does deathtouch still kill the creature? Because the wording on the card says " deals damage equal to its power to another target creature" that makes it sound like I only can use the attack power and no other ability apply.
10 months ago
Hello there :)
Nice deck, I've recently also came up with a similar idea. Here are my suggestions which cards IMHO are worth including in this deck: Dual Shot - deals 1 damage to 2 creatures, it'll allow you to deal with some weaker creatures at the beginning of the game
Ghitu Lavarunner - it costs 1 red mana, but quickly becomes 2/2 creature
Thud - after you play wizard which deals damage to an opponent after he enters the battlefield, you can play this card and deal another 3 damage to your opponent for only 1 red mana
Mutiny - you can easily deal with some bigger creature thanks to this card.
Banefire - card which should be played in the end phase of the game to destroy your opponent. You pay 5 mana, and your opponent can't counter this spell!
Deck should be fast and you should constantly attack your opponent with instant spells and deal damage. Artifacts slow you down so do enchantments. I'd remove artifacts, enchantments and tormenting voice from your deck. These cards definitely slows you down, are expensive to play - thus, you will not use artifacts' benefits.
The same goes with Tormenting Voice - you have to discard 2 cards, which makes it a difficult choice to choose which one should go to your graveyard... please mind that you will not retrieve those cards later in the game.
Cheers! :)
Load more
No data for this card yet.