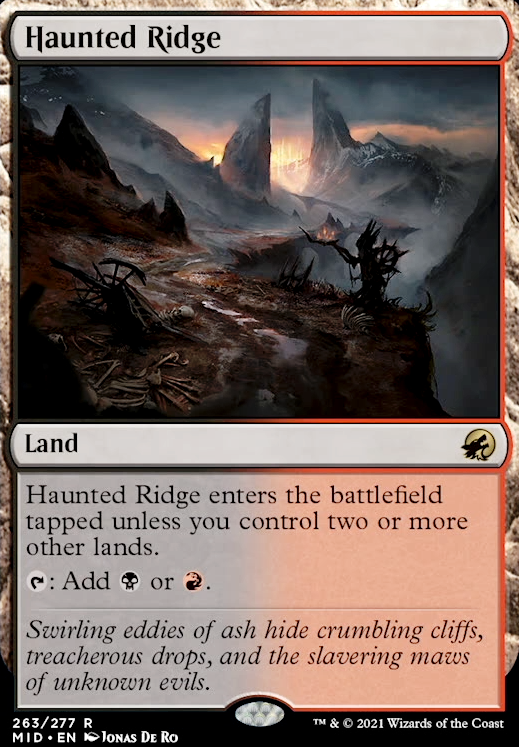 Haunted Ridge
Land
This enters the battlefield tapped unless you control two or more other lands.
: Add or .
Latest Decks as Commander
Haunted Ridge Discussion
3 weeks ago
EJ!! Let's do this! This build is already tight, but here are my thoughts\suggestions...
Cards I'd consider cutting: Seize the Spoils, Reckless Endeavor, Daretti, Ingenious Iconoclast, Poison the Cup, Vengeful Reaper, Dream Devourer, Replicating Ring, Ward of Bones, Darksteel Forge, the flip tibalt guy, Ash Barrens, Cryptic Caves, Darksteel Citadel, Foreboding Ruins, Mortuary Mire, Zhalfirin Void
Cards I'd consider adding: Light Up the Stage, Chaos Wand, You Find Some Prisoners, Reckless Fireweaver, Valakut Exploration, Rakdos Charm, Murderous Rider, Praetor's Grasp, Rakdos Signet, Bojuka Bog, Luxury Suite, Blood Crypt, Haunted Ridge, Smoldering Marsh, Dragonskull Summit, Bloodstained Mire, Temple of Malice
I would also suggest swapping Red Elemental Blast for Pyroclasm... seems silly, but pyroclasm can be cast even if there are no blue targets. So may not be relevant, but could be randomly at some point.
1 month ago
Hey, good first version, nice Avacyn, Angel of Hope.
Having some backup plans to cheat big creatures onto the battlefield can be helpful because you will not always control Kaalia. Reanimation and ramp are two straight forward backup plans to consider expanding on.
Some changes to consider:
---
Some other upgrades to consider:
Some lands to consider adding to improve the manabase in place of some basic lands, the three Bounce lands, Wreckage and the two Scry lands.
If you choose to add Emeria Shepherd then some Fetch lands that can get a basic Plains are helpful because they give you two triggers of landfall.
Good luck with your deck.
2 months ago
Welcome to the game.
At first glance, there are two things that jump out.
1) This is not legal for the Modern format (Dirge of Dread and Vault of Whispers are emboldened in red to indicate they're illegal in the format). This isn't a big deal at all, as both can be substituted for different cards quite easily.
2) You could use some dual lands in your mana base. There are a huge variety of Modern legal lands that can produce and , some better (and therefore more expensive) than others. Top tier stuff would be Bloodstained Mire and Blood Crypt, but they're also the most costly. Middle grade options are things like Blightstep Pathway  Flip or Haunted Ridge/Dragonskull Summit, and the cheapest (but still perfectly playable) duals would be lands that enter tapped—Bloodfell Caves, Cinder Barrens etc.
Any of the above would work here, the idea being to be able to play either a black or a red card as soon as possible, without having to wait because you don't have the appropriate color.