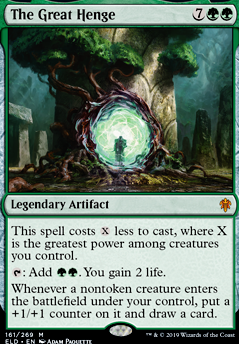 The Great Henge
Legendary Artifact
This spell costs less to cast, where X is the greatest power among creature you control.
: Gain . You gain 2 life.
Whenever a nontoken creature enters the battlefield under your control, put a +1/+1 counter on it and draw a card.
Browse Alters
View at Gatherer
Trade
Legality
| | |
| --- | --- |
| Format | Legality |
| Pre-release | Legal |
| Tiny Leaders | Legal |
| Historic | Legal |
| Magic Duels | Legal |
| Canadian Highlander | Legal |
| Vintage | Legal |
| Modern | Legal |
| Arena | Legal |
| Block Constructed | Legal |
| Standard | Legal |
| Pioneer | Legal |
| Leviathan | Legal |
| Legacy | Legal |
| Brawl | Legal |
| Frontier | Legal |
| 1v1 Commander | Legal |
| Duel Commander | Legal |
| Oathbreaker | Legal |
| Unformat | Legal |
| Casual | Legal |
| Commander / EDH | Legal |
The Great Henge Discussion
5 days ago
Please let me know what you think of each suggestion. Some are better than others, some are personal preference, but most are just gas. With Xenagos, everyone will be afraid because you can one-shot them pretty easily. So you need a way to fight past removal and ensure you don't get 2 for 1ed when using a burst draw spells.
So you have a lot of cheap mana which helped lower the curve to 4 which is pretty good for a Xenagos deck. I see that you only have 3 sources of draw. How exactly do you maintain gas once you dump your hand out given your ramp and then they just destroy your beater?
As someone said before, Decimate is great.
Voracious Hydra acts as a removal and a beater (or just a big beater).
Bolt Bend redirects targeted removal, targetted draw, targetted extra turns, and counters counterspells all for . It's unexpected and when they do expect it, you can bluff. Such an underrated card in Xenagos!
Ilharg, the Raze-Boar - Helps you cheat fatties and is always there for you.
Berserk - Super fun on Malignus or any fatty. Don't forget, you can use on opponents creatures too (have done so on multiple occasions)
Rancor - That 1/1 turns into a 6/1 trample pretty quickly. I like to use it on Selvala personally.
Lurking Predators - Value value value
Etali - You took him out, not sure why? Such a great value engine.
Cut temple of the false for Yavimaya Hollow.
Feel free to check out my Deck
6 days ago
Panharmonicon
Panharmonicon works with some of the hydras, the ones that have triggered effects. Managorger Hydra for example already triggers once every time any player casts any spell. With Panharmonicon in play, any of those spells that are creatures or artifacts will trigger twice. Forgotten Ancient works the same way, though it is not a Hydra.
I Kept Panharmonicon mostly for Animar, Soul of Elements, but it's also great for Gyre Sage, Selvala, Heart of the Wilds,
Hydra Broodmaster compliments Panharmonicon as well. It doesn't have a triggered effect, but when it goes Monstrous it will set off the trigger for Gyre Sage x2 times! Imagine the size of the Hydras you'll be able to cast with that much mana from your now ginormous Gyre Sage! Granted the Sage has to have lower power than the created tokens, so this three card combo is not going to occur frequently.
Besides creatures, there are other cards that have great synergy with Panharmonicon: The Great Henge and Kiora, Behemoth Beckoner each trigger twice for two cards drawn instead of one. Warstorm Surge and Unbound Flourishing triggering twice are game winners!
I added Inexorable Tide (gotta love doubling that proliferation) but I also removed two cards that work well with Panharmonicon: Rhystic Study would trigger twice, but I'm not a huge fan of taxing my opponents unless I'm playing Control (one permanent in 100 card deck isn't enough for taxing to work imo) and Zendikar Resurgent which I debated long and hard about. In the end I took it out to make room for Inexorable Tide but perhaps there's room for both?
I love deck building, especially the fine tuning aspect. I welcome more dialogue about this, or any other deck. Hope to hear more from you soon!
1 week ago
Thanks for the feedback, I appreciate it :) Unfortunately 'drop white, go aggro' is precisely what I did not want to hear, haha. There's plenty of aggressive minotaur strategies and I wanted to try for the opposite. So I think I'll be taking out Neheb the Worthy and replacing it with stuff that aids the control/stall/value package.
Maybe dropping black and adding blue allows for more card draw and counterspells, but all the minotaurs that take advantage of blue are older than modern or illegal in it, like Etherium-Horn Sorcerer.
Trading black for green, however, allows additional ramp, some Warden of the Chained, Eldritch Evolution and The Great Henge for more value. I prefer Mardu Charm over Naya Charm, however.
Keeping it Boros allows for a more spell-heavy exploitation and maybe abuse Smelt-Ward Minotaur and Boros Battleshaper to allow for small strategic advantages (and Domri's Ambush).
Finally, in whichever color base, I could lean more heavily on the white with things like Revitalize and maybe find a spot for Healing Grace (and if adding green, Captured Sunlight to give those minotaurs a wholesome bent. There's also some changelings I could add in, like Universal Automaton and Adaptive Automaton to streamline the curve.
For now I'll hold off on fetch lands, but maybe a bounce land or two would help out getting to more mana quicker?
1 week ago
Hey! Thanks for the comment, I run The Great Henge in my volrath deck and only reason I don't have it in this is price tag hahah, these two decks I have in cards. It's certainly one id like 2 copies of. Wayfaring Temple was in for a while but it felt slowish, I danced around with Voice of Resurgence but both fell a little flat for me
1 week ago
What about Nacatl War-Pride or Wayfaring Temple as possible creature includes? I would also consider including The Great Henge, I know you are token focused but a lifegain mana battery in green that can also draw cards is pretty nice.
1 week ago
Hi there. Here are some suggestions based on your description/questions:
Altar of the Brood and Blasting Station are two win-cons for when you go infinite with Melira, a persist creature, and a sac-outlet.
Manglehorn is another good Reclamation Sage type creature.
The Great Henge and Renata, Called to the Hunt are fantastic with persist and with the high amount of creatures that you are running.
You have most of the best sac outlets, but I see that you are missing Greater Good. I've also always been a big fan of Spawning Pit.
You could also try some more card advantage and ramp through creatures. Additions to consider are Sakura-Tribe Elder, Farhaven Elf, Guardian Project, The Great Henge (again...the card is serious busted), Elvish Visionary, Skullclamp, and Beast Whisperer.
Beast Within is also a staple in mono-green.
Happy deck building!
2 weeks ago
Bummer, yeah. One thing I've been suggesting to patients is getting real friendly with 3x/day nasal saline lavages, vitamin C, zinc... If you have improvement within 72 hours then it is more likely a run-of-the-mill virus or influenza & not COVID. I am jealous of your The Great Henge & yeah that card draw fuel has been more necessary than ramp in most of the games I've played so far. Considering an ideal Marisi, Breaker of the Coil
game is looking for multiple combat steps & interaction, you pretty much need that back-&-forth capability.
Load more