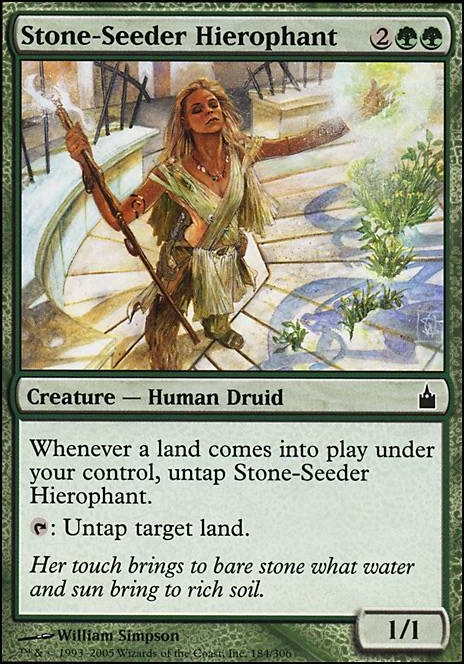 Stone-Seeder Hierophant
Creature — Human Druid
Whenever a land enters the battlefield under your control, untap Stone-Seeder Hierophant.
Tap: Untap target land.
Browse Alters
View at Gatherer
Legality
| | |
| --- | --- |
| Format | Legality |
| Tiny Leaders | Legal |
| Noble | Legal |
| Magic Duels | Legal |
| Canadian Highlander | Legal |
| Vintage | Legal |
| Modern | Legal |
| Highlander | Legal |
| Penny Dreadful | Legal |
| Block Constructed | Legal |
| Pauper | Legal |
| Pauper EDH | Legal |
| Leviathan | Legal |
| Legacy | Legal |
| 2019-10-04 | Legal |
| 1v1 Commander | Legal |
| Duel Commander | Legal |
| Oathbreaker | Legal |
| Unformat | Legal |
| Casual | Legal |
| Commander / EDH | Legal |
Stone-Seeder Hierophant occurrence in decks from the last year
Commander / EDH:
All decks: 0.0%
Stone-Seeder Hierophant Discussion
1 week ago
Awesome deck, great job!
These might interest you: Stone-Seeder Hierophant, Temur Sabertooth, Cloudstone Curio, Whitemane Lion, Kor Skyfisher, Thornscape Familiar, Pearl Medallion, Amulet of Vigor, Glimpse of Nature, Somberwald Sage, Elvish Rejuvenator, Genesis Wave, Jazal Goldmane, The Great Henge, Horizon Canopy, Bonders' Enclave
3 weeks ago
Cool general! You might like these: Stone-Seeder Hierophant, Sporemound, Animist's Awakening, Kamahl's Druidic Vow, Genesis Wave, Hour of Promise, Pir's Whim, Reap and Sow, Crop Rotation, Expedition Map, Vesuva, Gruul Turf, Bag of Holding, Creeping Renaissance, Nature's Revolt, Dryad of the Ilysian Grove (this guy is extra good with Valakut!)
4 weeks ago
king-saproling - Ah, a well-knowledged player!
When I reworked this deck, my goal was to make it rely less on the commander and thusly removed pieces such as Knight of New Alara and Lovisa Coldeyes, but there are some here I really like. I really only cast him with Evolutionary Leap, Purphoros, God of the Forge, or Gaea's Cradle.
Genesis Wave is a card I always knew somewhat what it did, but never truly read the card. It seems excellent in here, and I've been meaning to remove Ajani Unyielding.
I am not too fond of cards that merely ramp lands with X in the cost, especially if it may get not value. Animist's Awakening, though can be impressive, there is better I can do with my mana.
Lotus Cobra is one I own but isn't in here. It probably should be.
Stone-Seeder Hierophant is one I have never heard of, one of my avocations being perusing older sets for unseen gems. Though it can be powerful and is findable with Imperial Recruiter, it's ramp with summoning sickness on turn four, having but one toughness. Lotus Cobra seems more idoneous.
Avenger of Zendikar is quite literally perfect for this strategy. The only reasons I do not run it is because I do not enjoy having multiple of the same finisher across my decks and it's arguably a strictly better version of my commander. I couldn't do that to Hazezon. xD
Emeria Angel could get out of control quickly and I do love birds (thank you Beholden to Birds), but Field of the Dead is horrendously easy to find and more difficult for some decks to interact with.
Impact Tremors is more difficult to tutor version than Purphoros, whilst being far less impactful on its own.
Nature's Revolt is quite fun as wrath protection. I used to run Jolrael, Empress of Beasts for the same reason. Still, not my style, but thank you.
This deck already has quite a few tutors, and it doesn't actually make that many tokens afore turn five. The value in Enlightened Tutor and Imperial Recruiter is that they can find setup pieces early due to the low cost and have value later. Oracle of Mul Daya early, Ulvenwald Hydra later. I am not too fond of the high cost of Chord of Calling here, also because the deck has a fair amount of tutoring as is.
Green Sun's Zenith, on tother hand, looks lovely. I could easily see this in here, though a Dryad Arbor would be wise.
Tempt with Discovery tends to be a four mana ramp spell that finds one land. I do prefer a Pir's Whim or Hour of Promise.
I've tried Reap and Sow. Strip Mine does the job rather well, and four mana ramp for one land is heftily underperforming.
Creeping Renaissance is an interesting one, though the deck isn't actually that graveyard reliant. I'm rather copacetic with my Genesis and Eternal Witness loops.
I have also tested with Safe Haven, though it was just far too slow.
Divine Visitation can get out of hand very quickly, but I have it as a finisher in tokens. Best not to end the games the same way as other strategies, in my eyes at least.
I used to love Shields of Velis Vel. Oh, the blowouts it bestowed. I cut it when I made the deck less reliant on the commander, but I would love to use it again.
In summation, I like Genesis Wave, Lotus Cobra, and Green Sun's Zenith, with Shields of Velis Vel urging me. I merely must find out what to remove.
Walukut would be fun to include, though the lands slot is rather tight, and I refuse to remove Hammerheim. (It's never done anything. Not yet, anyway.)
Thank you for the comment. You obviously know the game well, and I'll have to look at some of your decks. :)
4 weeks ago
Cool deck! Thoughts on these? Genesis Wave, Animist's Awakening, Lotus Cobra, Stone-Seeder Hierophant, Avenger of Zendikar, Emeria Angel, Impact Tremors, Nature's Revolt, Chord of Calling, Green Sun's Zenith, Tempt with Discovery, Reap and Sow, Creeping Renaissance, Safe Haven, Divine Visitation (gets around Hazezon's downside), Shields of Velis Vel (this one is fun with Hazezon. If somebody plays removal on him, target an opp with Shields of Velis vel and Hazezon will exile all their creatures as he leaves).
1 month ago
Looks good! These might interest you: Sakura-Tribe Scout, Skyshroud Ranger, Walking Atlas, Llanowar Scout, Budoka Gardener  Flip, Stone-Seeder Hierophant, Retreat to Coralhelm, Chakram Retriever, Lotus Cobra, Psychosis Crawler, Chasm Skulker, Hermetic Study, Psionic Gift, Lotus Petal, Springleaf Drum
2 months ago
Neat strategy! You might like these: Doubling Cube, Victory Chimes, Awakening, Zendikar Resurgent, Boundless Realms, Traverse the Outlands, Animist's Awakening, Kamahl's Druidic Vow, Genesis Wave, Lotus Cobra, Stone-Seeder Hierophant, Patron of the Orochi, Rite of Replication, Second Harvest, Mosswort Bridge, Alchemist's Refuge
Load more