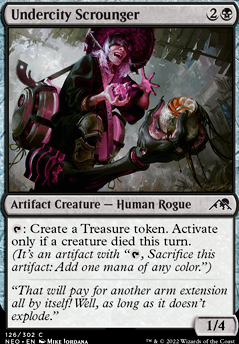 Tokens
Legality
Undercity Scrounger
Artifact Creature — Human Rogue
: Create a Treasure token. (It's an artifact with ", Sacrifice this artifact: Add one mana of any colour.") Activate this ability only if a creature died this turn. (Was put into the graveyard from the battlefield, tokens are put into the graveyard before they cease to exist.)
11 months ago
Hello friend! I have some suggestions! I had way too much time today, so here you go.
1 year ago
Some mild potential from the new Kamigawa-
Goro-Goro, Disciple of Ryusei difficult to get that second ability in this deck but the first is always going to be great!
Hidetsugu, Devouring Chaos It's neat.
Mechtitan Core I dunno... It does give a way to get an advantage out of losing Mairsil if you pay for the effect in response to removal. Really though this is a rather causal gimmick.
Undercity Scrounger It's possible to have Mairsil make a treasure token every turn with this. Not just my turns but every turn. Curiosity is peaked.
Nothing else stood out as anything worth considering. Mechtitan is already pushing the bounds of "considerations" rofl.
1 year ago
Hey, well done so far for a first deck that's less than $50. Nice pulls from your box of Nashi, Satoru, Junji, and Chip.
You don't have lands? My advice before you go any further is to fill in enough deck spots for 35 lands. They can be 15 Swamp, 15 Island, Command Tower, Path of Ancestry, Secluded Courtyard, Unclaimed Territory, Sunken Hollow. The 30 basic lands can just be place holders until you can add more Dimir dual lands. The idea here is to fill the required deck spots you need for lands that way you can see how many deck spots you have left to add other cards or how many cards you have to cut to add lands.
You might have pulled a Secluded Courtyard and Dismal Backwater from your box since it's an uncommon and a common. If you did add them. Tower, Ancestry, Territory and Hollow are not in the NEO set, but are budget lands that can make more than one color. Tower is a staple land in Commander that all your mulicolored decks can use.
---
To add 35 lands you will have to cut 14 cards since currently you have 79 cards and you need 99 cards + Satoru to make 100 cards. Some cuts to consider are little creatures who are not Ninjas and don't have any ability that helps them to attack such as flying or unblockable. Enormous Energy Blade is the worse card here, the turn you equip it to a creature you control that creature can't attack with the +4/0 pump because it becomes tapped, easy cut. Some other cards to consider cutting:
After you add lands I offer more help if you're interested. Good luck with your deck.