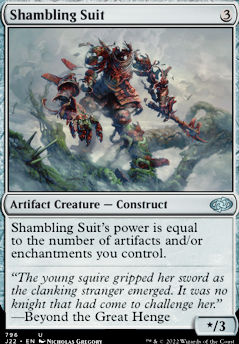 Legality
11 months ago
Hello friend! I have some suggestions! I had way too much time today, so here you go.
11 months ago
A must: Wayfarer's Bauble, Etchings of the Chosen, Baleful Strix, Coastal Piracy, Inspiring Leader.
Maybe? Solemn Simulacrum, Seal of Cleansing.
good but high mana cost: Gravitational Shift, Thalisse, Reverent Medium.
---
I would Remove
Winged Words cheap, not the first card to remove, but a bit weak in the long run
Hushbringer not so worth it
Shambling Suit and Shinechaser are not worth it
Eye Collector????
Bag of Holding too complicated
Workshop Elders too costly, 7 mana for a 4/4 each turn....> in this case just play Divine Visitation
1 year ago
Very well thought out primer. Was really surprised to see that it was your first! The background and fonts look nice, too. Could never figure out how to get that to work properly. The deck looks great. I'm always glad to see another Rebbec/Glacian deck pop up on here. I do have a lot of recommendations and insight from the games I've played with my own Rebbec/Glacian deck.
(Side note before I get distracted - Blind Obedience has mono white color identity. The black in the reminder text does NOT count towards it's color identity.)
Cards I'd definitely recommend -
Mycosynth Lattice - Turns ALL permanents into artifacts. Perfect for Glacian. I know you said that you're mainly a budget player and that this card is in the "upgrades and future" tab, but this one shoudl definitely be near the top of that list. It's INSANELY good in this deck. Such a high price tag, though. :\ Smothering Tithe is in the same boat.
Liquimetal Torque and Liquimetal Coating - Both provide instant speed protection with Rebbec. Someone tries to cast Doom Blade on her or Glacian (or anyone else)? Tap either of these and they can become an artifact and gain Rebbec's protection.
A few more removal spells would probably be a good idea as well, it's something that my own deck struggles with as well. Dispatch is great. Dispeller's Capsule is removal and also an artifact. Duplicant and Steel Hellkite are both removal that also fill the missing 6 CMC slot in your mana curve.
There are a few tutors in that aren't super overpriced that might be worth looking into. Idyllic Tutor can help find Mechanized Production or Mirrodin Besieged. Fabricate can let you search for any artifact. Any of the artifact mage cards like Trinket Mage, Tribute Mage and Trophy Mage are also worth mentioning. They're a bit limited but they should all be relatively cheap. Another great one I've gotten a lot of use out of is Arcum Dagsson. You can sacrifice an artifact at instant speed to search up another one. Sac a myr token for Darksteel Forge? Oh yes. It also serves as protection with Rebbec as you can sac an artifact to search up one with a specific CMC (er... MV. Never gonna get used to that) that you may happen to need protection from at the time. He serves a similar role to Master Transmuter who I see in the maybeboard.
A special shout out goes to Geode Golem. With the enough artifacts and the protection that Rebbec gives, it should be pretty easy to get him to connect so you can cast Glacian for FREE!
If you wanted to go the "turn all my artifacts sideways at people" route, cards like Sakashima's Will and Masterful Replication work wonders with creatures like Filigree Attendant or Darksteel Juggernaut and Shambling Suit. On the other hand, Rise and Shine from MH2 just animates and tosses counters on things. Much simpler and can achieve the same result of smashed face! I have an Urza, Lord High Artificer deck that focuses on this exact gameplan.
Vedalken Archmage and Endless Atlas are two great card draw engines. One with the Machine is also great but you need something big on the field to really capitalize on it. I see that you have Esper Sentinel in the maybeboard and I can't for the life of me figure out why I didn't add it into my own deck. I just buylisted it a week or two ago. :(
I think that's all I have for now. I've linked my deck below. Feel free to check it out and see if any other ideas pop out at you from there. I'm excited for Kamigawa Neon Dynasty as it seems to have a pretty good artifact theme going on but I have a feeling that The Brother's War set at the end of the year is gonna be HUGE for Rebbec/Glacian!
---

Commander / EDH KBK7101
SCORE: 25 | 12 COMMENTS | 1900 VIEWS | IN 6 FOLDERS
---
2 years ago
Heliogabale--first off, thanks for the logistics call. I'm still VERY new to spicing up my decks with code, so we'll see if I can figure out how to make that switch ;)
As to your actual card suggestions:
Meletis effectively draws us 3 cards here--a land, an 0/4, and a random card with Losheel. Plus 2 life. All that means that it's a pretty effective piece of value, given the... how shall I say it nicely... restrictive nature of its color.
Dragon Throne of Tarkir sure is slow, but with our cost reducers ( Jhoira's Familiar et al.) it becomes a little more fathomable. Sticking the Throne onto a Bronze Guardian or Shambling Suit is a great feeling, too.
This Ellie is only in the deck due to the insanely low number of respectable pump effects in white. Anthems only do so much--I find myself needing 4+ extra power to close games how I'd like to.
I like Reconnaissance , I honestly hadn't considered the possibility of an opponent removing Losheel in combat. Makes ya wonder how I've made it this far in this game... anyhow Recon should be finding a spot here soon. Good call.
I tested ATG for a while, but found it underwhelming. It either goes onto a creature without evasion and gets chumped out, or makes a threat and gets its host removed, two-for-one'ing me.
Vedalken Orrery is an insanely powerful card (may we please have a reprint, good people of WotC?), I might find it worth the +ahem+ considerable financial cost it implies.
I hadn't thought about Winds of Abandon as an evasion effect, that's pretty spicy! I don't like ramping my opponents, but I suppose it doesn't matter if they are no longer in the game.
All in all, thanks for the comment! I feel lucky to have you next in line on that thread, last time the advice given was far less applicable.
Cheers!
2 years ago
ProgHouseDJ Not sure which artifact creature you're referring too that do that (there's quite a few and I never remember what's legal in historic), maybe Shambling Suit?
Either way, if you're a big fan of white then I would drop Emry to simplify your mana base. You want as many colorless mana producers to maximize the value of your Forsaken Monument anyway. Also if you're streamlining like that I would say you could also afford to run fewer Solemn Simulacrum too. Don't get me wrong it's a nice little value generating card, but in a largely colorless deck fetching a basic land can have limited utility (especially if you end up doing what I suggested earlier about running more colorless lands), it's 4CMC is kind of obnoxious for what it does.
3 years ago
If you know the meta you are playing in, some mainboard Phyrexian Revoker might be alright. Also Shambling Suit is a construct that can be used as a beater in the middle of a game.
Load more