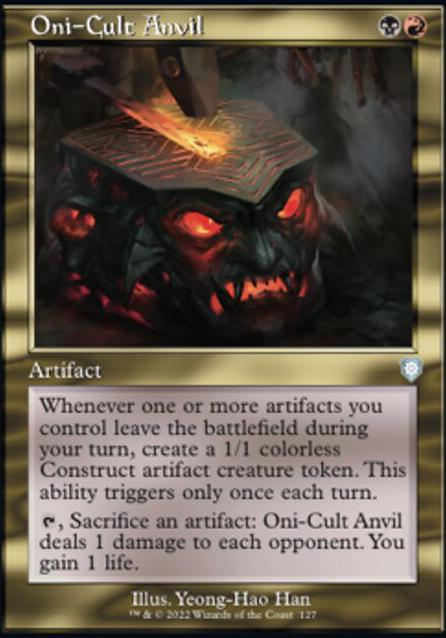 Tokens
Legality
Oni-Cult Anvil
Artifact
Whenever one or more artifacts you control leave the battlefield during your turn, create a 1/1 colourless Construct artifact creature token. This ability triggers only once each turn.
, Sacrifice an artifact: This deals 1 damage to each opponent. You gain 1 life.
11 months ago
Hello friend! I have some suggestions! I had way too much time today, so here you go.
1 year ago
Forgot to mention, if you can get Fable of the Mirror-Breaker  Flip, I would highly advise. I know its pricey, but it does do a lot for the deck. The generation of treasures helps ramp and give you sacrifice fodder for Oni-Cult Anvil, the looting effect helps you find Anvil or cards may need pending on board state, and the back side clone skill has soo many uses.
1 year ago
If you are trying to make this more competitive then there is a bit I would cut from your deck. Here are some of my thoughts about some of the cards you are running that may need to more consideration to how your deck is crafted. You can see suggested cards towards the bottom.
Automated Artificer - Not that impactful of a card for your deck as most your artifacts that it could help you ramp are already cheap to cast, it doesn't have a good place here.
Jaxis, the Troublemaker - I'm honestly not sure what you are trying to copy here for value. Card feels like you want to get a Fable of the Mirror-Breaker  Flip.
Kami of Terrible Secrets - The size of the body for cost situational card draw would make this a cut. Better cards to be running that can give you better value.
Karn, Living Legacy - While your welcome to run the card, this is more a meme then a serious play card I would imagine. It doesn't do anything impactful to the board and the mana rocks it generates are that useful to your build. Trying to go the keep +1 to get to ult seems like a hard reason to want to keep.
Jodah's Codex - This is expensive card draw to be playing and would not trying running this card unless you are trying a domain build where the draw becomes free.
Dragonspark Reactor - is a cool card, but I don't think you are using enough cards that are artifacts to warrant this in deck unless you make changes.
Ghoulish Procession - seems interesting, but you may want to trim this to make room for more artifact based cards to get better synergies.
Patchwork Automaton - If you wish to run this, then I would suggest adjusting your deck to run at least 20 artifacts that you can cast for the trigger.
Cards you may be interested in using are that are seem as "staples" to the rakdos artifact deck are: Experimental Synthesizer, Bloodtithe Harvester, & Voltage Surge. These offer you card advantages that work well with the anvil and also have some flexibility in their use.
From the new set I would say check out Garna, Bloodfist of Keld. This lets you get some extra burn to your opponent if you creatures die outside of combat, but you get extra card draw bonus for each creature that dies in combat. Please note that you could sacrifice your artifact creatures to Oni-Cult Anvil after damage step if they survive before leaving combat if you need that draw.
Last note I would have is you would likely want to be running 4 Oni-Cult Anvil if you plan on building around them. More of them in play is always better as long as you don't get hit by a Farewell.
If you have any questions about the suggestions or comments please let me know and I will try to help.
1 year ago
Biggest question - how competitive do you want to be? Cause there are great sacrifice cards and effects for competitive play that just shouldn't mix with things on a more fun casual level.
On the competitive end, I'd look at CMC 1 and two, with a focus on card advantage and disruption; Bomat Courier for refilling the hand, Cabal Therapist as ersatz thoughtsieze, Carrion Feeder and Ravenous Squirrel as a chunky creature and repeatable sac outlet, cards like Dockside Chef as extra squirrel copies, there are a lot of really good options.
The hard part is what you are trying to sacrifice - cards that like being in the graveyard and come back tend to get pricy, meaning that you'll probably get more from token value - Mogg War Marshal is about the best budget option, but even there its only 3 triggers for two mana. An artifacts matter list is an option - bomat courier, Glaze Fiend, the dog from the new set and so on would let you run Oni-Cult Anvil or Pia's Revolution for a lot of value, while also taking advantage of treasure, blood food and other 'artifact tokens' as they are printed.
Young Pyromancer is a classic for a reason, but it does need instants and sorceries - more value from Dragon Fodder, but less from return from graveyard effects.
All told, a lot of it is about the kind of deck you want to build. All in elemental awakener is great, trying to loop changelings with awakener and stuff like Prowess of the Fair is hilarious if you want to go that route too.
1 year ago
I think narrowing some focus on what you're going after for a win-con is something to fix up here.
I would suggest looking at current Rakdos Artifact decks and Mono-Red Goblins for some ideas.
Fable of the Mirror-Breaker  Flip is expected to be a red staple and has been in the last week. Oni-Cult Anvil can turn your treasures into pingers that come back as 2/2 cats that will also get you full value out of Gala Greeters. Additionally, this allows you to sac those tapped treasures and get that value instantly. If you do go this route Experimental Synthesizer will allow you to dig faster.
Probably need some one-drops as well such as Goblin Javelineer or Voltage Surge. Voltage Surge will help against Yasharn, Implacable Earth which shuts down sac what I'm suggesting as well as those with Casualty... Ob Nilixis, the Adversary is my main concern. He looks like he's taking out not only the 5 families but going for the Emperor too.
Jetmir is nasty and I would put him over Ziatora or vice versa. Just so we're not running only one of each.
Honestly, this is a great concept and I might build a version of this myself! Thanks for sharing!
1 year ago
Over the last few years, modern has changed a lot, and the cards printed in MH2 have really pushed the game's power curve higher.
A lot of the budget brews I did 5 years ago are no longer viable, and even teir 1 decks need serious work-overs. There are options, but its important to look at how your local meta has changed rather than leaning too hard on generic advice.
The most important cards to get to grips with to know how the metagame has shifted;
Ragavan, Nimble Pilferer - card advantage, ramp, it goes in every deck that can afford it, until wizards finally gets around to a banning.
Solitude,Grief and the rest of the cycle made flicker effects very good.
Expressive Iteration - its card advantage that is defining R/U
Counterspell has been printed into modern.
Prismatic Ending (and recently, March of Otherworldly Light) has replaced Path to Exile as it hits all nonland cards, making enchantress/noncreature combos more vulnerable.
Dauthi Voidwalker, which is killing graveyard interactions.
Mishra's Bauble is out there pretending to be Gitaxian Probe, making every deck 4 cards smaller or more when it can be cast from the graveyard (though less now Luurus is banned).
Triomes, fetches for multiple colours, treasures etc mean that there are a lot of '4-5 colour good stuff' type lists, or two colour decks just splashing for one card.
Hammer time is no longer a meme.
Crashing Footfalls/Living end got some incredible cascade/cycling cards, so have a plan for lots of creatures early.
'Competitive' B/R is mostly just jamming voidwalker, pilferer then thoughtsieze/lightning bolt.
All of that said, there are options.Black/Red has just got a glut of tokens, that point to artifact sacrifice or similar shenanigans - I've had fun messing around with Glaze Fiend/Slaughter-Priest of Mogis. I can't say its competitive, but its not completely out of the running.
Asmoranomardicadaistinaculdacar/The Underworld Cookbook. He offers removal, life gain graveyard synergy and card advantage.
Kalain, Reclusive Painter creature buffs, tokens and ramp.
Oni-Cult Anvil makes 1/1 artifact tokens and pings.
Rakdos Headliner points to more discard strategies, but doesn't yet have enough support cards.
Brew hard, and best of luck finding something that works for your modern group.