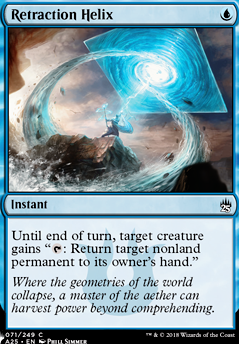 Retraction Helix
Instant
Until end of turn, target creature gains "(T): Return target nonland permanent to its owner's hand."
Browse Alters
Trade
Legality
| | |
| --- | --- |
| Format | Legality |
| Pauper EDH | Legal |
| Leviathan | Legal |
| Pioneer | Legal |
| Legacy | Legal |
| 2019-10-04 | Legal |
| Magic Duels | Legal |
| Heirloom | Legal |
| MTGO | Legal |
| Canadian Highlander | Legal |
| Pauper | Legal |
| Highlander | Legal |
| Unformat | Legal |
| Block Constructed | Legal |
| Tiny Leaders | Legal |
| Oathbreaker | Legal |
| Hero | Legal |
| Modern | Legal |
| Duel Commander | Legal |
| Penny Dreadful | Legal |
| Noble | Legal |
| Commander / EDH | Legal |
| 1v1 Commander | Legal |
| Casual | Legal |
| Vintage | Legal |
Retraction Helix Discussion
1 week ago
Ruffigan says... I don't know if you know about the Banishing Knack combo, but you can use that card or Retraction Helix on Chakram Retriever to > bounce an artifact or creature that costs 0 Mana to get infinite ETB triggers. Useful with cards like Impact Tremors to kill the table at once.
Honestly, I didn't know about that combo. It's crazy to see an infinite like that! One of the neat combos I do have in this deck is a psuedo-Cyclonic Rift in the form of Horseshoe Crab, Freed from the Real, and the all powerful Retraction Helix. But I think adding Banishing Knack along with some bounce spells might help this deck find the cards it needs. Freed from the Real is more of less the holy grail to equip to Chakram Slinger. I'm also still updating the decklist. I will probably remove Ebony Horse and some of the panoramas in favor of more basics and maybe a few haste cards just to help speed it up a bit. Both commanders take until turn 6 to get out without missing a land drop. So draw spells are critical and so is speedy ramp. Basically you don't want to be able to draw a card that doesn't help in this deck because of it's slow speed.
1 month ago
Your artifact ramp could be more optimized.
-
Take out all the Diamonds and put in Signets, they don't come into play tapped and are great for fixing your mana. Lotus Petal could be considered since it plays well with your commander, Fellwar Stone is also great or even Mind Stone. Just don't play mana ramp that comes into play tapped.
-
I would also try to leave some creatures out for powerfull enchantments/artifacts since your commander is focused on them, if you cast them you'll get a creature for free. I would consider these enchantments/artifacts: Grasp of Fate, Search for Azcanta  Flip, Darksteel Mutation, Estrid's Invocation, Mirrormade, Copy Enchantment, Skullclamp, Sword of the Animist, Lightning Greaves.
-
Alela goes infinite quite easy with cards like Banishing Knack or Retraction Helix combined with a Battered Golem, Mirran Spy or Traxos, Scourge of Kroog and any 0 drop atrifact; Tormod's Crypt, Ornithopter, Everflowing Chalice, Memnite orvSpellbook. Making infinite faeries and infinite casts (Storm). Put an Aetherflux Reservoir next to this combo and BOOM.
-
If you don't like to go infinite you could also play Coat of Arms making your faeries lethal on the spot or Magister Sphinx to mess with someone specifically.
3 months ago
I know it's a year later but I've been thinking of this.
You can 4 Blistercoil, 4 Swiftspear and play 4 Banishing Knack or Retraction Helix Tap crea, bounce a non land perm, untap with mantle. Repeat. Get mana.
Slows them down til you can combo out.
5 months ago
If you want an easy infinite combo do add to the deck, I'd suggest adding Banishing Knack and Retraction Helix to get infinite etb and cast triggers. Also, Paradoxical Outcome is necessary in combo decks like these. Lastly, and I know he's super expensive right now, Urza, Lord High Artificer just wins games and gives you infinite mana with any of your combos and a way to get your win con out.
7 months ago
Hi there.
You've ended up the same place as I do, when I get several ideas all at once and try to Jam them together. There are too many things built into one here - mill, aristocrats, tokens, Field of the Dead etc. It does a lot of things, but all of them poorly, as it lacks focus:
TL;DR find out what you want your deck's focus to be, cut the cards that don't support it and find new ones that do.
Good luck!
7 months ago
A quick list of cards that can help.
Ugin, the Ineffable , Ghirapur AEther Grid , Sai, Master Thopterist , Merchant's Dockhand , Shimmer Dragon , Nettle Drone , Retraction Helix , Traxos, Scourge of Kroog .
If you end up adding many of those cards also consider 0 cost artifacts.
Load more