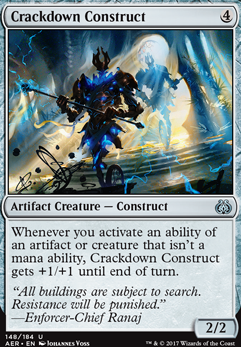 Legality
11 months ago
Hello friend! I have some suggestions! I had way too much time today, so here you go.
1 year ago
Looks like a really fun deck, because yep, who doesn't love equips and knights? I've actually been thinking about a deck like this since eldraine and this seems like a really nice build.
What do you think about Crackdown Construct? With your 0 equips on knights it can go infinite. I've usually seen it done with Shuko but the fact that your commander can do it might be good. Also works with Lightning Greaves which can also be a killer with Leonin Shikari that can effectively give your whole board shroud or not shroud whenever you want.
And it may just be a personal fav of mine, but I do really like Sejiri Shelter  Flip as a land, a spell to save your creatures from removal, or as a way to get your big voltron creature straight through blockers.
Just a few odd thoughts I had, and I like this list : )
1 year ago
Just an odd thought, but Kazuul's Toll Collector could ininite-pump something like Crackdown Construct. I have used this combo in a deck with Shuko to activate equip infinite times, but Toll Collector would totally work too. Extra good with Leonin Shikari which can also make Lightning Greaves or Swiftfoot Boots into instant speed protection for your whole board.
I like the deck : ) I'm just throwing out some ideas I've had fun with in equip decks, but yeah, they are so awesome to play. Nice one!
1 year ago
As a fellow aggro EDH player, I feel you on this. Technically speaking, aggro is at a disadvantage in commander because you have to deal 120 damage and most cards are printed to be efficient in a, you have to deal 20 damage, game. It makes aggro for the sake of aggro very difficult, and especially so if the politics are against you. Honestly, I think this is a misplay by your opponents, but again, I love aggro, so I'm a tid bias : ) But it is the case, a lot of the times, that decks that are the most impacted by aggro are also the ones who are killers in the late game, so by three players ganging up on you, they are actually just all helping the one of them who has the best late game. I can see why your creatures attacking makes you seem like a threat, but at the same time, players have to respect that you are the one who is keeping other decks in check, and by targeting you they are actually playing to whoever has the best late game deck.
But I digress. Aggro players just get a bad rap, you know? A lot of the time I feel like it eventually leads to there being no aggro players in a group, and then turtling strategies just run wild.
As far as the deck though, I would suggest to maybe play into combo in the late game. Having pressure early can be great, but you will always struggle to hit enough damage, and sometimes having a back up win with something like Crackdown Construct and Shuko can be great. Especially with cards like Leonin Shikari and Lightning Greaves and Rogue's Passage to give haste, pump at instant speed, and get through. I think that's how I would go honestly, something like equipment combo for the end game. That way you can use things like Mask of Memory and Quietus Spike in the early game to gain advantage, and artifacts and equipments can be easy to tutor in your colors.
Also, with all the lifegain you have (and extort which is always awesome) you could definitely run Necropotence for card advantage and maybe Lolth, Spider Queen for advantage and also to ult if anyone boardwipes you. Aggro decks in general can run planeswalkers with a little more versatility, just because you should be the one with blockers.
So, I don't know. Your deck looks great to me, and I do think that getting ganged up on is a bit unfair. Anyone who plays an aggro deck will tell you that it's always a matter of running up hill as it is. I just think that your group might be surprised if they changed up their playstyle for a few games, to get a perspective on who is winning games where they politic against you, and compare it to when they don't.
1 year ago
Unbeliebette :) I'm still just thinking about it right now. I'll probably go through a few ideas before I figure out what I'm actually doing, because that's how it always goes. Right now, it's just a pile or random cards :) But your artifact section especially gave me a lot of ideas and Mystic Forge is one I didn't know, and it looks like an absolute must include.
Glad that leonin seems like a fit. It's a really cool card and such a unique effect. There's also a pretty convoluted combo with Lightning Greaves or other 0 equip costs like Shuko Paradise Mantle Puresteel Paladin and Crackdown Construct It becomes a 4 mana infinite creature and being able to do it at instant speed with leonin shikari is pretty good. It can be really hard to get the pieces, but because it's an all artifact combo something like Oswald Fiddlebender can get it together.
I also wonder if things like Mother of Runes or Giver of Runes might be good to let your equipped creatures attack without any worry of blocks. I haven't played this type of deck yet, so not really sure what is good or not, just something that came to mind. You probably have a much better idea of what works :)
Anyways, again, such an excellent deck! Have a good one today!
3 years ago
Happy to hear that!
The thing that makes Banehound so powerful in this deck is its combination of lifelink and haste. The first works really well with Crackdown Construct and Wall of Blood, while the latter is even more important because it allows us to immediately attack the turn Lazav comes into play. This means that he doesn't need to survive a whole rotation at the table before he can swing.
As regards deathtouch, it's not that useful for us. We are not willing to block with our commander, as our primary goal is to keep attacking.
3 years ago
Wandering Fumarole + Crackdown Construct Pay 4 to turn wandering Fumerole into a creature, then pay 0 to switch its power and toughness as many times as you want. Crackdown Construct sees this and gains infinite power and toughness.
3 years ago
Hey!
It's ok to be a little confused because those interactions are quite tricky, but you actually got them right.
At any time during combat, as long as you have priority, you can transform Lazav into Wall of Blood. You will do this after the declare attackers step once you have already attacked with the base 1/3 Lazav, because walls cannot attack. After the declare blockers step, you can activate the Wall's ability as many times as you like by paying life (generally, 20 is enough as Banehound is a 1 power creature). It's important to note that this +20/+20 buff will last until the end of turn, as Wall's rules text states. This means that you are then free to shift form as many times as you like without loosing your investment. Holding priority, you pay to turn Lazav into the Banehound. At the end of the day, you will have a 21/21 Lazav/Banehound with lifelink ready to deal lethal amount of damage during the combat damage step. This is just the base scenario, with Lazav not affected by summoning sickness and the opponent not having any blockers. If you have any specific need (e.g. you need to give Lazav haste or evasion), you can work with your commander's ability accordingly. If you need haste, pay to turn Lazav into the Banehound before the beginning of combat step, then do the rest (pay and 20 life for the Wall, then again for the Hound). If you need evasion, pay for Invisible Stalker before the declare blockers step, and so on and so forth.
The Construct + Ornithopter combo works exactly the same way, the only thing is that we have way more triggers to put on the stack (but it doesn't matter, as they are free in terms of mana). Pay to turn Lazav into Crackdown Construct. Then, pay to turn him into the Ornithopter. The Construct's ability will trigger, giving Lazav +1/+1 until the end of turn. In response, pay again for the Ornithopter and keep doing this as many times as you like. Once you have finished, Lazav will eventually become a 0/2 Ornithopter with flying but retaining all the buffs from its previous form until the end of turn.
This is a little convoluted because it requires some knowledge of how the combat phase works and how to use the stack, but I've tried my best to explain it in a -hopefully- comprehensive way.
Load more