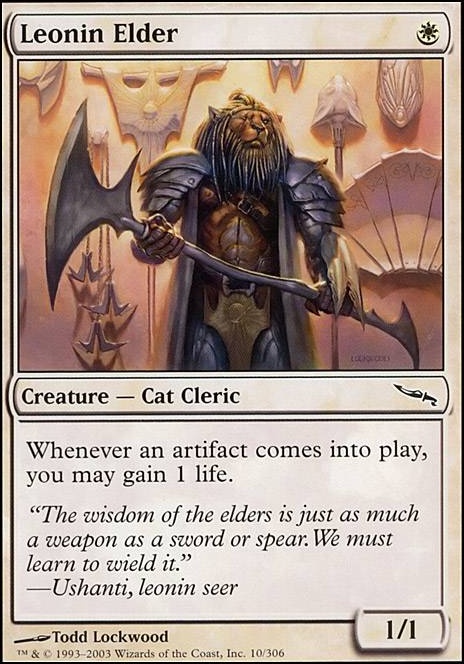 Legality
3 months ago
Hello friend! I have some suggestions! I had way too much time today, so here you go.
10 months ago
You're welcome, the last card that came into my mind, a card I really like is Leonin Elder. I don't say I'm sure it would work for you, but might make a good sideboard card. So, good game and good luck for you!
1 year ago
Leonin Elder . I noticed you had included the constellation gain life card at one point, and if you liked that card then this is just better. Also Exquisite Blood is a good source of lifegain, arguably as good as your other 5 drop sources. However, it does create infinite lifegain for you and life loss for your opponents when used in tandem with some of your other cards. I have no clue if that's something you want to stay away from.
2 years ago
Thanks for the thought Kebes. Unwinding Clock was in my first draft, however due to the high price and lack of synergy with Living Weapon I avoided including it. I ended up removing Living Weapon from my deck due to lackluster performance if I lack Brass Squire & Puresteel Paladin, which I want to avoid using as it breaks the White-Phyrexian theme. So it might be wise to give Unwinding Clock a try by now.
Etched Champion & Leonin Elder both work great but as the above, I want to avoid using them due to theme. I am in doubt about Phyrexian Revoker, as while it may be Blue-Phyrexian it will help with my severe lack of battlefield control.
Helm of the Host is an interesting card I was not familiar with. Seems to have some flexible synergy, while a bit costly. My initial thought about Karn, Scion of Urza is that he would break the White-Phyrexian deck theme hard, however I've had a look at the lore and it seems Karn is pretty much writing the White-Phyrexian bible while insane on their basement throne. The card helps with my bad Card-Draw, and goes well with the artifacts as well. I'll definitely scoop this one up if I can find it, and I'll feel less bad about including Urza Lands (upon a friend's suggestion) as this keeps the theme intact once again. Thanks for bringing that one up, as I'm not fond of planeswalkers and wouldn't have found that one by myself.
2 years ago
Thanks for the comment, Direwulf. Duelist's Heritage has been kind of a low impact card and could definitely be replaced, especially now that I know Leonin Elder exists. Great recommendation! Gift of Orzhova on the other hand, has done surprisingly well in my opinion. Getting Karlov in the air with lifelink has come in handy on more than one occasion.
2 years ago
There is an impressive lack of fat in this list. The only cards I'm curious about are Duelist's Heritage and Gift of Orzhova. How have they played out for you? Also have you considered Leonin Elder? I just built a Karlov deck and haven't played with it yet but it seems like it would be much improved over the last couple of years with all the recent artifact token mechanics.
Load more