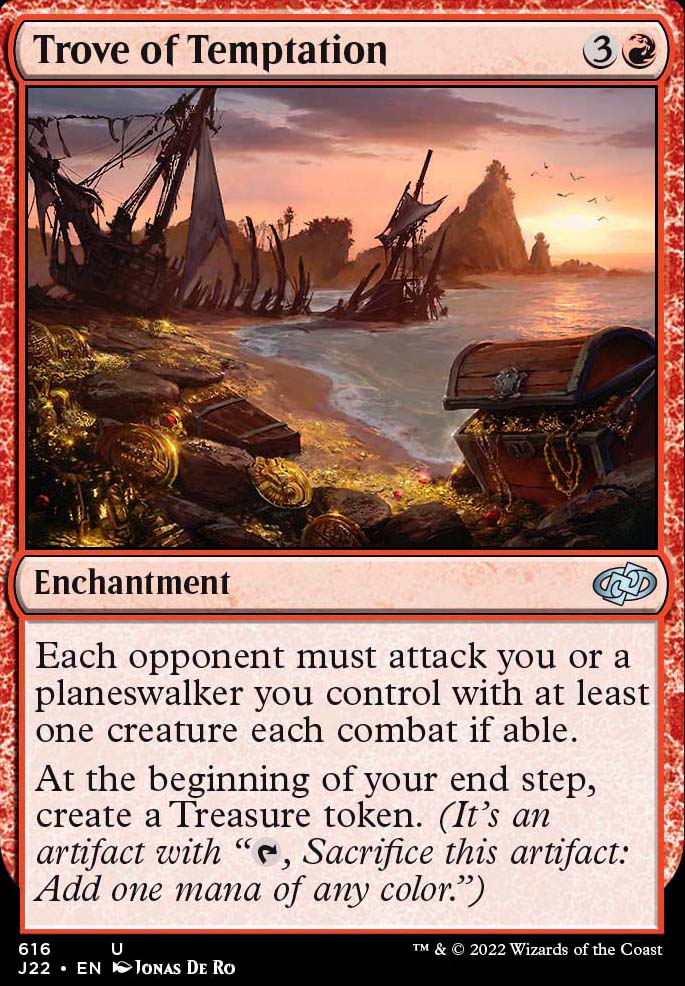 Tokens
Legality
Trove of Temptation
Enchantment
Each opponent must attack you or a planeswalker you control with at least one creature each combat if able.
At the beginning of your end step create a Treasure token (It's a colourless artifact with "[Symbol:T], Sacrifice this artifact: Add one mana of any colour..")
7 months ago
Hello friend! I have some suggestions! I had way too much time today, so here you go.
1 year ago
Red has a lot of treasure generating cards now (Treasure tap and sac for any one colored mana) and some of these cards improve that effect.
Fable of the Mirror-Breaker  Flip
2 years ago
Okay, so I just thunk a thought. What if you force combats every turn, in order to get your creatures through without them being blocked, and then you just find ways to tap down your stuff that you don't want swinging? Turn the game into a super-aggro melee in the early game, so everyone is forced to swing with (and possibly lose) their set-up creatures. That's what red should be doing to win - make everyone else react and fight on your terms.
So, cards that can force combats: Angel's Trumpet, Avatar of Slaughter (Mogis approved), Bloodthirsty Blade, Curse of the Nightly Hunt, Disrupt Decorum, Geode Rager, Goblin Diplomats, Goblin Spymaster, Grand Melee, The Akroan War, Trove of Temptation, Warmonger Hellkite, and of course, War's Toll.
Load more