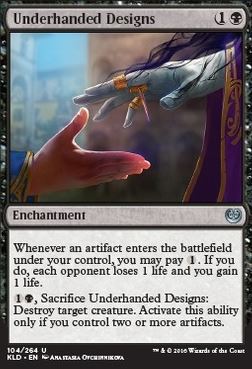 Legality
Underhanded Designs
Enchantment
Whenever an artifact enters the battlefield under your control, you may pay . If you do, each opponent loses 1 life and you gain 1 life. , Sacrifice Underhanded Designs: Destroy target creature. Activate this ability only if you control two or more artifacts
11 months ago
Hello friend! I have some suggestions! I had way too much time today, so here you go.
1 year ago
I would take out deadly rollick for a card like Force of Despair or Slaughter Pact. you dont get the hit counter from Mari when you exile an opponent's creature because it is not dying it is being exiled. i've killed 6 creatures at once with force of despair
If the reason you have Withering Boon is to trigger Mari it wont because the creature never hits the battlefield therefore it never dies, otherwise im not to sure why you have a creature counter spell, i guess for commanders eh. i think it would be better to have another kill spell imo.
she's not in the tribe but Marionette Master synergizes really well with Mari. so does Underhanded Designs & Deadly Dispute
I have built my own Mari deck and played a decent amount of games winning a few. Enjoy, she's really fun!!
2 years ago
You might like these: Feasting Troll King , Keskit, the Flesh Sculptor , Herald of Anguish , Blinkmoth Urn , Ich-Tekik, Salvage Splicer , Moriok Rigger , Pitiless Plunderer , Underhanded Designs , King Macar, the Gold-Cursed , Grim Haruspex
2 years ago
Cheers for the feedback MrKillStar, it's good to see some other people coming up with novel brews for the new Legends!
Armix and Silas Renn looks like a great aggressive combo (Attack with both, trash an artifact to Armix to kill off a blocker, then use Silas to play an artifact you've trashed), but I like the restriction of mono colored decks, in deck building and power level. Also, most of the more expensive cards (including the Sword) in this list I already have a spare copy of, so putting it together would only cost me about $30!
Skyclave Relic and Strionic Resonator look very nice in the deck, I'll see if I can fit them into my budget! I don't think I'll be using Keskit toooo much, so Magewright's Stone might not make the cut.
I think this deck just needs a really reliable finisher. The current options are either incremental advantage from things like Underhanded Designs and Marionette Master, or combat-focused with Cranial Plating and Lashwrithe.
I was thinking Revel in Riches might be good, as this deck can (theoretically) kill creatures pretty consistently, and the Treasure tokens are Artifacts! The only thing is it's a bit out of my budget for now, I really want this to be a super cheap deck to build, so if I don't end up liking it, I can just pull it apart or give it to someone without any bad feels!
3 years ago
Contraband Kingpin, Reckless Fireweaver, Underhanded Designs, Skyscanner Artifact ETB synergy.
Atog, Megatog, Daretti, Ingenious Iconoclast, Ravenous Intruder Sacrifice Artifact.
Moriok Rigger, Scrap Trawler, Sly Requisitioner, Summoning Station, Filigree Familiar, Gate to the Afterlife, Dies trigger.
Goblin Welder, Skeleton Shard, Silas Renn, Seeker Adept Recursion.
Animation Module Autre.
Je pense que t'as assez de cartes dans le deck qui profite d'artifacts qui rentre sur le jeu ou qui sont mis dans le graveyard. J'irais pour une synergie encore plus token à cause de cela. Si jamais en plus tu n'es pas sur le Throne, Marchesa pump tout le bord de +1/+1. Ça peut très rapidement dégénéré et tu pourras overwhelm encore plus facilement tes opponents.
En ce qui est de ramp, j'irais avec une liste semblable à ceci:
Sol Ring, Mana Vault, Izzet Signet, Dimir Signet, Rakdos Signet, Arcane Signet, Talisman of Creativity, Talisman of Indulgence, Talisman of Dominance, Wayfarer's Bauble, Chromatic Lantern.
J'inclurais aussi quelques trucs qui ont de la synergie avec le Sacrifice, comme Phyrexian Altar et Phyrexian Tower si t'as le budget.
Sinon, diminuer le coût général des artifacts est toujours winner: Etherium Sculptor, Foundry Inspector.
Load more