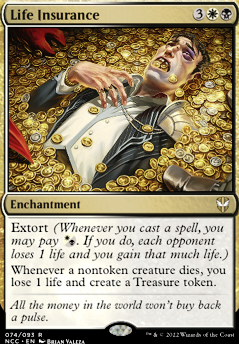 Tokens
Legality
Life Insurance
Enchantment
Extort (Whenever you cast a spell, you may pay . If you do, each opponent loses 1 life and you gain that much life.)
Whenever a nontoken creature dies (is put into the graveyard from the battlefield), you lose 1 life and create a Treasure token. (It's a colourless artifact with ", Sacrifice this: Add one mana of any colour.")
5 months ago
Hello friend! I have some suggestions! I had way too much time today, so here you go.
10 months ago
Ender666666 I think Smuggler's Share for sure would be a solid add, its just a great card. Life Insurance seems really good (I'm gonna test it in teysa now), although not all of your board wipes destroy, so that might be more meta dependent. And I feel Treasure Chest could be a really good fit. Oloro gains so much life, in the event of a 1, it won't really hurt and the other 3 possibilities are solid.
11 months ago
kirbysan I hadn't considered Tenacious Underdog until you pointed it out, but he seems like a strong grindy card. The fact that you can just keep bringing him back to draw 2 cards apiece with Teysa and get continuous fodder seems good. The only problem is that 4 mana every time is a lot. I'm not confident enough to include him off the bat, but I'll keep my eye on him.
Body Count feels a bit win-more. It's not as strong as our other draw outlets that only require one sacrifice or also count as fodder. If we're getting a million death triggers in one turn, we're probably winning anyway.
Life Insurance feels worse than either Smothering Tithe or Black Market, and we're playing neither of those. I don't see room for these 4+ mana slow ramp spells. They're nice in grindy games, but we'd rather be developing cheap fodder in early turns and hopefully ending in mid-late game.
Thanks for your suggestions! I should hopefully have time to do the New Capenna deck update sometime soon, so stay tuned for that!
Nic44 Oh that's an interesting format idea! I love budget alternatives since the more accessible the game is, the better. I can see wanting Bloodsoaked Champion in the circumstances you mentioned. Good luck and have fun!