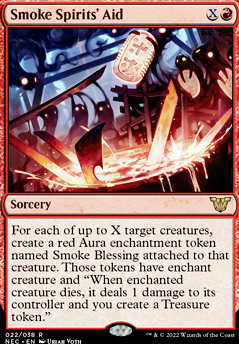 Tokens
Legality
Smoke Spirits' Aid
Sorcery
For each of up to X target creatures, create a red Aura enchantment token named Smoke Blessing attached to that creature. Those tokens have enchant creature and "When enchanted creature dies, it deals 1 damage to its controller and you create a Treasure token." (Dying is being put into the graveyard from the battlefield, tokens are put into the graveyard before they cease to exist.)
5 months ago
Hello friend! I have some suggestions! I had way too much time today, so here you go.
9 months ago
Red has a lot of treasure generating cards now (Treasure tap and sac for any one colored mana) and some of these cards improve that effect.
Fable of the Mirror-Breaker  Flip
10 months ago
Say I have Jinnie Fay, Jetmir's Second and 5 creatures out. I cast Smoke Spirits' Aid for X equals 5, targeting the 5 other creatures. I use the replacement effect of Jinnie Fay to make the Smoke Blessings into 5 2/2 Cat tokens. I think the tokens would have enchant creature and "When enchanted creature dies, it deals 1 damage to its controller and you create a Treasure token." But would they be attached to the original creatures, or would they be their own creatures and I can swing with them?
1 year ago
One, maybe it would be funny to call the list Hinata-Kun XD
Control
Render Silent, Counterflux, Disallow for a bit more counter magic
Hullbreaker Horror: I have been really loving this card lately, it is expensive (CMC) but helps to keep control of the board
Opposition: works with Willbreaker and other cards I will suggest
Reality Shift, Fateful Absence, Generous Gift : spot removal
Malevolent Hermit  Flip: counterspell and protection
Teferi, Time Raveler, Teferi, Mage of Zhalfir, and Grand Abolisher protect your shennaigans
Drannith Magistrate: stop you oppnenets from casting their commanders
You could run Orbs with Urza and Opposition
Supreme Verdict, Winds of Abandon, Wrath of God: Wipes
Blinkers
Thassa, Deep-Dwelling: slow, but consistent
Blink Targets
Spellseeker: search your X spells
Cyberdrive Awakener: if you want to win off your rocks and treasure tokens
Draw
Sea Gate Restoration  Flip: may as well if you're playing blue
Shorikai, Genesis Engine: fun card, can be a win con between being an 8/8 beater and some combos involving Intruder Alarm
X spells
Disorder in the Court: this can help for draw, protection, and "Blinking"
Smoke Spirits' Aid: I don't know if it fits, but could be spicy
Combos
Deadeye Navigator/Eldrazi Displacer + Peregrine Drake = Infinite mana
Elsha, the Infinite/The Reality Chip + Sensei's Divining Top + Thassa's Oracle/AetherFlux
Hullbreaker Horror + Mana Crypt, Sol Ring, Mana Vault: Infinite bounce only need 2 rocks
Dockside Extortionist + Deadeye Navigator: can generate infinite mana
Grand Architect + Pili-Pala: Infinite color mana, only need a Blue to initiate, I would have at least 2 infinite mana combos with all the X spells
Synod Artificer (I wish Hinata worked for abilities + Swift Reconfiguration + Gilded Lotus = infinite mana
win cons (Outside of combos)
Metallurgic Summonings: you make big tokens and gives recursion.
Guttersnipe: ouch
Monastery Mentor: tokens
Shark Typhoon: tokens
Jin-Gitaxias, Progress Tyrant is made for this list
Urza, Lord High Artificer: can make use of a lot of artifact tokens that can be created in this list and can be an outlet for infinite mana to cast your deck
Elesh Norn, Grand Cenobite: probably good if you run a lot of token producing cards like Saheeli, Sublime Artificer, Monastery Mentor, Shark Typhoon, Metallurgic Summonings, Manaform Hellkite, Talrand, Sky Summoner, Kykar, Wind's Fury
Other