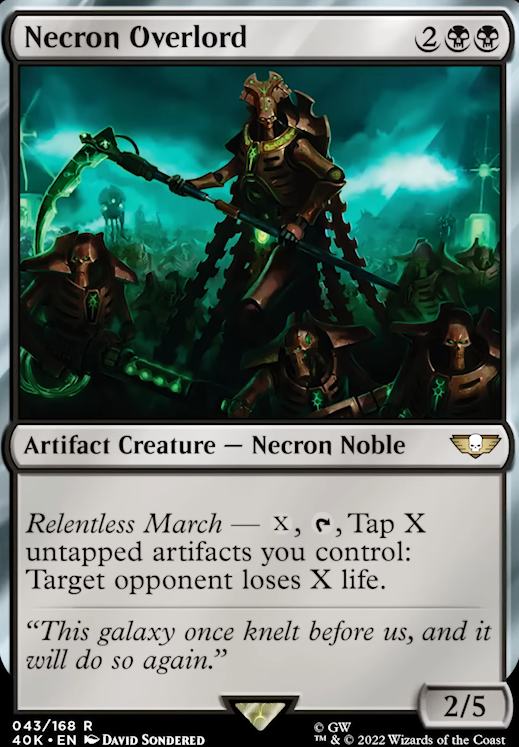 Legality
10 months ago
Hey, good upgrades to the precon on a semi budget.
Ashnod's Altar + Nim Deathmantle are excellent upgrades. If you add Myr Battlesphere it's an infinite combo to create infinite Myrs and infinite Necrons with Imotekh.
Staff of Domination in your graveyard is a card that breaks Trazyn the Infinite because it allows to repeatedly untap Trazyn for only 1 mana each time. Use this with any mana rock in your graveyard that can tap for more than one mana: Sol Ring, Basalt Monolith, Thran Dynamo, Worn Powerstone to make infinite mana. With infinite mana then use Staff to draw as much of your library as you want. Sceptre of Eternal Glory if you control three basic Swamps allows for infinite black mana + draw from Staff to draw and cast as many cards as you want.
Scarecrone is another excellent upgrade, you can take advantage of it with Imotekh + Wingrattle Scarecrow for repeatable draw + Necrons because Wingrattle is an artifact and a Scarecrow. It has persist, when it dies it returns to the battlefield after first entering the graveyard. A returned persist creature gets a -1/-1 counter, but you can remove the counter with a +1/+1 counter allowing the creature to persist again.
Thran Vigil enablers repeatable persist and it has other uses too because outside of the combo other artifacts are leaving your graveyard to trigger Imotekh. Steel Overseer can remove -1/-1 counter while also putting a +1/+1 on all other artifact creatures you control which can be a helpful repeatable effect with 2/2 Necrons.
---
Some changes to consider:
Technomancer is subpar for 7 mana, can only return artifact creatures and they all return at the same time only triggering Imotekh once. Plasmancer only gets a basic Swamp and it's only put into your hand not onto the battlefield, thats not very good for 4 mana.
Necron Overlord, for 4 mana and have to tap artifacts you would think it would hit all opponents, but it doesn't only one opponent makes this effect not worth it. Haunting Voyage, there's a lot of nonNecron creatures here making this inconsistent in what it can reanimate for 6 or 7 mana.
Thought Vessel gives you no max hand size, but that effect doesn't help you, you want to be able to discard hand down to 7 cards, that helps to get artifacts into your graveyard for Imotekh. Temple of the False God is a terrible land especially when you have none or very few land ramp effects, you don't need it. A land that can't tap for mana in the early game or even mid game is unplayable.
Good luck with your deck.
11 months ago
Hello friend! I have some suggestions! I had way too much time today, so here you go.