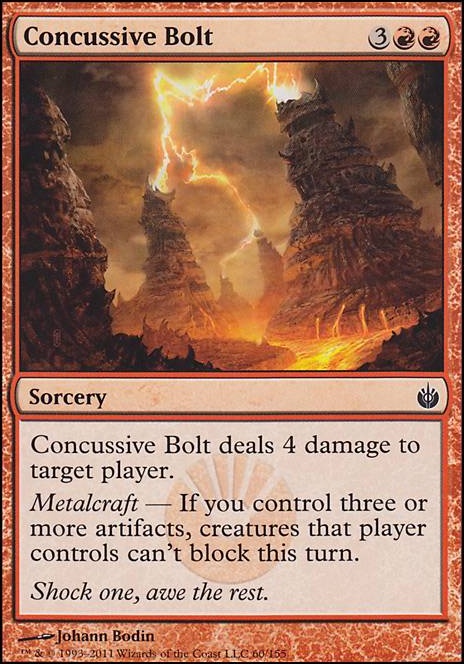 Legality
11 months ago
Hello friend! I have some suggestions! I had way too much time today, so here you go.
6 years ago
I never thought of Jori En, Ruin Diver as an artifact commander. Izzet definitely needs a Legendary to interact with artifacts, Jori doesn't do that, but he draws them.
I see you have a handful of thopter producers, but no Hangarback Walker. Pretty useful, and when it dies it explodes into thopters.
Also, if you don't mind upgrading, Stoic Rebuttal is a cheap alternative to any other counterspell. Also, many other metalcraft cards are really nice, like Kuldotha Phoenix or Concussive Bolt!
Sideboard looks good, I suggest a few more colorless lands, don't want that sideboard to go to waste.
Either way, I was Eager to see how you Constructed this deck.
7 years ago
Great deck! +1 for sure -- it's always good to see a budget EDH deck. I might suggest Concussive Bolt as a surefire finisher against decks that like to clog up the field (especially good in 1 vs 1 games). You might consider sideboarding Leave No Trace to help get damage through pesky Propaganda and Sphere of Safety, depending on your meta. Haunted Cloak would be a great asset for your commander, perhaps replacing Moonsilver Spear since your commander already has first strike (I know you're not going for a Voltron-type deck, but your commander is the only creature you can reliably cast every single game, so you don't want his ability to be redundant).