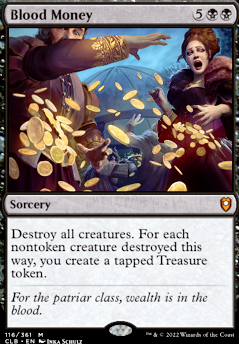 Tokens
Legality
3 months ago
Hello friend! I have some suggestions! I had way too much time today, so here you go.
6 months ago
Farewell is a great board wipe, absolutely. One of my favorite printed in awhile. If you find that you needed more of that and could get to the seven mana, Blood Money seems like a sick one since you'll have crazy amounts of mana to rebuild on your following turn assuming nobody can handle the treasures before you get another turn (and you already seem to have treasures as a strong sub-theme).
Also if you want to link an individual card on here, there is an icon above the text box that looks like a piece of paper with a folded corner. Clicking that and then typing the name of the card you want to link will take care of that.