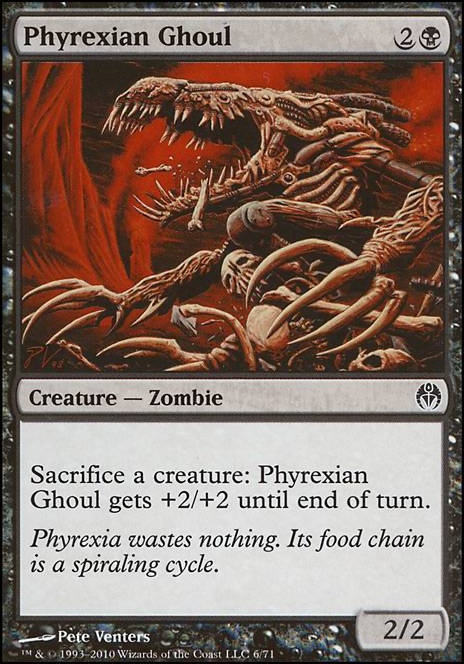 Phyrexian Ghoul
Creature — Zombie
Sacrifice a creature: Phyrexian Ghoul gets +2/+2 until end of turn.
Latest Decks as Commander
Phyrexian Ghoul Discussion
1 year ago
Karn's Bastion and Evolution Sage are solid inclusions for upping your spore counters.
You could improve your mana rock section, going with more 2 mana rocks. I rarely find Chromatic Lantern to be that useful in a two-color deck. Or, you could go in on land ramp with cards like Rampant Growth, a Wayfarer's Bauble, and even Summer Bloom can be useful. Since Slimefoot costs three to cast, I'd try to keep my ramp under 2 mana as much as possible, so I'd skip on cards like Cultivate and Kodama's Reach. Manalith and Darksteel Ingot are just not good.
I don't think Bontu's Monument is worth a slot here. You don't have many creatures to cast at all, and if it's not dead in your hand, it's going to be dead on your board. Lifecrafter's Bestiary will likewise not draw you many cards, and just having the scry isn't worth including it, in my opinion. Something like Vampiric Rites and Arguel's Blood Fast  Flip will help you draw cards more reliably in your current build. Harmonize would be a better draw spell for you, too.
Last thing I noticed is your lack of sacrifice outlets. Slimefoot does damage when saprolings die, and the most consistent way to kill saps is to do it yourself. If your budget allows, the altars are a good place to start: Ashnod's Altar, Phyrexian Altar, and Altar of Dementia. If your budget isn't that friendly, there are other options. Evolutionary Leap is a cheap sac outlet that lets you trade a sap for a creature in your library. Phyrexian Ghoul and Nantuko Husk are similar creatures that are free sac outlets, and Carrion Feeder is another decent one. Viscera Seer provides good value, too. Going all in on Slimefoot's abilities lets you get benefit out of enchanting it with cards like Keen Sense and Snake Umbra.
You've got a nice start. Hopefully this helps you focus it in a bit better.
1 year ago
Great idea!
Liliana definitely gives me some pretty big Yennefer vibes. Maybe a few copies of her would be good? Liliana, Heretical Healer  Flip and Liliana of the Veil could work.
The Gitrog Monster could work well as the Ofiri prince in the sewers of Oxenfurt from the HoS DLC.
Necrophages are pretty easy to find in Black. I'm thinking of the new art on Carrion Feeder would work well, so would Phyrexian Ghoul. Wraiths of all kind are also pretty easy to find. Frozen Shade from 5th Edition, Chilling Shade, Liliana's Shade and Nightwing Shade all seem like good options.
Higher Vampires are also pretty easy, you can take your pick from tons of options. Maybe you could put in some legendary vampires that could represent Detlaff and Regis? Maybe Baron Sengir and Crovax the Cursed? Shauku, Endbringer looks like an Alp or Bruxa.
You need a horse and a boat! Sleek Schooner looks about right. There are a surprising amount of horses in Black and Green, the best of which are Nightmare, Timbermare and Vine Mare. Roach looks a bit more like Dusk Charger (minus the red eyes).
The Wild Hunt and the White Frost could be represented by a Snow subtheme. A handful of snow basics, Boreal Druid and Rimebound Dead could be a decent start, along with a few more things like Dead of Winter.
I'll give this some more thought later. Hopefully this gave you some ideas you like!
2 years ago
Been doing some thinking and am a little bit more convinced that I should try out some of the cards y'all mentioned.
I had several games today and got some pretty good results. I won a good portion of them, and even when I didn't the deck still performed well. I bet a decent contributing factor was the fact that Yawgmoth hardly ever got so much as threatened with removal; unsure if the people there just don't run removal or never drew into them in all the games we played, but either way it's likely that they'll eventually wisen up to my gameplan and start doing a little bit more to disrupt me aside from constantly swinging at me.
I'm thinking of adding Viscera Seer , Phyrexian Ghoul , Flesh-Eater Imp , Reassembling Skeleton , and Skullclamp . Other than Doomed Dissenter , Dread Presence (iffy tbh), and Blood for Bones , though, I'm not sure what else would be a bearable cut.
Unstable Obelisk provides some ramp early game and can eventually be used to remove some threatening noncreature permanent.
Ritual of the Machine did some surprisingly decent work in protecting me by placing threats on my side of the field and then using them to win (Atarka with Phyresis lmao).
Cards like Myr Sire and Lazotep Reaver are hard to let go of because they do provide some good immediate value.
Any other suggestions for what could be some likely candidates for replacement?
2 years ago
If you're still looking for budget options, I still strongly recommend Evolutionary Leap as one of your sac outlets. Other cheap creatures that are sac outlets are Nantuko Husk and Phyrexian Ghoul . Also, consider Spawning Pit . I also like to run creatures I can sacrifice and have great re-usage, like Blood Pet and Blood Vassal . These options can easily keep your budget down and the functionality of the deck up.
I include several of these in my own build, and I am always pleased with how it runs.
Load more