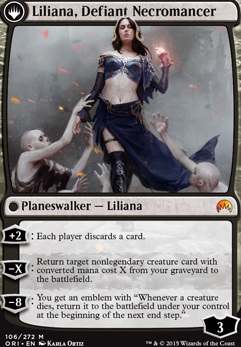 Front:
Liliana, Heretical Healer
Flip
Tokens
Legality
Liliana, Defiant Necromancer
Planeswalker — Liliana
+2: Each player discards a card.
-X: Return target nonlegendary creature card with converted mana cost/mana value X from your graveyard to the battlefield.
-8: You get an emblem with "Whenever a creature dies, return it to the battlefield under your control at the beginning of the next end step."