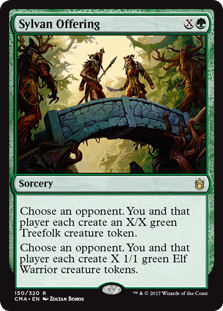 Sylvan Offering
Sorcery
Choose an opponent. You and that player each put an X/X green Treefolk creature token onto the battlefield. Choose an opponent. You and that player each put X 1/1 green Elf Warrior creature tokens onto the battlefield.
Browse Alters
Trade
Tokens
Legality
| | |
| --- | --- |
| Format | Legality |
| 1v1 Commander | Legal |
| Canadian Highlander | Legal |
| Commander / EDH | Legal |
| Duel Commander | Legal |
| Highlander | Legal |
| Legacy | Legal |
| Leviathan | Legal |
| Limited | Legal |
| Oathbreaker | Legal |
| Tiny Leaders | Legal |
| Vintage | Legal |
| Casual | Legal |
| Custom | Legal |
| Quest Magic | Legal |
Latest Decks as Commander
Sylvan Offering Discussion
1 month ago
Due to some fabulous new elves that have been released over the past few sets as well as the printing of Commander Collection: Green, I've aquired a few more cards and have updated my list.
Forest OUT Fyndhorn Elves IN
I'm not sure why Fyndhorn wasn't initially in here, but its as a good as a land in this deck.
Forest OUT Worldly Tutor IN
While we already have most of the best tutoring green has to offer here, we added the last missing piece. One often overlooked aspect of Elves is that they have incredible toolbox properties, so being able to grab what we need cheaply is great. By cutting two forests we are down to 30 % land, which is what we would run in modern and is a great benchmark for lands. We've got lots of ways to grab our lands in the deck, so we shouldn't miss them too much.
Praetor's Counsel OUT Ezuri's Predation IN
One thing that is really hard to come by in mono-green is board wipes, so I'm really pleased that they reprinted this recently. In theory Praetor's Counsel is good because board wipes are the bane of our existence and this gives us a way to recover, but in reality if we get wiped we'll never be able to pay the mana cost. Its better to just play conservative and use Ezuri's 2nd ability to protect out pieces, and cards like Eladamri to protect him.
Drove of Elves OUT Canopy Tactician IN
Yet another Elf Lord that pumps our whole team and gives us more ramp to boot? Give me more. As for Drove, we have other ways to make one thing big, and while this card has never been bad its never been exciting either. Jagged-Scar Archers gives us crucial anti-flying tech when we need it for one less mana, and while it lacks hexproof, we'll be happy of our opponents waste removal on archers and not one of our more important cards. Timberwatch Elf and Immaculate Magistrate give us flexibility in combat that is far better than the obvious threat drove represents.
Nylea's Presence OUT Elvish Warmaster IN
While giving non-green decks a forest to enable a forest-walk kill is cute, this is somewhat situational, and we have lots of other ways to get through with the damage we need. Warmaster just such incredible value for the same mana that this change seems to be a no-brainer.
Sylvan Offering OUT Elven Ambush IN
While offering is a good card, giving our opponents blockers just doesn't suit us in this deck. Ambush helps only us at instant speed with the creature type we want. Its an improvement on Elvish Promenade that absolutely deserves a spot.
1 month ago
Helm of Possession , sac a token, steal a creature then sac that with your boss
Most Elf Lords only buff the elves YOU control so Sylvan Offering can give you a bunch of elves and the opponent you gift elves to doesn't get the benefits (usually, depends on the deck. Don't give em to a guy playing Ashnod's Altar ...)
2 months ago
Have you considered Any combination of Emrakul's Evangel , Nomads' Assembly , Sylvan Offering ? Emrakul's Evangel pretty much makes all your base 1/1 creature tokens into base 3/2 tokens--boosting the usablily of Elemental Bond. Nomads' Assembly doubles the number of creatures you control for two turns. Sylvan Offering gives you one big creature and a bunch of little ones.
Also, with so many tokens getting onto the battlefield you may want to consider finding spots for Essence Warden , Soul's Attendant and Soul Warden . The life gain from the three alone will keep you alive as you build your army.
If you're interested in an alternate win card, the enchantment Epic Struggle would definitely be up your alley--especially since it can get around prison decks. Speaking of enchantments, Leyline of the Meek will boost your creature tokens and Cindervines will deal damage to your opponents until you need to destroy someone's artifact or enchantment.
Speaking of damage, Zhur-Taa Druid deals damage to an opponent each time you tap it for mana.
Extra graveyard interaction cards you can use are Scavenging Ooze for controllable graveyard hate and Repopulate to reuse all your non-token creatures.
Field of the Dead should be an add in due to all the different named lands you have in your deck. Other lands that can create creature tokens for you without sacrificing the lands include, but are not limited to, Khalni Garden and Dwarven Mine . If you don't mind some sacrifice the Dark Depths / Thespian's Stage combo is the best.
Happy Hunting!
3 months ago
Hi raspberryfish25 Thanks, I like playing it. Just finished a quick 1-on-1 game versus my brother-in-law's deck (all about stealing cards) and lost to my own elves. As for the mentioned cards, I've looked into all the mentioned cards in early builds, some of them will definitely make the 99 in future upgrades.
Deathrite Shaman - Meta dependent, but a great card indeed, in my playgroup just a 1 cmc cheaper Scavenging Ooze .
Skyshroud Poacher - Pricy but spicy, still in the back of my head for a future upgrade.
Wolverine Riders - Have played this card, but didn't do well, yielded me a few extra tokens, but got removed fairly quickly, might try it again.
Sylvan Messenger - I'm not the biggest fan of digging a few deep in the hope to fetch a good card, you can whiff easily.
Lys Alana Huntmaster - Elvish Warmaster does a similar job with the added Ezuri type buff for Elves for 2 cmc less. I'm aware only one token extra is made per turn.
Elvish Guidance - Is in the deck, done great work so far.
Harald, King of Skemfar - Like Sylvan messenger, it can whiff so hard, Land, Land, Dork, Artifact, Enchantment. Also, Tyvar Kell has to be in the deck too, to get the most out of it. Abomination of Llanowar would be the better choice in this build.
Elvish Harbinger - Like the Poacher, very good.
Sylvan Offering - This can produce an insane amount of Tokens and a big beater Treefolk token with the amount of mana the deck can produce, the only drawback for me is giving my opponent the same amount in return, I will try it out, this and Stoneforge Masterwork might work, but Lathril depended.
Elvish Clancaller - An early 2 drop Lord in play is always nice, but it doesn't come with extras, like the other lords.
Elvish Champion - Also on my future upgrade list, the best Lord around for sure.
3 months ago
I am really liking this deck, but I am noticing a lot of core cards from a typical Elfball style deck are missing. Have you tried any of the following cards in the deck and if so what was your experience: Deathrite Shaman , Skyshroud Poacher , Wolverine Riders , Sylvan Messenger , Lys Alana Huntmaster , Elvish Guidance , Harald, King of Skemfar , Elvish Harbinger , Sylvan Offering , Elvish Clancaller , and Elvish Champion ?
Load more