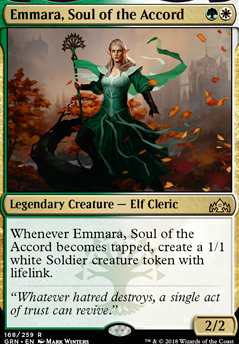 Legality
| | |
| --- | --- |
| Format | Legality |
| Pre-release | Legal |
| Tiny Leaders | Legal |
| Magic Duels | Legal |
| Canadian Highlander | Legal |
| Vintage | Legal |
| Modern | Legal |
| Standard | Legal |
| Leviathan | Legal |
| Legacy | Legal |
| Brawl | Legal |
| 1v1 Commander | Legal |
| Duel Commander | Legal |
| Unformat | Legal |
| Casual | Legal |
| Commander / EDH | Legal |
Related Questions
Emmara, Soul of the Accord
Legendary Creature — Elf Cleric
When Emmara, Soul of the Accord becomes tapped, create a 1/1 white Soldier creature token with lifelink.
Emmara, Soul of the Accord Discussion
4 days ago
Hey Doctor Pond, cool deck! Definitely got an Upvote from me. Just a thought, but I would consider trading 2 of your Justice Strikes out for Lava Coil or Ixalan's Binding. Don't get me wrong, there will be matchups where JS is going to be a star, but with Aurelia, Exemplar of Justice and Shalai, Voice of Plenty running around, there will be times that it will be a dead card. I'd also consider splashing green for cards like Emmara, Soul of the Accord and March of the Multitudes. Just a few suggestions, feel free to implement or ignore as you see fit, always nice to see someone playing a different strategy!
1 week ago
Thanks! I appreciate the feedback and I'm glad you love the deck.
I actually agree with you, KoA is easily good enough to go mainboard and would be useful for blowing up the enchantment, it just comes down to what I would cut for it. In theory we could swap the token strategy with the midrange beat strategy with KoAs in place of 1x Song of Freyalise and both the Emmara, Soul of the Accords and put THEM sideboard so we can use that strategy for making the game go longer with chump blockers. In that sense the deck is actually very flexible and it comes down to whatever strategy you'd prefer. With the amount of Red aggro decks and Golgari decks running around I'm happy to stick with the token side strategy for now and bring the KoAs sideboard game 2 to go bigger but if your meta is a bunch of Steel Leaf Champions then go ahead and change them around!
1 week ago
Not a problem, bro! Also, Emmara, Soul of the Accord is a powerful 2 drop that if tapped at least once nets you 3 power and 2 bodies for 2 mana.
1 week ago
Emmara, Soul of the Accord seems like she has a place here not a wizard or wizard tokens but still synergies with most of your game plan.
Load more
Latest Commander