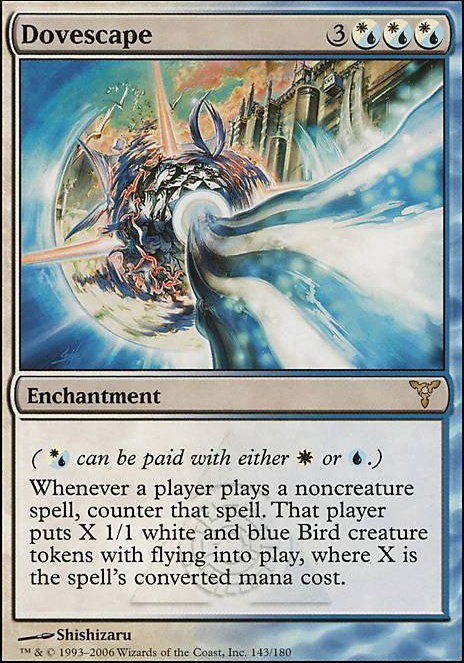 Legality
| | |
| --- | --- |
| Format | Legality |
| Pre-release | Legal |
| Tiny Leaders | Legal |
| Vintage | Legal |
| Penny Dreadful | Legal |
| Custom | Legal |
| Commander / EDH | Legal |
| Noble | Legal |
| Magic Duels | Legal |
| Brawl | Legal |
| Standard | Legal |
| Arena | Legal |
| 1v1 Commander | Legal |
| Canadian Highlander | Legal |
| Vanguard | Legal |
| Leviathan | Legal |
| Planechase | Legal |
| Duel Commander | Legal |
| Unformat | Legal |
| Modern | Legal |
| Legacy | Legal |
| Archenemy | Legal |
| Casual | Legal |
| Oathbreaker | Legal |
Tokens
Dovescape
Enchantment
( can be paid with either or )
Whenever a player casts a noncreature spell, counter that spell. That player creates X 1/1 white and blue Bird creature tokens with flying, where X is the spell's converted mana cost.
Dovescape Discussion
2 weeks ago
I agree that Chulane is too good. May they never make a legendary with an enchantress effect again.
GET THAT ELFBALL SHIT OUTTA HERE
Running dorks seems vital to Chulane.
Running a lot of dorks is a viable option to make the deck fast.
Running so many dorks that you have the likes of Marwen, Heritage Druid, Gilt-Leaf Archdruid, and Priest of Titania is TOO MUCH.
You need more avenues, you need
THE SPICE.
Dovescape
:
bird up.
Words of Wind : Why just bounce your own stuff back when you can bounce everyone's stuff also? goes infinite with Aluren and two hasty dorks. Super-Biffy.
Seedborn Muse (with Leyline of Anticipation , Vedalken Orrery , Teferi, Mage of Zhalfir , or Yeva, Nature's Herald ): Wow, it's like Prophet was never banned!
Food Chain (with Eternal Scourge or Misthollow Griffin ): Infinite mana in any deck, but also infinite draw in Chulane. Even if you don't go for the combo, it's still worth running for the sheer mana production.
Academy Rector , Trophy Mage , and Laboratory Maniac : Not a combo with each other, but a plan. Rector can grab Aluren, Mage can grab Cloudstone Curio. If both are out, chances are you can draw your deck and flash out Maniac for game. Yes, you're scum, but YOU WON.
In conclusion, I am a genius and my idea is a perfect masterpiece.
1 month ago
favourite wildcards... probably stuff like Scrambleverse , Dovescape , Warp World , Confusion in the Ranks . oh man theres so much fun in ruining politics. I've been playing five color chaos for a while (The Debauchery Tea Party) and if you dont overdo it your playgroup will just love it. Just dont play it too often and allow them to have a normal turn every now and then. otherwise it will end in bored ppl watching you handling 250 triggers each turn
2 months ago
I think you might want to check out Dovescape . It's one of my pet cards that I can never seem to work into any of my decks, but it's as powerful as it is hilarious.
Also Kangee, Aerie Keeper is a fun bird lord you might also want to check out.
2 months ago
Nice list! Seems really tight and refined overall!
Not zombies but when I ran Ertai I had the Guile + Dovescape combo and it worked really well. My deck was enchantments based, not zombie based. So I ran cards like Hatching Plans , Intruder Alarm and Opalescence .
Josu Vess, Lich Knight is a great late game zombie token generator. He actually just won me a game a few weeks ago paired up with Gempalm Polluter . Gray Merchant of Asphodel is a sweet zombie too if you're running enough devotion.
Shout out to Shepherd of Rot possibly my favorite zombie card ever, and if it hasnt happened to you yet—get ready. He's been the reason I've been the cause for many tied games!
+1
2 months ago
Food Chain plus Misthollow Griffin or Eternal Scourge plus Aetherflux Reservoir or Walking Ballista is a consistent turn 3-4 combo. Mana is zero issue with this deck, as I can achieve infinite mana by T3, typically T4. So, I'd have the 3 card Food Chain package online as quickly as I would a Thrasios, Triton Hero plus Power Artifact or Mana Reflection plus Grim Monolith or Basalt Monolith 3 card Scry/draw, though Thrasios requires a 4th card to win. And so the FC combo is cheaper and more efficient. The other win cons are there to make drawing a win con with the Thrasios route more consistent should someone counter/exile one or two. Thrasios himself doesn't win the game, he needs something into which to dump that mana, he simply gets you to that something.
The rest of the deck is built around the slow game should I encounter a 4 man pod with lots of control, or if they know what's up and all gang up to hate on me haha. Though there are cards on my list to replace, such as Academy Rector plus Omniscience . Its just not consistent enough of a route to pursue. More Counter magic or creature removal could replace it, or a couple more big hitting creatures for when I go for the Dovescape long game.
3 months ago
I never expected a response, thanks! I didn't catch those cards but I like them. Those are good options though for Cathars' Crusade I think is just a fun card in general to pull off so I might as well switch it to the sideboard. As for the Boros Elite switch I think Spiritual Visit would probably be a preferable switch in case I ever get out Dovescape later on then that guarantee's me at least a token. Although it wouldn't really hurt too much since it's only 1 mana. I'll have all these cards in my sideboard. Thanks again!
4 months ago
Sounds like you're taking this apart, but what are your thoughts on Dovescape + Guile combo. Also, what are your feelings about Intruder Alarm ? Seems like that could work well with Ertai.
Load more
Dovescape occurrence in decks from the last year
Commander / EDH:
All decks: 0.0%