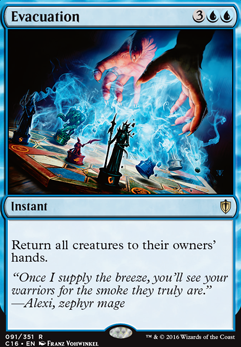 Legality
| | |
| --- | --- |
| Format | Legality |
| Tiny Leaders | Legal |
| Noble | Legal |
| Leviathan | Legal |
| Magic Duels | Legal |
| Canadian Highlander | Legal |
| Vintage | Legal |
| Modern | Legal |
| Penny Dreadful | Legal |
| Custom | Legal |
| Vanguard | Legal |
| Legacy | Legal |
| Archenemy | Legal |
| Planechase | Legal |
| 1v1 Commander | Legal |
| Duel Commander | Legal |
| Oathbreaker | Legal |
| Unformat | Legal |
| Casual | Legal |
| Commander / EDH | Legal |
Evacuation
Instant
Return all creatures to their owners' hands.
Evacuation Discussion
6 days ago
You asked for help, so here I am:


---
Paradox Engine
is banned.
Cut
Manalith
and
Chromatic Lantern
. They are fine cards but there are more efficient ramp options at only 2 mana:
Talisman of Indulgence
,
Talisman of Dominance
,
Talisman of Creativity
,
Fellwar Stone
,
Mind Stone
,
Thought Vessel
and
Wayfarer's Bauble
.
Some of your sorceries seem a bit clunky, like
Cruel Ultimatum
or
Life's Finale
.
Evacuation
and
Devastation Tide
are great boardwipes,
Crux of Fate
is a solid budget option and
Toxic Deluge
is amazing but a bit pricy.
Wurmcoil Engine
,
Noxious Gearhulk
,
Neheb, the Eternal
and
Massacre Wurm
are all quite highly costed and don't synergize well with the rest of the deck.
If you want to be mean, you could replace them with extra turn spells:
Time Warp
,
Part the Waterveil
and
Karn's Temporal Sundering
are reasonably priced, both in money and mana.
I personally would throw out all Guild Gates and raplace them with literally anything that does not enter tapped. A good budget replacement would be the pain lands:
Underground River
,
Shivan Reef
,
Sulfurous Springs
.
Lastly, cheap and efficient removal pieces I would consider are:
Doomblade
,
Go for the Throat
,
Reality Shift
,
Rapid Hybridization
and
Pongify
.
3 weeks ago
This is a bit of a long one, but I'd like to respond to all the comments haha,
Hi TefflonDice!
Love the deck name. The First Sliver is very fast and can be brutal when the opponent can't blow you out. Swarming the field can be enough to slaughter your opponent if its 1v1. It's definitely much harder if your partner has killed your commander 3 times and forced it to become 11 cmc! But of course, still very good.
In non 1v1 it could be harder, but then it could be still ok as well, depends on the meta and the politics in the play group. I never realised how important politics were until I played one of my other favourite decks: Queen Marchesa . Sometimes I face 1 control deck and 2 other aggro decks and I find that we all team up to take down the control deck because it can easily blow us all up with an Evacuation or Cyclonic Rift . In a meta full of other aggro decks, sometimes I find there are more threatening challengers, e.g. Edgar Markov which can start of WAY faster, Maelstrom Wanderer which can just win in a single turn, and Reanimator strategies which summon giant unstoppable threats. In a full combo meta, you might find that you get a lot of support if you make deals with people to assist in taking down a combo player. One of my friends was playing Kess, Dissident Mage storm and everyone countered his boardwipes so I could get in to finish him before he went off. Certainly where no one plays politics, you will seem quite threatening because you're the 'sliver' guy (definitely a dirty word). The First Sliver is very threatening, but it has some weaknesses (e.g. board wipes) and may be portrayed as more 'dirty' than it actually is. If you make it clear what your weaknesses are, play it patient + look for windows where you can surprise kill people, and make it clear that you play a role in keeping the peace (that you're valuable to keep alive), it won't be too bad and people won't see The First Sliver as THAT big of a threat (albeit still a threat haha). When you attack, share the love. When you go in for the kill, be sure u can kill them dead.
I hope you have fun at the LGS! I'm actually overseas on vacation at the moment, but in July I'll be back at my LGS and keen to slam some games with this deck.
Hi Jasinatael!
Thanks for the constructive criticism; I don't think it's negative at all and very useful. I hope I get more comments like this. I'll try to address all the points, please let me know if I missed anything!
Hitting 5 mana consistently
You'd be surprised at how often the deck is able to get to 5 mana. I based the land count off my predecessor sliver lists, though after play testing, I found that 35 was good myself. We don't really thin the deck of lands so we draw lands quite a lot. If worse comes to worse, you might need to mull, but as soon as you hit 5 lands you can do much of what the deck was designed to do.
We have ramp in the form of Manaweft Sliver , Gemhide Sliver , Cultivate , Kodama's Reach , Herald's Horn , Urza's Incubator and even 2 pseudo-power cards as ramp (as well as ways to search for them/draw them). But you're right about the lack of ramp. Hence, I've I mentioned in one of the previous comments (#10) that I'll be trying to add more "ramp/rocks to ensure consistency as well as enough mana in the late game". Ultimately, however, I do want to minimise the number of non-sliver cards. The gimmick of this deck just aims to cascade as much as possible and play the pseudo-power cards. We don't risk cascading into ramp by accident, which is what I didn't like about my Maelstrom Wanderer deck, so the ceiling is high, but there is the trade-off.
The deck seems to do fine in getting to 5 from what I've seen, though I'll report back after further tests. Even if it doesn't hit 5 lands on 5, it doesn't mean doom. The deck is admittedly quite glass cannon regarding lands, though by virtue, it also has a high ceiling. Maybe after testing more, I'll go up to 36, but I will need to find room for that extra land. I'm considering even putting in utility lands (see comment #10) which will grind us advantage while also adding to the land count.
Much of the lands come in tapped yes, but in the guide I wrote that this was a budget mana base. I also suggested to use fetches, shocks (and even duals) if you had them available to you. The lands will come in tapped in this build, though if you sequence correctly it should not be too much of a hindrance.
Ultimately, I keep my low land count because: As you said I mentioned, the deck is fast. For the most part, 5 mana is all you need to go off because you'll be casting multiple slivers off each trigger (we also have acceleration cards that allow free casting, such as Descendants' Path and the hideaway lands, so we can do more with less mana). This low count also ensures you draw as most slivers as possible.
You are completely correct in noticing the weakness in The First Sliver being removed and being hard to be recasted. In comment #4 I stated that after play testing the The First Sliver became widely feared and was likely to be removed. Therefore I suggested to add in Diffusion Sliver . The idea is to either have enough lands or play protection before you cast The First Sliver (for now, but, as I mentioned, I definitely would like to try tech in more ramp, though what we have now is not too bad). Also, you have to be aware that as soon as you cascade a few times after, you're very likely to hit Mox Tantalite and Lotus Bloom which will keep you in the game until you hit more lands and the card draw engines (including Ancestral Vision ) will draw you into more.
As for protection, I consider cards that leave The First Sliver 's casting cost at 5 as protection as well (I probably should have been more clear about this). As long as you can replay your commander, it can do its job. These include: Crypt Sliver , Hibernation Sliver , Frenetic Sliver , Pulmonic Sliver , Sliver Hivelord , Ward Sliver , Crystalline Sliver and ways of searching. Sometimes these slivers will be situational (e.g. some cannot defend against exile effects), though patience and not presenting yourself as a threat before getting these cards out is the key. Sometimes you just need to play without The First Sliver abit. You can also let your commander go to the grave and use Graveshifter or Volrath's Stronghold .
Again, there are also other utility lands which I want to tech in (see comment #10) which will act as recursion after The First Sliver dies. In saying this, I avoid non-sliver protection spells for the same reason I try minimise ramp spells: ending the cascade chain. Also, I would rather draw slivers or non-sliver cards that accelerate us in the late game + while some of the slivers I mentioned account for board-wipes, the non-creature shroud/hex proof cards will leave you with no slivers to protect after a wrath.
Thanks for the feedback! I'll definitely test with more ramp and lands for sure.
Hi Feltrix!
This is an interesting suggestion, I haven't really considered it. Though there seem to be some downsides.
Aetherflux Reservoir could be good as we cast so many spells off cascade. This can lead to finishing opponents off early. However, we don't cast enough spells to gain us up to 111 life (assuming this is a standard game with 4 players and everyone at 40 life, leaving us at 1 after Aetherflux Reservoir ). Based on the triangle number sequence, if we cast 4 creatures we will deal 10 damage. If we cast 5 (the average) we will deal 15 damage. If we cast 6, we will deal 21 damage. This will take at least 6 turns to get to 111 life, by which the opponents will have destruction for the Aetherflux Reservoir and we can't protect it, lacking any counters in the deck (a bit too glass cannon?). We are also so aggressive that we can normally already kill under 6 turns when we do go off. Because the lack of defensiveness this deck has, we will also be taking a lot of damage from other aggro decks. This will be worse for us if we play Aetherflux Reservoir , because we will likely become more archenemy than we already are; we can definitely take out 1 or 2 players, but our life will be too at risk from the last player. This also encourages going all out with casting our hand, which may cause us to over-extend and blow out.
This may be assisted by Essence Sliver though such may be a bit inconsistent. Furthermore, it's a risk to cascade into it and is a card that we don't necessarily want in the late game, having cast everything we have already.
Though again, my theorising is all on paper and I might give it a try? In practice who's to say it won't work? With aggression from our deck we may not even need to reach 100 life. Very interesting suggestion.
Thank you all for the feedback! I like constructive criticism and will continue to improve this build.
1 month ago
"One-card wincons" to consider: Insurrection , Expropriate , Painful Quandary , Rise of the Dark Realms , Revel in Riches , Cut / Ribbons . Perhaps Clone Legion , Rite of Replication , Mogis, God of Slaughter , Hour of Promise , Blatant Thievery , Grave Betrayal , or Mind's Dilation .
The Chain Veil , Inexorable Tide , Contagion Clasp , and Contagion Engine maybe?
One thing to think about is getting Nicol Bolas flipped and maybe joined by the other planeswalkers and casting Obliterate , Jokulhaups , Devastation , or Decree of Annihilation . Almost guaranteed ultimates. Nicol Bolas, Dragon-God

would be the best--proxy for now and include in first build?
Possible upgrades:
Boardwipes: Toxic Deluge , Black Sun's Zenith , Hour of Devastation , Decree of Pain , Curse of the Swine , In Garruk's Wake , Deadly Tempest , Evacuation , Nevinyrral's Disk , Last One Standing , Perilous Vault , Oblivion Stone , Kindred Dominance , Necromantic Selection , Subterranean Tremors
Removal: Capsize , Bedevil , Hero's Downfall , Chaos Warp , Kolaghan's Command , Reality Shift , Pongify , Rapid Hybridization , Vraska's Contempt , Rakdos Charm , Price of Fame , In Bolas's Clutches , Plaguecrafter , Merciless Executioner , Fleshbag Marauder , Unstable Obelisk , Vandalblast , By Force , Shatterstorm , Hostage Taker , Yawgmoth's Vile Offering , Settle the Score , Dark Impostor , Hour of Glory , Sever the Bloodline , Silence the Believers , Spread the Sickness , Slave of Bolas , Electrodominance
Draw: (I would add Erebos once you're home) Patient Rebuilding , Phyrexian Arena , Greed , Arguel's Blood Fast Flip, Notion Thief , Windfall , Mystical Tutor , Blue Sun's Zenith , Pull from Tomorrow , Stroke of Genius , Braingeyser , Mind Spring , Expansion / Explosion , Invoke the Firemind , Deliver Unto Evil , Augur of Bolas , Painful Truths , Fevered Visions , Search for Azcanta Flip, Fact or Fiction , Dig Through Time , Treasure Cruise , Tidings , Thassa, God of the Sea , Day's Undoing , Reforge the Soul , Standstill , Deep Analysis , Necrologia , Steady Progress , Tezzeret's Gambit , Oath of Jace
Random utility: Ophiomancer , Metallurgic Summonings , As Fortold, Pendrell Mists , No Mercy , Stranglehold , Fated Return , Dark Intimations , Spellseeker , Sire Of Insanity , Thief of Sanity , Spark Double , Primal Amulet Flip, Dragon's Hoard , Mystic Retrieval , Shreds of Sanity , Spelltwine , Ashiok, Dream Render , Torpor Orb , Baleful Strix , Darksteel Myr , Solemn Simulacrum , Wayfarer's Bauble , Vedalken Orrery , Saheeli, Sublime Artificer , Will Kenrith , Mana Geyser , Gem of Becoming , Thran Dynamo , Narset, Parter of Veils , Keranos, God of Storms , Thrilling Encore , Star Compass , Coldsteel Heart , Kazuul, Tyrant of the Cliffs , Ensnaring Bridge , Crawlspace , Expedition Map , Burnished Hart , Torment of Scarabs , Cruel Reality , Mnemonic Betrayal , Yawgmoth's Will , Bloodchief Ascension , Nightscape Familiar , Gonti, Lord of Luxury , Thaumatic Compass Flip, Dreadhorde Invasion , Fraying Omnipotence , Thrummingbird , Viral Drake , Past in Flames , Mizzix's Mastery , Omniscience , Tainted AEther , Aid the Fallen , Deepglow Skate , Flux Channeler , Rings of Brighthearth , Silent Arbiter , Meekstone , Mudslide , Astral Cornucopia , Everflowing Chalice , Lethal Vapors , Sunbird's Invocation , Stolen Strategy , Maze of Ith , Spreading Plague , Merchant Scroll , Polluted Bonds , Black Market , Grave Upheaval , Memory Plunder , Pain Magnification
Beaters: Dragonlord Silumgar , The Scorpion God , The Locust God , The Scarab God , God-Eternal Kefnet , God-Eternal Bontu , Darksteel Colossus , Colossus of Akros , Visara the Dreadful , Tsabo Tavoc , Avatar of Woe , Balefire Dragon , Nicol Bolas , Hellkite Tyrant , Bladewing the Risen , Grave Titan , Inferno Titan , Steel Hellkite , Vampire Nighthawk , Torrential Gearhulk , Noxious Gearhulk , Combustible Gearhulk , Dominus of Fealty , Roil Elemental , Tidespout Tyrant , Kokusho, the Evening Star , Keiga, the Tide Star , Ryusei, the Falling Star , Wrexial, the Risen Deep , Etali, Primal Storm , Nezahal, Primal Tide , Tetzimoc, Primal Death , Dread , The Haunt of Hightower , Niv-Mizzet, the Firemind , Razaketh, the Foulblooded , Enigma Drake , Crackling Drake , Archfiend of Depravity , Sheoldred, Whispering One , Thing in the Ice Flip, Niv-Mizzet, Parun , Sepulchral Primordial , Molten Primordial , Diluvian Primordial , Ob Nixilis, Unshackled , Sire of Stagnation , Utvara Hellkite
1 month ago
With this low of a curve, consider Scapegoat as an anti wrath measure that gets around exile, tuck, -X-X, and other hard to dodge wraths while getting your eminence triggers again. I'd rather sac a token and eat a personal Evacuation than end up in topdeck mode and it allows you to overextend a little more.
1 month ago
So with the new set coming out there's more ninjas so they're an obvious include- here's my two cents on switches..
Take out Wharf Infiltrator for Ingenious Infiltrator . Easy upgrade, Wharf really doesn't provide that much as a 2 mana 1/1, there's plenty of decks that run 1/1 mana dorks etc that can become easy chump blockers since they'd rather block then take the damage from a ninjutsu hit. Plus the ninja has infiltrator in the name still so flavour win yay! Finally, the card draw is AMAZING. Go wide with creatures that much faster.
I would switch Thada Adel, Acquisitor for Fallen Shinobi . Again they do similar things, however I'd rather get a free cast from an opponent and get the ninja triggered abilities over her. A 3 mana 2/2 isn't so great either, even though I understand islandwalk, if the opponents don't run blue, it's just essentially a wasted slot or a chump blocker - which isn't true to the deck.
Notion Thief I would definitely substitute for Changeling Outcast . I think the text you have to pay attention to is that it says you draw the extra card in their DRAW STEPS. Outside of that, like main phases, you don't get that draw - so it's way too situational and really doesn't shut much down at all... unfortunately another wasted slot. The Changeling however, is a 1 mana 1/1 unblockable that is also considered a ninja!! Woohoo ninja paradise!
Nightveil Sprite out, Pteramander in. A 1 drop is better than the 2 drop. Nightveil gives you surveil, but you'll be ninja'ing out most of the time anyway so that's just an extra mana to drop the creature on the field, you basically graveyard a card if you don't want it (and when you attack with ninjas you're blindly going in to the next card anyway), and then spending an extra mana to do it him back on the battlefield. So in that process you could've saved a card from hitting the grave and saved 2 mana if you had of used Pteramander. It's in your sideboard, id definitely use it.
Etrata, the Silencer out Windfall in. You have it in sideboard, it's amazing. Not only will you refill your hand most likely in multiplayer games, always live by the rule that your opponents current hands are better than the ones they will get. They have plans for those hands, they may have tutored combo pieces, you just got rid of that and filled your hand to throw more creatures out. DEFINITELY use this card. If you're sceptical why Etrata, yes the first half of her text sounds amazing that you exile a creature when you do combat damage with her and if you do 3 they lose. But you shuffle her into your library after you deal combat damage. It is super inefficient unfortunately, and you just spent 4 mana on a exile a creature card when there's way better card disruption out there, or you could have spent the 3 to cast Windfall and maybe drawn into a wincon or lots more creatures?
I'd also switch Crystal Ball for Naga Ninja. I understand how useful scrying can be in Yuriko, but I also believe this guy outplays the card by far. Instead of scrying 2 each time (would've cost 4 to do the first one), you could have paid 3 mana to ninjutsu naga boi out, and created a copy of him, two ninjas for 3 mana over scry 2 for 4?! Next turn you would have scry 4 for 5 mana in total, whilst hypothetically you could have dealt damage with 2 more ninjas and created 2 more copies. I think you get where I'm going with this... the value is so insane in comparison.
This is just my opinion and what I would recommend, more ninjas for less mana, go wide! By the way if you find board wipes are getting to be bad news, id look at switching out Evacuation and Just the Wind for more counters. Some of my favourites are Arcane Denial for an extra card (even if the opponent gets 2), Muddle the Mixture - Transmute is just extra gravy, and Spell Pierce the classic. There is better ones, but these are just budget ideas I thought may assist. Also I mentioned evacuation, because even though it is a nice card, I feel better having more protection for my board over returning all creatures In response to my creatures dying - but that's just my preference!
Anyway I hope you enjoy reading my thoughts on it, lemme know what you think!
2 months ago
Few cards can properly mimic it, but Devastation Tide returns all non-land permanents to the hand, and is cheap for its miracle cost, and Evacuation can return all creatures including yours. There are the creatures with a similar ability like Slinn Voda, the Rising Deep for non-sea creature creatures when kicked, Aethersquall Ancient for all creatures except it, and or a conditional enemy only creature bounce through Scourge of Fleets , which relies on having a lot of islands out.
Edit- Noticed Devastation tide was recommended.
2 months ago
I think Fog lists suffer from not having proactive threats against stuff like Burn or combo, where your fogs do nothing. This would be remedied in the sideboard, where you could play something like Thragtusk or Obstinate Baloth , and Vendilion Clique for disruption plus pressure. I don't think Modern currently facilitate a meta for reactive/passive decks. Control is dipping up and down as it is.
If you're going to the trouble of hurting yourself for the extra colour, you should also contemplate the sideboard cards it allows. I think, if I were to play Bant, I would bring in Wilderness Reclamation (but that's because I love the card and have bought into the hype), so that you can go nuts with instant speed wraths like Settle the Wreckage , Evacuation , or Cyclonic Rift , plus have a single Sphinx's Revelation to get you back into the game.
Downside with that plan is that you get shut down with Teferi, Time Raveler or Teferi, Mage of Zhalfir , but I don't think anyone's playing with those yet.
Load more
Evacuation occurrence in decks from the last year
Commander / EDH:
All decks: 0.04%
Blue: 0.42%