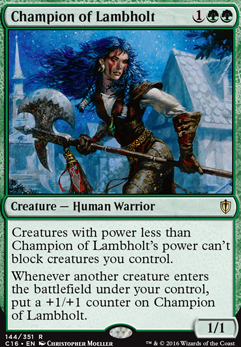 Legality
| | |
| --- | --- |
| Format | Legality |
| Vintage | Legal |
| Duel Commander | Legal |
| Commander / EDH | Legal |
| Legacy | Legal |
| Modern | Legal |
| Tiny Leaders | Legal |
Champion of Lambholt
Creature — Human Warrior
Creatures with power less than Champion of Lambholt's power can't block creatures you control.
Whenever another creature enters the battlefield under your control, put a +1/+1 counter on Champion of Lambholt.
Have (10)

T

i

d

d

i

l

y

w

i

n

k

u

s

,

C

a

m

p

b

e

l

l

S

t

e

v

,

r

o

c

k

l

e

e

m

y

h

e

r

o

, switchkill65 ,

r

a

k

d

o

s

2

4

,

D

r

e

d

g

a

r

, golgarigirl ,

o

r

z

h

o

v

_

i

s

_

r

e

l

a

t

i

v

e

l

y

_

o

k

a

y

8

1

9

,

C

4

r

n

i

f

3

X

, gildan_bladeborn
Want (2)
Turtlelover73 , fireborne1986
Champion of Lambholt Discussion
6 hours ago
So I have an Ezuri, Claw of Progress build, myself. You should check it out! I'm gonna give you some ideas, as I may have a few more experience counters than you xD
The suggestions I make are from my list, but I won't mention any cards outside of your budget. Let's get started!
This is alphabetical, not in order of relevance:
This is kinda alphabetical... but not really. _()_/
Whew! Well I gave you a lot to think about, there. feel free to ask questions about anything I've suggested; I'd be happy to give you examples from games I've played, etc. Good luck, and happy deck-teching!
3 days ago
Martyr's Cause is the better version of Circle of Despair. It doesn't cost mana to use, is easier to cast at the same mana cost (only requires W, not WB), and does the exact same thing. I see no reason to run Circle over Martyr's Cause as it is strictly superior in every way.
Champion of Lambholt is just absurdly good in any deck that wants to win via combat damage. You make tokens via tons of cards in this deck, which means Champ will literally be your MVP in any game you can stick it because it prevents your opponents from blocking all of your creatures. Also, it's a nice source of counters for Ghave to spawn even more tokens from.
I don't think Sigil Captain is actually very good. You're already running a better card in Bloodspore Thrinax, and if you control Theolonite Hermit, Sigil Captain can't resolve its trigger due to an intervening if clause with any Saprolings you create (because they enter the battlefield as 2/2s, not 1/1s). Juniper Order Ranger is the better card to run (works no matter what, and on all of your creatures not just 1/1s, still produces 2 +1/+1 counters per token, etc.), and it has as much to do with your Saproling/Fungus theme as Sigil Captain's Rhino Soldier creature types do.
No Aura Shards is a mistake. Seed Spark pales in comparison to the ability to just drop Shards and destroy every enchantment/artifact that could potentially bother you.
Illusionist's Bracers is basically Doubling Season 2.0 for Ghave- it doubles the tokens and counters he produces, which is extremely nice. If that doesn't fit your fancy, there's always Anointed Procession, which is a functional duplicate of Parallel Lives.
4 days ago
Glissa, the Traitor, Surgical Extraction, Rishkar, Peema Renegade, Gyre Sage, Treasured Find, Golgari Charm, Vines of Vastwood, Shaman of the Pack, Collected Company, Armorcraft Judge, Champion of Lambholt, Maralen of the Mornsong, Gilt-Leaf Palace, Ezuri, Renegade Leader, Elvish Piper, Imperious Perfect, Immaculate Magistrate, Joraga Warcaller, Eternal Witness, Heroic Intervention, Putrefy, Abrupt Decay, Eyeblight Massacre, Smother, and Damnation are all cards you could consider as well.
5 days ago
So your central combo is on the curve and looks fun, but I'm not sure your taking the best advantage of it. For starters you want to have Soul Warden or Essence Warden as a 1 drop in this deck, either would be a better choice than Altar of the Brood as you really aren't setup to win via mill before you can win with damage.
Bramblesnap needs you to tap your tokens, where as Kruin Striker grows just because you activated the combo, except you want to be running 4x of them (this is true even if you keep Bramblesnap) so cut 2x Stoke the Flames so you can.
Stonybrook Schoolmaster doesn't do enough in this deck, but Champion of Lambholt would be great, easily rendering your tokens unblockable, but again ideally you want to run 3x so cut the last Stoke the Flames too.
Lastly, I'm fairly sure this deck could be built as essentially 2 colour either (use red draw like Tormenting Voice and Faithless Looting) or (with a red splash for Elemental Mastery) which might make the mana fixing a bit easier for you.
1 week ago
Well, if you can tell me what it's centered around, I can probably help you a little more than I can at the moment. For the moment, I will assume +1/+1 counters.
Mikaeus, the Lunarch and Gavony Township are both really nice cards for a counters deck. They get even more ridiculous with cards like Hardened Scales, Doubling Season, and Primal Vigor.
Rishkar, Peema Renegade turns the creatures with counters on them into basically mana dorks.
Avatar of the Resolute, Undergrowth Champion, Renegade Krasis, Cytoplast Root-Kin, Gyre Sage, Fungal Behemoth, Champion of Lambholt, Anafenza, Kin-Tree Spirit, maybe Sunbringer's Touch, Cathars' Crusade, and Death's Presence are also nice.
For some more value with your +1/+1 counters, you can run Ainok Bond-Kin, Tuskguard Captain, and Abzan Battle Priest. Same can be said about Solidarity of Heroes, Inspiring Call, Armorcraft Judge, etc.
Once again, I sort of jumped to conclusions about your deck upon seeing some of the cards in it. I hoped these suggestions are on the right track of what you wanted this deck to be, and good luck with your deck.
1 week ago
@wraithen2k - I actually used to run Cephalid Constable in a much earlier version of this deck. In that incarnation, Constable never really impressed. However, I was not running Champion of Lambholt or Whirler Rogue at that time. It may very well be time for Constable to squeeze its way back in. Thanks for bringing this gem back to mind! :)
1 week ago
-Soul's Attendant/Essence Warden: maybe, having a bit of lifegain is kind of nice
-Angel of Jubilation: meta-tech card against oloro and marchesa decks. I've tried trostani before and her token ability is just kind of slow
-Tolsimir Wolfblood: gone on my next deck revision for hour of devastation
-Privileged Position: helps protect wincon permanents from spot removal, but otherwise lackluster, might cut it later
-Collective Blessing: sits in your hand until a critical mass of tokens is reached, no different than something like overrun or thunderfoot baloth
-Night Soil: weaker graveyard hate than the other two, but significantly stronger in this deck, especially against a 4/5 man pod
-Kamahl, Fist of Krosa: wincon and boardwipe protection. you can use the overrun if it's late in the game or hold up mana to turn other people's lands into creatures when a boardwipe hits. I haven't gone full elfball enough to run ezuri yet
Garruk Wildspeaker: is both ramp and an overrun. he either survives a turn, in which case I got to ramp a bit and "gained" some life, or he keeps surviving, allowing me to ramp and threaten an overrun (planeswalker removal is kinda rare in my group, i'm really the only green player)
-Garruk, Primal Hunter: i'll agree, this isn't really the deck for him. i'll switch him for slate or something like Shamanic Revelation or Mouth / Feed.
-Champion of Lambholt: i want to test her out in a normal game before i make a decision
-Cathars' Crusade (mentioned above): it's a card that really only needs to be out for a turn and then everything gets out of hand. I might cut it later, but i'm not ready to yet
Load more