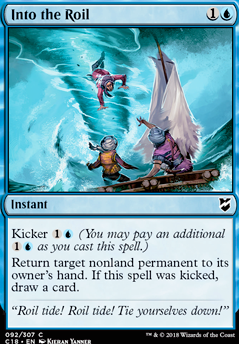 Legality
| | |
| --- | --- |
| Format | Legality |
| Tiny Leaders | Legal |
| Noble | Legal |
| Leviathan | Legal |
| Magic Duels | Legal |
| Canadian Highlander | Legal |
| Vintage | Legal |
| Modern | Legal |
| Casual | Legal |
| Pauper EDH | Legal |
| Vanguard | Legal |
| Legacy | Legal |
| Archenemy | Legal |
| Planechase | Legal |
| 1v1 Commander | Legal |
| Duel Commander | Legal |
| Unformat | Legal |
| Pauper | Legal |
| Commander / EDH | Legal |
Into the Roil
Instant
Kicker [symbol:1 (You may pay an additional as you cast this spell.)
Return target nonland permanent to its owner's hand. If Into the Roil was kicked, draw a card.
Have (11)
ibraJG84 , techneil , Joblaska , xXThormentXx , frederiklw , ironax , rainbowofdeath , corys , DFDGamer ,

X

x

C

a

t

a

c

l

y

s

m

i

C

x

X

,

h

o

s

s

h

u

g

h

e

s

Want (13)
kovellen ,

V

a

m

p

i

r

i

c

J

a

c

e

, notsaying ,

L

u

c

k

M

i

s

e

s

a

c

k

, gamerhat , sne ,

A

P

P

L

E

0

1

D

O

J

, Feyd-Rautha ,

p

p

h

h

a

a

z

z

e

e

, Benjamin909 , jamiefosternz ,

S

h

a

d

y

P

e

a

r

, GarethGrey
Into the Roil Discussion
1 week ago
$0.02 Time
I'll start with my background: I'm a low level points grinder. I play Storm/Jeskai Control in Modern, and Miracles/2 Chains in Legacy. I'm gonna tell you what I don't like in your deck, why I don't like it, then I'll tell you what I would put in your deck, and why I would. We all play magic differently, so I hope you at least consider some of the changes, and overall I wish you luck in your building!
Mana Leak: I would not play 4 of. Honestly, I'm not sure I would play more than 1, and absolutely no more than 2. This card is only good early game, and you're a pseudo-control deck, which means you will go long sometimes. For me, it's down to 1 here
Echoing Truth: This card just doesn't deserve a main board slot, in my opinion. In loses you card parity, as opposed to repeal, which will cantrip. I'd move to have 2 total in the side.
Spreading Seas: Again, a good sideboard card, but not a good main board card. As Durkle mentioned, it only hurts Delver. Also, you won't need it in every match up. I'd throw these in the board.
Scalding Tarn: You don't need this many fetches, even if you are playing Jace, considering you play 4 Serum Visions and 4 Opt. You need more lands than anything, so petition to make this pair of fetches into a pair of Islands.
Into the Roil: This card seems like an odd fit. At best, it's a Cryptic that can't counter and can't tap the team. I would take this out completely.
Pact of Negation: You already play 3 -cost spells in the main, in Disrupting Shoal. This card (for the most part) prevents you from holding up counter magic on your next turn, or playing a spell on your next turn. You already play a ton of fair counterspells, this pair is overkill. I'd take 'em out.
Vedalken Shackles: I think this is more of a meta call, but I'm basing my evaluation of these cards in the vacuum that is the national meta of modern - which means that K-Command and Bolt probably are too good to play this card. But, again, I believe this is a meta call. As per the continuity of this comment, I would be taking these out.
Ensnaring Bridge: I know this is in your maybeboard, but I'm gonna squash this right now. This card is awful in a deck that wants 7 cards in hand at all times. Unless Pox / 8 Rack is the best deck in your meta, I wouldn't even consider this.
Okay, now to what I would add:
1 Vendilion Clique & 2 Wizard's Retort: These 3 go into the main to help out your Disrupting Shoals - you have few three drops without these. Playing a total of 11 Wizards makes a pair of Wizard's Retort pretty playable. For those reasons, these come in.
1 Repeal & 1 Unsubstantiate: Both of these cards are nuts. Unsub does double duty, being both a counterspell and an unsummon (and don't forget, you can use both of these cards on your own Snapcaster Mage to avoid a bolt or just flashback another card), while Repeal cantrips and sets your opponent back one turn. Try both of these out in the main, you won't be disappointed.
2/2 Psionic Blast: 2 in the Main, 2 in the Side. There's a reason that Jeskai Control is the best control deck in Modern right now - it can become a burn deck pretty easily. This is your answer to that. The two damage is negligible - considering you don't play shocks, it seems your life total will be pretty safe in the early game. As for playing a pair in the side, it's just a continuation of the burn gameplan. Thanks Durkle for throwing this out there.
Dismember could find a spot in the side, along with Surgical, but I would only take out some number of your Relic of Progenitus to do so. Maybe 2 Relic, 1 Surgical, 1 Dismember? It seems pretty meta dependent, but thought I'd bring it up. Okay, that's all I got for you. Hope I've been of some use. Cheers!
1 month ago
What about changing Disperse with Into the Roil? You can kick it in lategame while it works the same way.
1 month ago
Well, I mean Bolas is one of the most power-hungry and powerful planeswalkers in the game, if that doesn't say cEDH I don't know what does, also RNG doesn't exist in Gemstone Caverns, IE no rolling dice or flipping coins, but if you just mean randomness, I could say the same thing for every card that you only want openning hand and is a bad draw later on, like Sol Ring, or the two leylines, or Mana Crypt.
The essence of Bolas is 'Everything to Win', so the cards like Mana Crypt, Mana Vault, Tarnished Citadel, Ad Nauseam, Imperial Seal, Mana Confluence, Shivan Reef, Underground River, Ancient Tomb, and City of Brass are more flavorful than cards like Izzet Boilerworks, and also are just good cards.
Jank is generally the opposite of competitive, so why every turn 4 win is supposedly jank, and Laboratory Maniac is supposedly jank too is beyond me.
Also, discard is a mechanic of stax, a key mechanic of that too, if you have ever seen a cEDH mono-black stax deck not running discard, be my guest. It is too powerful an effect not to use if your goal is to stop your opponents from casting spells.
---
Also, have you seen Nicol Bolas, Planeswalker? He ends games fast, not slow. I turn one any land and Lotus Petal to Flash+Arena Rector him out and it is over, no buts about it, that one player who might have an answer? +3 and their only land is gone, next turn do the same, next turn ultimate him, rinse repeat on the other two players who are still in the game, protecting him from Chain of Vapors and Into the Roils with the Counterspells in my hand, until they are all out of lands, cards, and permanents, and eventually life too, GG.
Also, the original Nicol Bolas, yeah I run him in modern, who else am I gonna turn one out with two Simian Spirit Guides, a Faithless Looting and Goryo's Vengeance, Emrakul, the Aeons Torn? Nah, he blows up their permanents, what permanents are they going to have turn one? Not much, discarding their hand is much better, but obviously I run both.
---
Point is, I don't think the essence of Nicol Bolas is to be a slow, grindy controlling deck, it is a deck that wins every time, for now and forever, sure, I'd probably argue grixis twin should be the deck for Nicol Bolas, but he'd only be used for the commander, and wouldn't serve a purpose in the deck other than for colors.
You also asked me for advice, so take it or not, but I got the deck to be more competitive and down to 100 cards, like you wanted.
1 month ago
This is a very land-light deck and Burgeoning will mostly only drop one or two lands maximum for a card. It also doesn't put counters on Animar, can't be tutored for, and is a bad draw at any time except turn one to drop a turn two Animar. Carpet of Flowers more consistently ramps this deck into a turn two Animar and still doesn't deserve a spot because just getting a turn two animar by spending a mana isn't enough, it normally has to either be free like Lotus Petal, Chrome Mox or the similar effects or be a creature like Birds of Paradise.
Venser, Shaper Savant is not useful in the same way Man-o'-War is, being that both can bounce themselves, but Man o' War can do it for half the mana, putting twice the +1/+1 counters that Venser will on Animar. This is a huge difference when you need a number of counters to cast a game-winning spell by turn 4 or trying to win right there.
---
---
helldanno due to Animar, Soul of Elements having protection from white & black, that means I assume you are running into blue/green/red removal.
Against Red Removal, Blasphemous Act type effects are unaffected by Lightning Greaves/Swiftfoot Boots, so I assume this isn't your problem. Against Lightning Bolt effects stuff like Spellskite, Sylvan Safekeeper, Glen Elendra Archmage, Force of Will, Pact of Negation, and Mental Misstep can counter as well as just putting a few counters on Animar, Soul of Elements. Against Chaos Warp, we still have Spellskite, Sylvan Safekeeper, Glen Elendra Archmage, Force of Will, and Pact of Negation, though you could run some cards like Swan Song and Dispel can be flex slots. They also happen to slow your opponents down if they try to combo out.
Against Blue Removal, which I assume is your problem, Chain of Vapor, Into the Roil, Rapid Hybridization and Cyclonic Rift can still be blocked with Spellskite, Sylvan Safekeeper, Glen Elendra Archmage, Force of Will, and Pact of Negation, but also can be blocked by some of the flex slots I talked about prior.
Green removal is pretty much just Beast Within and Song of the Dryads and is generally rare, but if it is really hurting your, Spellskite, Sylvan Safekeeper, Glen Elendra Archmage, Force of Will, and Pact of Negation can stop them all, and Caustic Caterpillar, Brutalizer Exarch, Ulamog, the Ceaseless Hunger can deal with Song of the Dryads type effects.
The point is, I don't see your reason for Swiftfoot Boots or Lightning Greaves, they are two mana non-creature permanents that protect things at sorcery speed, unlike the rest of the answers.
---
Now while I respect your opinion in your meta on the use and capability of Emrakul, the Promised End, in this deck it commonly reduces it's cost by 1-3 mana, and can be reduced by 4-7 on a mid-sized Animar, Soul of Elements like you said, so 5-10 mana on normal by turns 5-6, or mid game. Even saying it costs is pushing it and if that is the case, you should run it if your meta is overrun with decks that are ruined by it. However due to the top tiered decks normally running a high number of instants that can be used to disable their own ability, think Chain of Vapor, they could commonly stop you from ruining themselves too bad in response to the ability before their turn. Rarely can it do more than a Word of Command because of stuff like that. Even if it just killed target player, like you said about swinging in with a swoll Animar, it doesn't win you the game to kill one player.
Again, that is only the reason that it isn't good enough for JMCraig to toss it in with the goal of this for cEDH decks, but if it works in your playgroup, do it! I have only the best wishes for you and your Animar deck!
---
You want a backup-backup plan I think was that second-to-last line? I don't understand why you think that is nessecary, but I will go over the plan:
Main Plan : Animar + Statue + Outlet = Win
Backup Plan : Kiki-jiki + Untapper = Win
We have a backup plan, why do you assume we need another?
---
You seemed to argue for Tishana over Big Kozi, but Kozilek, Butcher of Truth does have other use in the deck, and I would argue is better with a pumped Animar than Tishana. It can be free if you need a wincon and have Ancestral Statued Animar, Soul of Elements to infinity and beyond and just need to win, but don't have much more mana, Kozi is free, also with Survival of the Fittest you can fetch him and discard him to reshuffle your yard back in if you couldn't otherwise get back a card. Due to the discard being the cost, you could then fetch out a card that was in your graveyard when you fetched, making a really cool Primal Command effect for and a Survival of the Fittest.
Arguing Tishana can be fetched with Fierce Empath is fair, no arguement here, and it is even a decent option, but Imperial Recruiter has a ton of much better options, like Kiki-Jiki, Mirror Breaker to copy the recruiter fetching Deceiver Exarch and winning the game. I can't think of a game I have ever played with Animar in which I wished I had a tishana to fetch with Imperial Recruiter. But yes, it isn't technically wrong.
---
The last thing I want to cover was one of your first points, about the lack of outlets to win with Ancestral Statue, with Purphoros, God of the Forge and Walking Ballista being the outlets of choice, if you have found problems tutoring tehm out, try also running Reckless Fireweaver. It doesn't combo with Man-o'-War or Shrieking Drake, but is still very useful.
1 month ago
Sweet build, Starsky2814, why no Swan Song, Arcane Denial or Force of Will? I'd think they are better than Counterspell many times!
Also consider Windfall, Timetwister, Brainstorm, Ponder, Preordain, Swords to Plowshares, Path to Exile, Rapid Hybridization, Pongify, Dismember, Into the Roil, Blink of an Eye, Toxic Deluge, Grasp of Fate, Dispel, Mindbreak Trap, Spell Pierce, Remand, or Silence, they are all great esper control cards, and different packages of them lead to a very strong control build, but should be tuned for your meta accordingly!
Good luck my friend!
1 month ago
Okay, lets start, Talrand, Sky Summoner is the wincondition, right? If the goal of the deck is to drop him fast and early, Kindred Discovery is a great way to use him to draw cards.
Commonly control loses card advantage in 1 to 1 trades, because there are two opponents who didn't lose cards, but you did, if for each trade you make, you draw a card, the trade is a 1 for nothing. It is straight gravy. Honestly it is a 2 for nothing, since you got a drake. 2 for nothing is absurdly powerful.
The issue is blue doesn't have the best tutors, and that will mean you won't get this level of gravy often, but we can try to optimize the list to survive until you can, or until we find another card drawing engine.
There may be a problem here that you have noticed, you still spend the mana of each card you cast. We have to make sure your answers are very cheap for you to win. I want 0 mana spells, 1 mana spells, and 2 mana spells as your answers. If they are any higher, they have to either:
A: be castable for a alternate cost to make it cheaper (Force of Will, delve spells, etc.)
B: draw a card (Into the Roil kicked, Cryptic Command, etc.)
C: hit multiple threats (Whelming Wave, Cryptic Command, Evacuation, Reduce to Dreams, etc.)
D: get back there mana (Unwind, Snap, etc.)
If all of that is done, we need to talk card draw, outside of engines, engines are great, but we can't just run engines, they are slow, clunky, and few-and far between. You run plenty of the next point, cantrips. Let us take the best option, Brainstorm. It is absurdly powerful, one mana to dig 3 cards, at instant speed, using up mana that otherwise would have been wasted, if you held up mana on the opponents turn. It helps find the answer or counterspell you need, all in response to the Food Chain you can't let resolve.
You run a number of cantrips, even some bad ones I would switch, like Telling Time, it may look like an Anticipate, but being forced to top a card sucks. I would run Anticipate over it any day, but you already run that, so toss in a Preordain, I promise, it is worth it tenfold. Quicken would be another drop, toss in Kindred Discovery over it or something.
Cantrips are nice, but good card draw, like Fact or Fiction, you know, a way to get more cards in your hand than you had, they do cost mana. 4 mana is topping it off, and it has to be instant speed for me to consider it at 4 mana, but FoF fits the bill. Windfall should be run, as the control player, before an engine hits, you need to spend more cards than your opponents do to keep threats of the field. Windfall gets you the new hand, and tosses out whatever cards your opponent tutored out.
Rebuild is a great card I suggest, it can be cycled, so you don't have to worry a ton about the specificity of the card, but it sweeps out many players. Run it. Drop something like Wash Out for it.
The trick with sweepers it to hit as much as possible, and be 4-2 mana, or do other great things. Cyclonic Rift is an example of a great removal spell, that occasionally can double as a sweeper, but shouldn't be held back for that effect. Whelming Wave is pretty good at sweeping opponents, I would drop Inundate for it.
Most of your creatures I could drop for more tutors and answers and card draw Solemn Simulacrum isn't worth it, as it doesn't have flash, it wastes a turn and doesn't win you the game, you could lose it if an opponent combos out because you couldn't answer it. Toss in a Mana Leak or something in it's place.
Others I would suggest dropping for basically the same reason are as follows: Archaeomancer, Burnished Hart, Chasm Skulker, Docent of Perfection Flip, Duplicant, Fatespinner, Kira, Great Glass-Spinner, Phyrexian Metamorph, Portal Mage, Sower of Temptation, Thing in the Ice Flip, Trinket Mage, Vedalken Shackles, Mindslaver and Runechanter's Pike.
All of these drops will allow for more space for answers, card draw, and a little bit more ramp, such as Fellwar Stone, Sky Diamond, Coldsteel Heart, etc. More answers like Pongify, Mindbreak Trap, Snap, and other answers can allow for exponentially more ways to stop your opponents.
Not all answers are great though, Boomerang is a card I would drop for a better hate-piece like Pithing Needle, Grafdigger's Cage, or any other decent hate-piece, like Silent Arbiter for a meta in which beat-down is regular, or you see a lot of Tymna the Weaver lists. Damping Sphere against storm, or whatever else you need.
---
In conclusion, I'll probably write up a rough list for this style of game, and good luck!
Load more