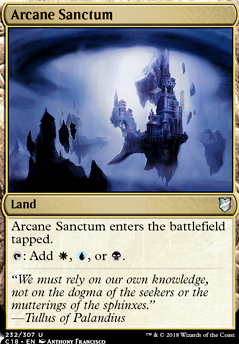 Arcane Sanctum
Land
Arcane Sanctum enters the battlefield tapped.
: Gain , , or .
Browse Alters
Trade
Legality
| | |
| --- | --- |
| Format | Legality |
| Tiny Leaders | Legal |
| Noble | Legal |
| Magic Duels | Legal |
| Canadian Highlander | Legal |
| Vintage | Legal |
| Modern | Legal |
| Highlander | Legal |
| 2019-10-04 | Legal |
| Block Constructed | Legal |
| Leviathan | Legal |
| Legacy | Legal |
| 1v1 Commander | Legal |
| Duel Commander | Legal |
| Oathbreaker | Legal |
| Unformat | Legal |
| Casual | Legal |
| Commander / EDH | Legal |
Arcane Sanctum occurrence in decks from the last year
Commander / EDH:
All decks: 0.08%
WUB (Esper): 1.58%
Arcane Sanctum Discussion
2 days ago
Dear Kronhamilton
Golos, Tireless Pilgrim is my favorite commander, and I've been brewing around him ever since he was teased. Let me just say you've chosen an excellent commander.
(I've written quite a lot in an attempt to make a sort of guide for you, so if you want the short version, check out the Suggestions panel)
Golos can be tricky to build around since he can do literally anything pretty well. The easiest way to make an effective Golos deck is to lean into Golos's 7 Mana Rainbow Wheel Of Death. Before getting into that though, we need to cover some EDH deckbuilding basics.
I think the most useful advice I can give someone who is just beginning to explore the deck-building territory of EDH is to structure your deck and mind your Ratios. By this I mean it is useful to categorize the cards in your deck according to the role they fulfill.
We'll begin by looking at some core categories that you'll want to make your deck function effectively. Then I'll present the Ratios (how many of each category of card) you will want to make a generic Golos deck function effectively. Next, I'll include a detailed (but not totally complete, because I'd be here all day) catalogue of cards within some of those categories. I'll also offer up some suggestions and input about some of your specific card choices. Lastly, since I'm about to unpack a lot of information, I will include a brief list of suggestions (see the bottom) for a generically good Golos 'Shell' that should be able to support most Golos strategies.
Categories
Draw

Ramp

Removal

Sweepers

Threats

Support

Land
The art of Ratios is all about determining what combination of cards from each category makes your deck run the most smoothly.
Please note that these Ratios will not total to 99 cards. This is because you will invariably have extra flexibility to choose how your deck behaves even after establishing functional Ratios. Also keep in mind that although these Ratios do recommend you adhere to the minimum number of cards in each category, you still can choose which cards will fill those slots. The point is not to restrict your options, but instead to create a 'Shell' that is reliable enough to power your Threats cards, Support cards, and other cards. Whatever you do, make sure you have at least the minimum number of Draw and Ramp cards. THE MOST IMPORTANT CARDS IN THE DECK ARE DRAW AND RAMP!!!
While I ultimately suggest Ratios resembling the Basic Golos Shell, I will lay out the Ratios for several different Shells;
Template: a sort of baseline beginner's guide which is commonly promoted as a place to start.

Basic Golos: a modified version of the Template that suites most Golos decks.

Control: a version tailored for a slower game with many Sweepers.

Aggro: a version designed to act quickly and deploy Threats before the opponents are prepared.

Big Mana: a version invested heavily into Ramp with the goal of deploying many end-game Threats.

Mega Mana: an even more extreme version of Big Mana with extremely expensive Threats.
Please remember that any suggestions I make are because I am trying to help. Ultimately, the choices you make with your deck are up to you, and I can only provide constructive criticism based on my own experience and opinions.
Good luck :)
Ratio Fixing
The most effective change to your deck would probably be adjusting the Ratios, especially with regard to your Draw cards. Applying the most basic Template Shell, you want to have at least these three quantities nailed down for a smoother and reasonably powerful deck;
Lands – 36 --> You have 40 Lands (Cut 4 Lands)

Ramp – 10 --> You have 5 true Ramp cards (Add 5 to 8 Ramp cards)

Draw – 10 --> You have 3 true Draw cards (Add 7 to 10 Draw cards)
Ramp & Draw Additions Show
What I counted in your deck Show
Mutate
Depending on how strong your Mutate subtheme is, some of your Mutate inclusions may act as engines. However, I must state that Mutate is a VERY risky and even fragile strategy since your Mutate 'Pile' of creatures will all be destroyed at once if your opponent uses a Removal spell or a Sweeper. For that reason, I recommend leaning out of the Mutate theme (unless the Mutate card is just straight-up insane, as in the example of Nethroi, Apex of Death).
With that said, playing a Mutate theme is your decision and I totally respect that and if you want to stick to a Mutate theme then by all means do so. I just want to be sure you know that Mutate is a risky strategy that you cannot depend on to fulfill your Ramp and Draw slots (so you'll just need to supplement it with other cards).
Cut or Include?
At a glance your deck seems like something you have created using just your collection – and that's great! However, if you want to incrementally upgrade your deck, then I recommend replacing most of the cards in your deck with more powerful options over time.
Here is a list of cards you should probably keep playing: - Barrier Breach (Removal, because exiling 3 enchantments is helpful in some situations)
In my opinion, there are other, better options for all of the other nonland cards in the deck, however it is up to you to decide on how you would like to proceed so I won't intrude.
I strongly recommend cutting the Planeswalkers though – Calix, Destiny's Hand doesn't seem to synergize much with the deck and I feel that Lukka, Coppercoat Outcast is not very potent.
Lands
Just as a recommendation, I would suggest the following spread of Basic Lands;
8 Basic Forests

3 of each other Basic Land
The remainder of your lands could be either more basics (which is really, really, risky if you don't have tons of Ramp – think like 15 Ramp cards and about 12 Basic Forests) or Color Fixing Lands (see the Catalogue for more options). It is rough to have your lands enter the battlefield tapped, but unless you want to either lean into Green or spend a lot of money on lands, you will just have to live with it (I play around 5-10 tapped lands in a normal Golos deck and it isn't really that bad).
In this section, I will list out an example of the Basic Golos Shell complete with the necessary Ratios and some examples of good/fun cards in each category. I'll try to keep it relatively Budget sensitive and most of these cards will be relatively random – this won't be based on any particular theme so don't expect it to be optimal.
As a reminder:
The Shell
Ramp – 12
Draw – 13
Removal – 7
Sweepers – 2
Threats – 12
Support – 7
Land – 36
Good Luck :)
-Slashdotdash
2 months ago
Interesting deck, although it is somewhat strange to put a Forsaken Sanctuary and an Arcane Sanctum--which produce black mana--into a bant deck. (A turn in a new direction for the deck, perhaps?) Not really the kind I'd play, but it looks cool.
3 months ago
So back to your manabase - excellent. I think that for the price point you're working with this is excellent. But, there's always room for improvement. Obviously, if you can afford it going for a complete set of fetches is worth it but since budget is an issue, I would consider the addition of Prismatic Vista. Also I would go after the land cycle from Battlebond, specifically: Spire Garden, Luxury Suite, Morphic Pool, Sea of Clouds, and Bountiful Promenade. They're all essentially budget original dual lands, and since EDH is a multiplayer format it will be a rare occasion when these lands ever come into play tapped.
Now, what to cut? to make room for the Prismatic Vista I'd cut Terramorphic Expanse. Easy swap there. as for the aforementioned 5 lands i'd cut the tri-lands (Arcane Sanctum, Crumbling Necropolis, etc.) . They're strictly worse in that they will always come in tapped. Sure, you're losing a 3rd color you could potentially tap for...but the pro outweighs the con.
3 months ago
Hey, nice start and budget version of Alela.
Bident of Thassa is a very good budget card with lots of flying tokens. Bident with attacking Faeries can get you far ahead in a game with card draw and gives you resiliency to come back from board wipes. Diabolic Tutor is a budget tutor that can tutor for Bident. Oona's Blackguard is a two drop Faerie who has a good combat damage ability since there's many other Rogue Faeries in your deck. Rootborn Defenses protects all your creatures from a board wipe that destroys and you get free Faerie token.
For voltron Cranial Plating is a reason to go more artifacts than enchantments with Alela. Plating can be a busted card for voltron because you can keep equipping it to your Faeries. Seat of the Synod, Vault of Whispers and Darksteel Citadel are budget artifact lands that count for Plating. Two drop mana rocks are good with Alela such as Orzhov Signet, Azorius Signet, Dimir Signet, Mind Stone, Prismatic Lens, etc. Two drop mana rocks help to cast Alela turn three and the faster you can get Alela onto the battlefield the better your Faerie army will be. Paradoxical Outcome and Rebuild are budget mass bounce effects for artifacts and Outcome includes enchantments as well as draws you a card for each permanent you bounce. Bounce artifacts and cast them again to create more tokens.
Exotic Orchard, Arcane Sanctum, Esper Panorama, Ash Barrens, Caves of Koilos, Opal Palace are budget lands to consider adding.
Good luck with your deck.
4 months ago
I don't if you'd like suggestions on a budget, so I'll try to stay in the middle ground about it.
Unless you already have those laying around in your collection, don't buy Marsh Flats . They're extremely expensive, and since you're playing in a casual group there's no need to have such card. You can, instead, use Temple of Silence which is waaaay cheaper and allows you to manipulate your next draw.
There's no point in having Arcane Sanctum as it's a very slow card. You can use Isolated Chapel which will easily come into play tapped.
Rather than Sorin Markov , who doesn't benefit your strategy at all, you can run either Elspeth, Sun's Champion , who allows you to stall by making tokens or blowing up the stronger creatures on the board, or Elspeth Tirel , who lets you gain life and can also make tokens.
Sign in Blood is a pretty good card. However, Night's Whisper can relieve the pressure of your manabase by needing one less black mana.
4 months ago
1) Is it better to run Lightning Greaves or more counterspells?
Gonna go with Greaves here. You have 3 opponents, there is 1 of you. If you trade counterspell for removal 1-for-1 all day, you're going to run out of cards protecting your shit faster than your opponents will run out of cards trying to get rid of it. Also consider Swiftfoot Boots for budget option! Also consider Neurok Stealthsuit if you're in blue.
2) Mana rocks
Less cost to cast is far superior here, but accounting for budget adds roadblocks. From a play perspective, its better to invest mana turn 2 to have a big turn 3, rather than invest mana turn 3 to have a big turn 4. Look for rocks that come out on turn 2. If the talismans are too pricey, consider the even more budget signets Gruul Signet etc. etc. for the whole color wheel. There are also a handful of extremely nice 2 CMC budget rocks, Mind Stone Prismatic Lens Fractured Powerstone . The talismans are a pretty good investment though, because you can use them in so many different decks. Same with a card like Sol Ring . If you're gonna splurge, rocks are usually a good spot to do it. Also about lands vs. rocks, you should include both. You want to get ahead of the mana curve in 99.9% of situations in MTG.
3) Lands, color, tapped vs untapped
When building for EDH, I try to go for lands that give access to more than one color, that enter untapped, and you can use multiple times. These lands have been pretty well identified, and you can no longer get them for $1 or $2 like previously. This is another great spot to splurge when deckbuilding, because you can always use lands in future decks if you disassemble, and it makes a big power level difference. If you must include enter tapped lands, look for lands with lots of color diversity of unique abilities. Arcane Sanctum and other tri color lands are my go-to for budget 3-4 color decks. After that, ETB tapped two color lands are preferred. It is worth noting that if you have included good color diversity with your rocks, it makes color diversity from lands easier too. So having all the signets + talismans really helps if your lands aren't as good. Its okay to include ETB tapped lands, but know that the more you include will take away speed from your deck. Definitely agreeable for budget players though!
My last recommendation for mana color production is plug your list into tappedout and use their data to make changes. It will show you all the color costs in your deck, against all the color producers in your deck. Wonderful tool for seeing your mana production needs.
5 months ago
Further sins for the counter:
---
Name-Related:
"CARDNAME is also what I called my college dorm!" ( Arcane Sanctum , Breeding Pool , Godless Shrine , Savage Lands , Sliver Hive , and, finally, Watery Grave .
"What are you commanding the tower to do?" Command Tower
" Forest / Morophon, the Boundless / Amoeboid Changeling / Hollowhead Sliver is what my college girlfriend called my-" ping!
"Power creep!" Prismatic Vista
"Taxes." Smothering Tithe
Flavor-Text-Based:
---
Arcane Sanctum : Tullius hates fake news!
Godless Shrine : The IRS?
Hallowed Fountain : The NSA?
Sandsteppe Citadel : Thank you, captain obvious.
Blur Sliver : I don't know what group of people I'm making fun of here, but definitely one of them!
Horned Sliver : Shouldn't the slivers be breaking off of the timbers?
Smothering Tithe : Organized religion!
Sliver Hivelord : Donald Trump!
Assassin's Trophy : Impeachment!
Kindred Dominance : The 2020 presidential election.
Bonescythe Sliver : How fast is a bow?? I get that they have range, but "fast" seems like a misnomer.
---
Sliver Legion : A fair and balanced card.
Load more