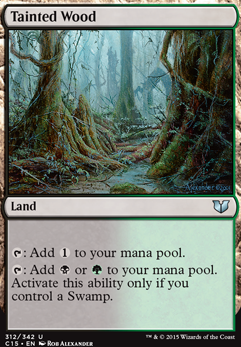 Legality
| | |
| --- | --- |
| Format | Legality |
| Legacy | Legal |
| Vintage | Legal |
| Commander / EDH | Legal |
| Duel Commander | Legal |
| Tiny Leaders | Legal |
Tainted Wood
Land
: Add to your mana pool.
: Add or to your mana pool. Activate this ability only if you control a Swamp.
Tainted Wood Discussion
2 weeks ago
Hey, that trade looks good to me. I do want to warn you that the Putrefy and Golgari Rot Farm having a few edges due to being played without sleeves. I can provide pictures if needed. I also adjusted set of the cards to represent which ones I have. This is Tainted Wood is the dual decks version, which is a little higher in price. Since the other cards show signs of being played I am not worried about the price being higher than the other versions you found. Just let me know how you would like to progress further. Also, just wanted to verify you life in the US, right?
3 weeks ago
Hey, guys,
I'm looking to pick up these things:
1x Barren Moor
1x Delay
1x Entomb
1x Exploration
1x Gilded Drake
1x Tainted Wood
1x Toxic Deluge
I want to go to the Open on March 11 and play side events, so I'd really like to get this list together for it. You can check out my binder here, and also know that I'm willing to put cash toward some of these cards (would have to be cash; can't do PayPal).
Thanks!
4 months ago
I always have a habit of wanting to make the color cost relatively closer to each other than what you have here (66-75% black), however I always forget about Rooftop Storm and this makes me want to do BU zombies as oppose to running with Mikeaus. But enough about me, lets talk more about you!
Lands:Understand I have only ever had a 2 color commander before taking what I say with a grain of salt... I understand the importance of shock lands (especially in Modern), but personally feel they are less important in EDH. I don't see too much 'search for a Island, or search for a Swamp' that would make grabbing a Watery Grave for example vital. The trade-off of 3 life to cash in a fetch for a shock land doesn't appeal to me too much. That being said, I am a fan of Shadow Lands from SOI and Battle Lands from BFZ. Don't forget Tainted Peak, Tainted Wood Tainted Isle as well...all three of these lands produce non-black mana as long as you specifically control a Swamp. Grixis Panorama and Jund Panorama too incase you have the 'Tainted' lands out and you do not happen to have a Swamp. Don't forget the fetch lands that come in tapped and don't cost life to cash in, and the 3 color lands from Khans (and other sets that come in tapped). I'd look into the different combinations of pain lands and 'checking tap lands too', although your mana base appears diverse enough. www.manabasecrafter.com
I also personally think your mana base to devotion in permanents ratio is a little high for non-black colors, but diversity is important and perhaps I am not as in-tune with need for making sure the ratio is high enough with higher color identity commanders. In other words, the inner circle of your color wheel for your mana I would think would need to be more black (and less of the other colors), but maybe you're counting on Urborg if needed.
Instants:Id run Vampiric Tutor instead of Entomb but you're more comfortable in the graveyard than I am.
Creatures:I love Sidisi, so I'd be tempted to throw in either Sidisi, Brood Tyrant or Sidisi, Undead Vizier. VERY Surprised Relentless Dead is not in here as well, all his additional abilities would be pretty useful here, especially if you're sitting on a lot of lands later in the game. I'm counting 6 Zombies so far with ETB triggers. And more that will pump up your existing Zombies.
Enchantment: Didn't know Grave Betrayal existed, that's pretty cool. Rhystic Study especially and maybe Exploration get my vote.
Sorcery:Don't forget Preordain! Shame on you for always telling me to run these three and then forgetting one!
Artifacts: Make sense.
Planes walkers: I'd be tempted to run: Liliana of the Dark Realms and/or Liliana Vess
4 months ago
I'm guessing you are keeping the budget low on purpose, but it would be well worth skipping lunch one day this week to upgrade that terrible guildgate and Jungle Hollow into a Llanowar Wastes and Tainted Wood.
You've already got two artifact lands and a Prototype Portal, so you may as well run Darksteel Citadel too, because making a land token every turn for 0 mana is what the kids today call "legit".
I guess it's probably meta-dependant, but IMO Darksteel Plate just no longer works well enough to run. How many spells does it even dodge anymore? Hero's Downfall, Go for the Throat, Mortify and Putrefy all see play I guess, plus Terminate and Dreadbore, but by and large people run exile or -1/-1 counters or transform spells. In the last two years we've had Song of the Dryads, Imprison in the Moon, Anguished Unmaking, Declaration in Stone, Utter End, Council's Judgement, Darksteel Mutation, and Reality Shift. Plus attack bounce spells like Aetherize or Aetherspouts, or exile/tuck/bounce board wipes like Merciless Eviction, Angel of the Dire Hour, Descend upon the Sinful, or even things like Languish or Toxic Deluge. If you're trying to keep your dude alive Swiftfoot Boots or Asceticism will probably work way more consistently.
5 months ago
The original ProsBloom deck ran Drain Life as the win condition, and I think this may actually help you win too, instead of tendrils. People love to counter the crap out of stuff, but you're running so things like Abrupt Decay deal with a lot of threats and lands like Boseiju, Who Shelters All can be used to prevent your opponent from stopping your combo, or Autumn's Veil is also an option. You'll have the mana available to you and card advantage to do it.
If you need budget options for your mana base, you can always use Sunken Hollow for swamp/island, then play Tainted Wood and Llanowar Wastes for your sources. The only other thing I would recommend is to use Trickbind instead of stifle due to the split second ability. It's an added layer of protection against counterspells.
Load more