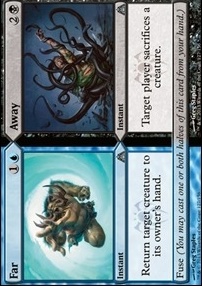 Legality
| | |
| --- | --- |
| Format | Legality |
| Tiny Leaders | Legal |
| 1v1 Commander | Legal |
| Magic Duels | Legal |
| Canadian Highlander | Legal |
| Vintage | Legal |
| Modern | Legal |
| Custom | Legal |
| Leviathan | Legal |
| Legacy | Legal |
| Duel Commander | Legal |
| Oathbreaker | Legal |
| Unformat | Legal |
| Casual | Legal |
| Commander / EDH | Legal |
Far / Away
Instant
Far:
Return target creature to its owner's hand.
---
Away:
Target player sacrifices a creature.
---
Fuse (You may cast one or both halves of this card from your hand.)
Far / Away Discussion
5 months ago
CNeff08 : That card and many others are affected by certain legality bug, there's a whole thread dedicated to that over here
---
Lanycakes
:
Far / Away
, can't fix that at the moment.
yeaGO
could you take a look at this. I'm unable to make any changes to the card in the question(Far / Away). When saving the edit, T/O throws a gatherer ID error at me. The reason this happens is that this fuse card shares the same page with both of it halves on gatherer, therefore they have the same gatherer ID. Wizards themselves uses an extension of the url to refer to each half, &part=Far and &part=Away. See
Far / Away
.
5 months ago
When someone can, Far / Away has a cmc of 7 vs 5. Thx.
9 months ago
It's great that you've identified a core plan to victory for this deck - attacking with an unblocked Master of Cruelties. That's not a very good plan for the Modern format, but it's your plan here so we're sticking with it.
Uh, by the way... is this supposed to be a Standard deck from RTR/THS standard? I was halfway through this comment and I realized it's all cards from that time. If so, most of these comments should still be valid. All of these are just my opinions and I can't account for your meta or what you find fun.
I advise you to identify which cards are contributing to that game plan, and which are not - then you can cut the cards that aren't. Every card in your deck should be winning you the game. I don't know what your budgets are like, so I'm just going to recommend whatever comes to mind. The fact that you're playing Lightning Strike over Lightning Bolt suggests you're on a budget.
For example, some cards which don't help you:
Pyxis of Pandemonium: This doesn't do anything. It literally does not affect any zones you care about. You aren't going to get to 7 mana, and if you were, you'd have better things to do, like Cyclonic Rift.

Sire Of Insanity: This card has power, but it doesn't contribute to your plan. The plan is "land a hit with Master of Cruelties", not "punch face with fat beaters". You don't need a 6-mana attacker that doesn't help Master land a hit.

Vortex Elemental: If you want a blocker, you can do better than this. Also, why do you want blockers? Play, like, another draw spell here, or Chromatic Lantern - anything which helps you Master sooner.
Also, there are cards which are just too situational or too weak:
So, what cards do you want instead? Well, more powerful ones. I'll contrain myself to RTR/M14/THS Standard
Chandra, Pyromaster - This card removes blockers, finishes opponents after a Master hit, and digs for Master. No card can win you the game from any position, but this is powerful and versatile enough to justify playing.

Far / Away - My replacement for Voyage's End, this clears double the blockers and can actually get rid of things permanently.

Hero's Downfall or Dreadbore - I'd upgrade Doom Blade to one of these. Your deck isn't exactly beating with a ton of creatures, so being able to remove planeswalkers will be important.

Thoughtseize = Slam dunk include. For one mana, counter a removal spell, remove a blocker, or stop an attacker... sort of. Beats Slaughter Games by a large margin, since you don't have any other ways to look at your opponent's hand.
Anyway, there's not too much you can do with this basic plan and this card pool - even allowing all of Modern, you'll only get so far - but I hope this helps you focus on cards which often advance your plan, rather than cards which maybe help sometimes but usually do nothing.
11 months ago
What is Far / Away for? What matches does it come in for?
11 months ago
Basically for the purposes of EDH/Commander deckbuilding, it doesn't matter if you're only going to play a card using a certain color, or only half of a split card, or whatever. If you want to include cards like Far / Away, Archangel Avacyn

Flip, Shaman of the Great Hunt, General Tazri, or Creakwood Liege in a deck, you need to care about its color identity. Each of these cards has a color identity that is a sum of all its parts, not just what is in its casting cost.
Far / Away is UB, so you can't run it in a mono-blue Commander deck just because you aren't planning to ever play Away. Archangel Avacyn

Flip is RW because you count the back side of the card in the color, so it can't go in GW decks. Creakwood Liege is still GB, even though you could cast it with just one of those colors, so it can't go in your Gruul deck. General Tazri is five-color, so you need a five-color deck. And your Shaman of the Great Hunt needs a Temur deck (or more) to work.
Limitations like this make deckbuilding interesting and a challenge. Of course, there are always the people who just find the cheapest five-color commander they can just so they can avoid the color identity problem and end up playing 99-card singleton instead of actual EDH.
Of course, your particular group is always welcome to houserule it so that you could run Shaman of the Great Hunt in your deck.
The reason Extort is exempt from the color identity is because the mana symbol only shows up in reminder text, and reminder text isn't always guaranteed to be printed on the card--see Air Elemental (M19) versus Air Elemental (Ixalan).
1 year ago
Just FYI, Far / Away isn't Tiny Leader legal. It's converted mana cost is 5
708.4b The mana cost of a split card is the combined mana costs of its two halves. A split card's colors and converted mana cost are determined from its combined mana cost.
1 year ago
Night's Whisper $1.58 is too much, Sign in Blood is $0.18 (and can target opponents), Read the Bones is $0.16 but I don't like the CMC3. Night's Whisper/Sign in Blood definitely the best. Brainstorm $0.70 is even better imo. Ponder is $2.30 so not a great option. Brainstorm/Sign in Blood best for budget. Altar's Reap don't like it either. Costly Plunder also not quite right.
Telling Time also not bad in budget $0.23 lets you scry one to bottom and replaces itself.
Dimir Signet $1.80 is so much. Talisman of Dominance $1.29 is better because it's CMC2. Also, Talisman of Indulgence $0.72. Fellwar Stone $1.25 but less predictable. I think the Signets are great, but $1.80 is tough.
Baleful Strix is $2.95 but pretty amazing, if you free up enough cash for him.
Archfiend of Depravity $1.01 can dominate this format, you've seen it from my Glissa, the Traitor deck.
Displacement Wave slows you down too much I feel, it can give you a Thraximundar alone. You control it with , but it's not going to work in 1 hour format, outside of the 1 hour feel it's pretty weak anyway.
Soul's Fire also feels wrong, a turn you cast Thraximundar you won't have mana for it, only a handful of creatures going to deal enough to be of consequence.
Shrieking Affliction is going to guarantee that 3x players are attacking you, and it's too slow to win you the game.
Nighthowler is a better Wight of Precinct Six (you can run both), he is CMC3, but he also counts your graveyard, and he also has Bestow if you have the extra mana (modular)
Consuming Aberration is a higher CMC, but he can also build the graveyards, remember that time SolomonsEfreet had him out. But high CMC. $1.90 too.
Can up you mana ramp with stuff like Mycosynth Wellspring $0.15,
You have Fleshbag Marauder & Merciless Executioner but missing their good buddy Slum Reaper $0.19.
Traveler's Amulet and Wanderer's Twig are great for color fixing and ramping. Wayfarer's Bauble goes onto the battlefield for CMC1 more.
Deadeye Navigator has lots of positive applications in your build, but he's $2.15. I won't list everyone, you can read the LTB/ETB guys, but Peregrine Drake is infinite ETB & infinite mana.
Murder always a nice multi-purpose removal in this format.
Far // Away $0.24 can also be handy.
You're mana source distribution is quite good 24% / 24% / 37% .
Vona's Hunger was pretty good when SolomonsEfreet played it.
Diabolic Tutor for Torment of Hailfire or the other half of Rite of Replication / Gray Merchant of Asphodel win-con.
Dark Petition is $2.32 but can assist with casting the Gray Merchant of Asphodel, I also don't mind Razaketh's Rite because I just cycle it for if it's drawn early on.
Desecration Demon might be fun, he's only CMC4.
I think your fairly balanced too, maybe a little too heavy on Sorcery, sub 1 for an instant or another creature or artifact.
One of the nice things with Thraximundar is you should get left alone early on because your not an immediate threat vs. someone like your Xenagos.
I wouldn't go counterspell (maybeboard has so many), won't work in this format effectively.
Havengul Lich has some recursion built in, but wouldn't say he's really that synergistic with Thraximundar but he can target others graveyards.
He's not a Xenagos, God of Revels but a good serviceable Commander in $50 budget. Crosis, the Purger no way lol, Sedris, the Traitor King would also work but he the same CMC anyway,
Load more
No data for this card yet.