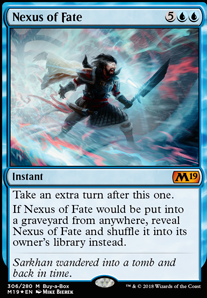 Legality
| | |
| --- | --- |
| Format | Legality |
| Pre-release | Legal |
| Tiny Leaders | Legal |
| Custom | Legal |
| Magic Duels | Legal |
| Canadian Highlander | Legal |
| Vintage | Legal |
| Modern | Legal |
| Standard | Legal |
| Leviathan | Legal |
| Legacy | Legal |
| Brawl | Legal |
| 1v1 Commander | Legal |
| Duel Commander | Legal |
| Oathbreaker | Legal |
| Unformat | Legal |
| Casual | Legal |
| Commander / EDH | Legal |
Related Questions
Nexus of Fate
Instant
Take an extra turn after this one.
If Nexus of Fate would be put into a graveyard from anywhere, reveal Nexus of Fate and shuffle it into its owner's library instead.
Nexus of Fate Discussion
2 days ago
(Yes, I pulled off a freaking Thanos; but only half a Plane of Existence dies. Rip. No wonder Darkseid would beat him, & Nintendo never lost a Death Battle for soooo long (& no, Mario vs Sonic fight 1 barely counts; same for Nintendo vs Nintendo.) X/)
---

Commander / EDH* BMHKain
SCORE: 2 | 14 COMMENTS | 908 VIEWS | IN 3 FOLDERS
---
Just thank GhostChieftain for the suggestion on using something I need to use more. I did. :)
I personally wonder how a sequel to an otherwise, crappy attempt for advice for a deck like this can get any worse. Regardless, might as well push on; ALOT of cuts have been made since; & I'm truly nearing the end; which means after that, I'll allow the personal Merit to make a Morophon, the Boundless Human Tribal Deck. But after that, & trying to make & cut to 100 cards for Kruphix, God of Horizons & aforementioned Tribal Deck; There is no more turning back; I plan to make a Tribal Deck w/ Kykar, Wind's Fury based on the 2016/2017 Documentary The Red Pill; as nobody had a previous objection to this even now, it is officially too late to object the idea.
& One last bit of news for now: I plan to do something regarding "Project: Razia's Parhelion II" (Working Title)
IT's a Working Title as even though Razia, Boros Archangel was the Parun (The only rank of a Guild higher than a Guild Leader) of the Boros Legion; I actually wanted to get as ancient as possible; before the Ten Paruns was still an idea, & Ravnica, compared to other Major Planes of Existence is just recently formed in comparison to (then) many others.
Think of this as a haven for those who can think of combos in Commander/EDH that can win games; all while improving upon ideas The Legion would only dream of doing as a Guild. All that said & done though, I do apologize for this part of the whole thing; but it's not like I'd want to make a Tier 1 deck of this kind right away; that is too much already. But because Feather, the Redeemed , & (As a Joke.) Depala, Pilot Exemplar seemed to reach Tier 3, I'll start young from there. Even so, I do apologize about this kind of idea; but it just might work; after all, one topic stated "I played Boros before it is considered "cool""
Not the right name, but you get my point. If any of the few, the proud, the cEDH Boros users want to join in the future, I only need one suggestion: In MTG Lore, The Boros League's Parun: Razia is the first thing we know of in Ravnican Lore for the Boros Legion. But there was also a time before even the idea of a Parun of a Guild was ever a thought; here would have to be someone for each of the "Ten Guilds-To-Become" as the Primordial base for all ten. You may list all 10 each if you wish, but I just want the one for Boros.
& yes, In apologize for the whole "Boros" idea for the few cEDH Players, but, as I said before, most of my crap is more akin to "Semi-Competitive" anyway.
AW CRAP! I souldn't have mentioned my updates here! Uh, here are the questions before I have a mental breakdown for having most of this topic about anything, but Questions:
1: ( Teferi, Timebender trashed. Nexus of Fate 's is stil MIA)
2: On the Topic of ol' Mu-Mu (I pray I'm still being honourable to her while enchristening her with a cute, & Affectionate Nickname; I don't understand Chinese Dialect; & I'm trying to learn Nipponese Kanji... Please forgive Me, Yanling...) She too has two new iterations, but which is the better to add?: Do you think Mu Yanling, Sky Dancer would be good? Sucks that has 2 Loyalty, maybe adding Prismatic Omen again can help? At least it's better than having to deal w/ Blood Moon , or what about Mu Yanling, Celestial Wind ?
3: ( Elspeth, Knight-Errant is kept.)
4: Golos, Tireless Pilgrim is an awesome new reveal, & I consider Top Secret Tek. Flikering it Recht & Link to supply you w/ your whole library of Lands, easily a card that is of immense Banworthiness. I also included Crucible of Worlds (Which WILL NOT leave the deck; especially if I get my lands screwed by an Armageddemon . Since I don't intend to lose either of the former, I think it is time to recreate Zendikar in ways not even Nissa, Who Shakes the World would ever do; Wrenn and Six can manipulate Lands, while working w/ both Crucible of Worlds & Golos, Tireless Pilgrim . But there is Also Xenagos, the Reveler , who makes a ton of mana from your creature tokens; can make a Hasty 2/2 Satyr, & for the record, his Ultimate is ENTIRELY OPTIONAL.
So, who would you pick: Wrenn and Six , or Xenagos, the Reveler ? Or should I not have cut Kiora, the Crashing Wave in the first place, & put her back, maybe even keeping in one of the former 2?
5: Daretti, Ingenious Iconoclast ; Reason of Death: The creature from the Star Trek episode: The Man Trap.
6: (Ol' Teyo gets promoted in rank as a Shieldmage.)
(Not like it matters, Walkers w/ Indestructible while still being Walkers can be damaged all the same...)
7: (Misguided Idiocy Averted.)
8: (Very well. This Karn gets Korned.)
9:
---

Commander / EDH* timmyt1000
SCORE: 25 | 10 COMMENTS | 2784 VIEWS | IN 30 FOLDERS
---
Because I had no choice but to mention this again. After I reach the 100 card mark, I wonder how to rebuild my landbase on a budget-level cEDH Level; despite being only "Semi-Cometitive". How'd you recreate this? Remember the Cycle Duals are mandatory 5 slots by default, &
Crucible of Worlds
, &
Golos, Tireless Pilgrim
are not to be cut from the non-lands either.
Side Note: It's fair enough This was meant for 1, 2, or even 3 color decks; I just used something similar for the current decklist.
10: Mirari's Wake is added. Status regarding Night of Souls' Betrayal is still MIA.
11: (nope.)
And... that's it, actually. That took soooo long. So I'd like some answers unless anyone can make me answer them myself. Regardless, I still need to cut to 100 cards. So I hope this crappy sequel can help... :D
For Now, I'm planning after all this...
Actually, I have one last announcement. Remember that time that I wanted to make a Partners Deck? Well, I wasn't kidding. & neither is the theme in question, based on these cards:
Yep, I'm making a deck based on Exile running colors. Not running Atraxa though; I can't even believe I even cut her from Superfriends/Avengers. What two Partners would be good in a deck like this? & no, is exempt from this as their exile stuff isn't truly well devised here unless you got some things to say otherwise against this fact.
Huh... Finally... It worked. Thanks go to GhostChieftain for the Accordion method. I guess I'll have to use it more...
5 days ago
Also if you do infinite card draw, Nexus of Fate is a good win con
5 days ago
------ Not Viable for DCMD, Extremely slow or just bad to the bone... 20HP mate...
++++++ Gucci 80% - 100% + played cards in Jeskai, Also Auto-includes!
------ Ancient Tomb ++++++ Shivan Reef
------ Temple of the False God ++++++ Eiganjo Castle
------ Sword of Feast and Famine ++++++ Ajani Vengeant
------ Umezawa's Jitte ++++++ Balance
------ Emrakul, the Promised End ++++++ Chandra, Flamecaller
------ Stoneforge Mystic ++++++ Council's Judgment
------ Monastery Mentor ++++++ Dack Fayden
------ Mother of Runes ++++++ Day of Judgment
------ Restoration Angel ++++++ Electrolyze
------ Young Pyromancer ++++++ Fire / Ice
------ Crusade ++++++ Force Spike
------ Intangible Virtue ++++++ Into the Roil
------ Saheeli, Sublime Artificer ++++++ Miscalculation
------ Nahiri, the Harbinger

++++++ Path to Exile
------ Skullclamp ++++++ Pyroclasm
------ Teferi, Time Raveler ++++++ Wrath of God
42 Lands GucciBass
12 Obvious DCMD cuts but okay for the slower MTGO1v1Cmdr :
1 week ago
Thanks man, it really does. I typically play commander, and my friend happens to have one Nexus of Fate , so I thought I'd consider it.
1 week ago
In the event that I want to run all basics and evolving wilds (because I'm a cheap boi) what do you recommend I run? Also, have you considered a one-of of Nexus of Fate in the sideboard as opposed to maybe a Negate for a control matchup?
3 weeks ago
This post is better than some of your other ones, but there's still a lot of superfluous text. Don't take this a negative response, but as some constructive criticism. You're far, far more likely to get the deck help you need with a shorter, to the point post. I realize it might be tough for you, but it will help increase the chance that you'll get the responses you're looking for! Most people will see a wall of text and just click away from there.
Always start with a link to the decklist if the questions are about a specific deck.
I'm going to refine this to show you how concise this post could really be.
1) Which combo is more effective in this deck?
2) Is Urza, Lord High Artificer worth a card slot in this deck?
3) Which card draw card is best in this deck?
4) Is Oath of Gideon worth a card slot in this deck?
5) Are there any Gideon planeswalkers worth running in this deck?
6) Are there any Nissa planeswalkers worth running in this deck?
7) Does running Nexus of Fate require running a tutor like Liliana Vess to be effective?
8) Is Bioessence Hydra worth a card slot in this deck?
This concise form is less than one-fifth the size of your original post to ask the same questions. The key to remember is that people are lazy and far more likely to assist someone if it takes less effort on their part.
Going forward, carefully consider each sentence in your post. Ask yourself, "Is this vital to the question I am asking?" if you even hesitate when considering a sentence, leave it out.
Remember the old adage: "Less is more!"
3 weeks ago
Okay. This will sound like I'm still a fool about this, but I believe the only true way to end this is through cooperation, & what is considered better as choices. W/ a truly uncleanable slate, I'd rather you don't choose for me (That happened to me once before, & it ended poorly, moreso than most.); but rather, suggest between either multiple or the fate of one thing(s), & I'll work from there. Concise enough, right? I mean, most CONTRA games have one simple goal to advance (& yes, I'm not just referring to the original on the NES.); Run, & Shoot. You can't go any further for that if you wish for further simplicity.
Alright, I'll shut it about the Contra Games; it's time to decide various card's Fates... Oh, & here's the Decklist in case you do care; don't worry, I'll clean the Planeswalker Amount up after all is set & done.
---

Commander / EDH* BMHKain
SCORE: 2 | 14 COMMENTS | 765 VIEWS | IN 3 FOLDERS
---
& Yes, I know it's not a Primer; I tried to do that, but as of WAR, there was too much content to handle, & abandoned the project entirely. Thus, a renaming is in order soon enough...
Q1. While both are good in their own, which duo do you believe is the better duo for this, & the other, more cut worthy?
1. Aminatou, the Fateshifter and/or Spark Double 2. Planebound Accomplice + Cloudstone Curio combo
Q2. Urza, Lord High Artificer is OP all over. There's already a threat of him being banned. He can convert any untapped Artifice you have like Mox Sapphire ; a card that's already banned, & he can make ALOT of Mox all at once, & can reset your library on the fly.
But, is he really worth it in Superfriends? He is a God among machines, that'll be dethroned quicker than Leovold, Emissary of Trest when he got banned.
Q3. What draw card should I even use in the first place?
A: Mystic Remora & Rhystic Study only; it seems so few are giving Search for Azcanta Flip a chance. But no Phyrexian Arena nor Sylvan Library ? I myself would like to know why...
Q4. Many seem to be against Oath of Gideon these days. I already have stuff that might be better than it. Is such an Oath broken based on recent events?
Q5. W/ Kytheon now dead, & the possibility of removing his Oath, I feel that I want to put a Planeswalker in that has the Gideon Type that is also good W/ Superfriends; or the least bad in this case. That, & I wonder if there will ever be a thing of Nissa being compatable to Superfriends as well. Both are possible but just in case...
The community seems in favor that there is no place for Kytheon in Superfriends/Avengers. What about Nissa? B: Do you think Nissa deserves a place in Superfriends, & if so, Which Iteration?
Q6. Nexus of Fate was left on its own after Liliana Vess is cut. What to do about such a notion?
Nexus of Fate is left on its own. Don't worry about them walkers though. I'll handle that.
Q8. Apparently Bigger DOESN'T mean better in this archetype. The Hydra gets killed by the Walkers that stayed back in Ravnica.
Q9. W/ Q1 as a part of this charade, this is going to make Thran Temporal Gateway far less relevant. Do you believe I should keep this still?
Q10. Three Walkers have been hated on by all, but me: Saheeli, Sublime Artificer , Daretti, Ingenious Iconoclast , & Rowan Kenrith . All these three cards I like alot, but nobody else does. Let's start w/ Rowan as she's obviously going to get hated the most. This deck already has Crawlspace (Which reduces her forced number of Attacking enemy creatures to 2.), Meekstone (Which locksdown those w/ 3 or more Power that do attack, rendered untapped their next turn.).
Should I keep Rowan Kenrith , or should I amp up the level of defense for Rowan, & from there, my Walkers as a whole, & if so, what would you reccomend?
Saheeli, Sublime Artificer is next. Just having a Static ability to make Durdles for every noncreature you cast is awesome. What's not awesome? Most of my targets are Rocks, & I'd like some good targets, & even an End the Turn effect to keep the fruits of Saheeli's nature.
Should I keep Saheeli, Sublime Artificer , & if so, can you think of any good targets for her; & a decent End the Turn effect? The best I can find are Sundial of the Infinite , & Time Stop ; I already have a Sorcery Speed Timetwister , & I don't want to lose.
Finally, Daretti himself. Sure, his constructs can't attack due to Defender, but listen wisely; you can also sac your Constructs, & Saheeli's Servos as ammo to destroy enemy Artifice & even enemy creatures. You just need one aftifact, & those durdles are very good at that. His Ult. can make 3 copies of an artifact you control. But what if I told you it doesn't matter whose Graveyard you're copying Artifacts, nor even who controls them. Yep. You can simply search your opponent's yard & make three big things all at once. Go ahead. Take their Blightsteel Colossus , & Winfect. Steal their Rocks for yourself! There is only little that Daretti can't do w/ all this.
After that, Should I keep Daretti, Ingenious Iconoclast ? & I apologize for the descriptions for the three; I wanted to show a basic synopsis for them.
Q11. As I have more Creatures, Topdecking, & a decent array of lands, I also want to know if another Walker in particular is more priveledged to be in there now; Vivien Reid . Based on her abilities (Spot Removal, prep-topdeck, & an awesome Emblem.), do you think she should be added?
Q12. W/O 10/10/10, how would you redesign this deck's Landbase w/ the following link? Note that the first 5 slots are taken by default via the Cycle Duals (from Amonkhet.), & that it has Crucible of Worlds .
---

Commander / EDH* timmyt1000
SCORE: 24 | 10 COMMENTS | 2466 VIEWS | IN 28 FOLDERS
---
Q13. Having mana in all 5 Colors is great, but sometimes, not having all the mana types might not be worth it all.
Based on this, What should I keep?
C: Both of the former.
D: Neither.
E: Keep Omen, & suggest a new, much better rock to add on the deck's competitive nature.
Well, that's all the questions I have for now. I hope this Q&A thing can help w/ the whole deck revising. & after I got my answrs, I'll take it from here. Thank you again for all this. :)
3 weeks ago
Well, I like Curse of Chains and Narcolepsy as draw with Verity Circle , while also getting rid of the creature permenantly. Sleep effects can act as Fog s, which lets you experiment with a sort of Turbo-Fog stratagy that uses tap spells, extra draw artifacts and VC to draw enough cards to potencially win with Nexus of Fate and Temple Bell . Forbidden Orchard , while not great, is probably the best option for beating control, aside from somthing like Boseju + a Gain 2 life every turn card.
I like Pwks as a potential win con, because they aren't vulnerable to Creature removal.
Hope this helps!
Load more
Nexus of Fate occurrence in decks from the last year
Standard:
All decks: 0.19%
Commander / EDH:
All decks: 0.03%
Blue: 0.14%