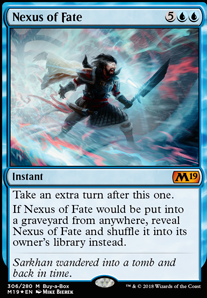 Legality
| | |
| --- | --- |
| Format | Legality |
| Pre-release | Legal |
| Tiny Leaders | Legal |
| Magic Duels | Legal |
| Canadian Highlander | Legal |
| Vintage | Legal |
| Modern | Legal |
| Penny Dreadful | Legal |
| Standard | Legal |
| Leviathan | Legal |
| Legacy | Legal |
| Brawl | Legal |
| 1v1 Commander | Legal |
| Duel Commander | Legal |
| Oathbreaker | Legal |
| Unformat | Legal |
| Casual | Legal |
| Commander / EDH | Legal |
Related Questions
Nexus of Fate
Instant
Take an extra turn after this one.
If Nexus of Fate would be put into a graveyard from anywhere, reveal Nexus of Fate and shuffle it into its owner's library instead.
Nexus of Fate Discussion
13 hours ago
Hey man!
Before we get into this, I just want to say that if I sound like a know-it-all and a dick, it's toatally unintentional and I apologize for it. Also, I have never played Jeskai in EDH, so please take my suggestions with a grain of salt.
It's kind of hard to find a good Jeskai Commander that is based around creatures, so I think you have two options:
Of course, you could have both in your deck, and switch them around as the meta/playgroup changes, but it's best to choose one now. I'll provide options for both.
---
The ramp and land package wil be roughly the same, so I'll start with that. I use TCC's manabase template, but feel free to change it.
Ramp
Lands
TCC's template for a manabase is this, but feel free to change it to fit your budget etc.
3 OG Duals (Can be replaced by Check, Scry or Man lands)

3 Shock

3 Zend-Onslought Fetch (Can be replaced by Panoramas)

15 total basics and utility (9/6 split)

3 Filter Lands

3 Pain Lands

4 Any Colour Lands

1 Tri Land

3 Other Lands(more utility, duals, Lairs, etc)
---
Here's a deck that I drafted if you want Shu Yun, Silent Tempest as your commander. I left three slots for the cards already in your deck
---
Here's the draft deck if you want Ishai, Ojutai Dragonspeaker and Bruse Tarl, Boorish Herder as your commanders
---
That ends my very long post. Feel free the change anything you want about the decks I made, as they are only a first draft.
Good Luck,
Hex
14 hours ago
Yes, although Nexus of Fate would be a much easier way to win.
3 days ago
Necropotence is a powerful draw refill engine, if you fix your mana base you will always be guaranteed to hit triple black easily. There are also ways you can add in triple black by having burst mana in the use of rituals like Dark Ritual . The Venser's Journal and Necro synergy is great, but sometimes it will be a dead card in your hand but the lifegain never really is a detriment. I played Sen for quite awhile so it does draw a lot of hate. One card I do like a lot if your going in a creature light build is Overburden as pretty much you deny them of playing more creatures and if they do they bounce back a land which you can play. I would also go into a some extra turn builds to build up more advantage, cards like Nexus of Fate , Time Warp , or Temporal Manipulation are stellar cards to use.
Yeah I can definitely help with mana base, however depending on your budget it can go either way as land base are quite expensive. Utility lands aren't much of a problem aside from that one Strip Mine to deal with pesky lands like Gaea's Cradle and such. There are other synergy you can use like Notion Thief + Windfall / Dark Deal / Whispering Madness . The additions you add are great ones, but in personal opinion I still think the CMC curve is quite high and can still be lowered.
1 week ago
Hi! I have to questions:
1. Is there a specific reason why not running Flash Hulk for the Breakfast Combo?
2. I don't have many experience with Breakfast, the only win con, after milling yourself into infinite turns, is to attack with Derevi infinite attack steps? or am I missing something here?
Great brew btw!, looking forward to play it once Nexus of Fate prices go a little down.
Thanks in advance.
1 week ago
Also, I am calling that Explosion Zone may break standard. Mono-Blue Tempo, Mono-Red Burn, Mono-White Aggro/Azorius Aggro, and even a few other decks could easily be pushed out if it only destroyed 1 cmc nonlands, but because decks like Sultai base themselves on Wildgrowth Walker , Merfolk Branchwalker , and Hydroid Krasis (technically always 2 cmc on field), x=2 can shut them out too.
That land may also hurt control decks using Search for Azcanta Flip as their main engine, and new decks using walkers that use the 4 drop slot religiously with Tamiyo, Jace, Chandra, or 3 drop slot with the newer walkers from RNA and WAR.
Not to mention a Bant Teferi, Hero of Dominaria / Wilderness Reclamation + Nexus of Fate deck that can now play Explosion Zon], tap it to put counters, untap it on endstep and hold an activation for any CMC the turn they play it over their opponent's head.
---
But is also is a Ratchet Bomb on a land, making it incredibly good for Red and Black EDH decks that need to destroy enchantments (or artifacts for Black EDH decks), or green decks that want creature removal. It will probably be the best utility land in colorless, IMO surpassing lands like Winding Canyons , Maze of Ith , Reliquary Tower , even Strip Mine / Wasteland etc. only being beaten by Bazaar of Baghdad for decks like The Gitrog Monster , Ancient Tomb or maybe Gemstone Caverns for fast combo decks in cEDH, and The Tabernacle at Pendrell Vale in stax lists.
Just sayin' it looks to be a 50 dollar staple in 5 years.
1 week ago
---

---
Built this to see how Ral, Storm Conduit would fare in a Nexus of Fate deck. Think this might be the home for him in standard. Would like to know what people think.
2 weeks ago
Start with Snapcaster Mage vs Mission Briefing . Snapcaster Mage forces a target to be picked for flashback, so that means your opponent can respond. The big responses would be Deathrite Shaman , Faerie Macabre , and Noxious Revival . Mission Briefing Targets all upon resolution, which means your opponent can't respond to get rid of your card. Mission Briefing also allows alternate costs to be cast on cards such as Mindbreak Trap , Noxious Revival , Cyclonic Rift , etc. Snapcaster Mage does not allow that, because flashback is an alternate cost. Mission Briefing also does not suffer from Torpor Orb effects from stax decks. The downside to Mission Briefing is that it is one blue mana more, and not a creature to block. The blue mana is a valid argument, the creature aspect is less so. If you are playing in a creature meta, yeah it is relevant. However, if you are playing in a Food Chain meta, or a Flash Protean Hulk meta, or a Doomsday meta, or a reanimator meta, or a storm meta, or a The Gitrog Monster meta, it does not matter. The two commanders I can think of that you can blowout with a Snapcaster Mage body are Najeela, the Blade-Blossom , and Tymna the Weaver . They aren't popular in my meta, all the other decks are, so I will suffer paying that additional blue mana. Rhystic Study has always been lackluster. People are always willing to pay the cost, and all it ever does is put a target on my head. "Are you going to pay" gets old, and it forces me to keep track and announce my trigger, which gets old. You don't want to be a target, you want to stay under the radar. I will gladly play Search for Azcanta Flip, or Verity Circle , or even Compost . It allows me to get card advantage without annoying the table. The Nexus of Fate is in response to my meta eagerly playing Praetor's Grasp . They will gladly target me, exile Isochron Scepter or Dramatic Reversal and then either use it, or never use it. Either way, I'm in a bind, because I now can't generate infinite mana for myself to win. This allows at least some form of out. In any case, it is still in test phase. Enter the Infinite is still the way I want to go, and it works. Like you said, you can loop it with Mystical Tutor Seasons Past and Nexus of Fate and fourteen mana. When I get grasped, I haven't had a chance to try to win this way. So, I don't know if this is the way to go yet, but it something I have been looking into. A hot take would be cutting Chrome Mox . I have found that I don't like exiling a spell for the artifact. Have been trying Exploration in place of it to see if it can work.
Load more
Nexus of Fate occurrence in decks from the last year
Commander / EDH:
All decks: 0.03%
Blue: 0.14%
Standard:
All decks: 0.19%